Namibia PAAB - Input on draft Accountants and Auditors Bill
A discussion about the new Namibian Act to regulate accountants and auditors with PAAB (Namibia).
WHAT YOU WILL LEARN
After attending this event you will be able to:
consider your obligations in terms of registering under the proposed Bill
consider the importance of being a member of SAIBA
adjust your business model to ensure continued growth
DESCRIPTION
The Namibian Public Accountants' and Auditors' Act, 1951 (the "PAA Act") commenced on 1 November 1951, having been assented to on 18 June 1951 in pre-Independence Namibia. The current PAA Act is originally a law of the Republic of South Africa. When Namibia obtained independence in 1990, the Act was adopted as the law of Namibia, and has remained so to-date.
The purpose of the PAA Act was to provide for the establishment of the Public Accountants' and Auditors' Board ("PAAB") to regulate the auditing profession. The Act further provided for the registration of public accountants and auditors and for the regulatory and
supervisory functions of the PAAB in relation to them.
Having been operationalised for just short of 70 years, it has become necessary and indeed urgent to review the legal framework for the regulation of accountants and auditors in Namibia, especially since many aspects of the PAA Act are outdated.
The Accountants and Auditors Bill has been drafted with the aim to repeal the PAA Act, 1951 and to modernise the legal and regulatory framework within which accountants and auditors conduct business in Namibia.
INFORMATION
Title: The Draft Namibian Act to regulate accountants and auditors
Presented by: Zaa Nashandi, Head of Secretariat, PAAB (Namibia)
Date: 09 December 2020
Time: 09:00 – 10:00
Contact: jenny@saiba.org.za
PRICE
The event is free to attend.
HOW TO REGISTER
To register for the Zoom Webinar: click here.
After registering, you will receive a confirmation email containing information about joining the Zoom webinar.
CONTENT
The event covers the following topics related to the proposed Bill
Background
Objectives
Functions of the new Board
Board committees and their role
Funding the activities of the Board
Registration of auditors, accountants and accounting technicians
Certificates of practice
Investigations and Practice Reviews
How to share your views on the new Bill
Expected timelines
PRESENTER
Zaa Nashandi
Head of Secretariat
Public Accountants' and Auditors' Board (Namibia)
SAIBA MEMBERS ONLY
Should SAIBA Members prefer to have the event listed under their MY COURSES section, follow the following steps.
First register for the Zoom Webinar:  click here
Return to this page and select the REGISTER NOW button on the right.
After successful registration on SAIBA Academy access the information by selecting MY DASHBOARD and then MY COURSES. The event will be listed under the heading: Namibia PAAB – Input on draft Accountants and Auditors Bill.
A recording of the Webinar will be made availabe within the event on SAIBA Academy.
ADDITIONAL MATERIAL
By attending this webinar, you will be provided with:
Summarised slide presentation.
REGISTER VIA ZOOM WEBINAR LINK ON THE LEFT. BELOW "REGISTER NOW" BUTTON ONLY FOR SAIBA MEMBERS, AFTER THEY HAVE REGISTERED VIA ZOOM WEBINAR.
Additional Course Information
| | |
| --- | --- |
| Category | Practice Management |
| Accredited | SAIBA |
| Verifiable CPD Hours | N/A |
| Non-verifiable CPD Hours | N/A |
| Effort | 1 hour |
| Duration | 1 hour |
| Format | Webinar |
| Level | Moderate |
| Assessment | No |
| Study Material | No |
| Course Date | 9 December, 2020 |
Members in SA and Namibia
Potential new members in SA and Namibia
Accountants in practice
Business owners and decision makers
This event is included in the following subscription packages: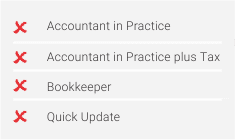 If you are not a subscriber, you need to purchase the event as a stand-alone event or subscribe to a SAIBA subscription package.
Subscribers pay less for their CPD points.
SAIBA offers 4 subscription packages that provides access to everything to run a successful accounting and tax practice.

Pay a small monthly amount and gain access to monthly webinars covering ethics, financials, reporting, audit and assurance, working papers, law, technology, management topics, and tax.