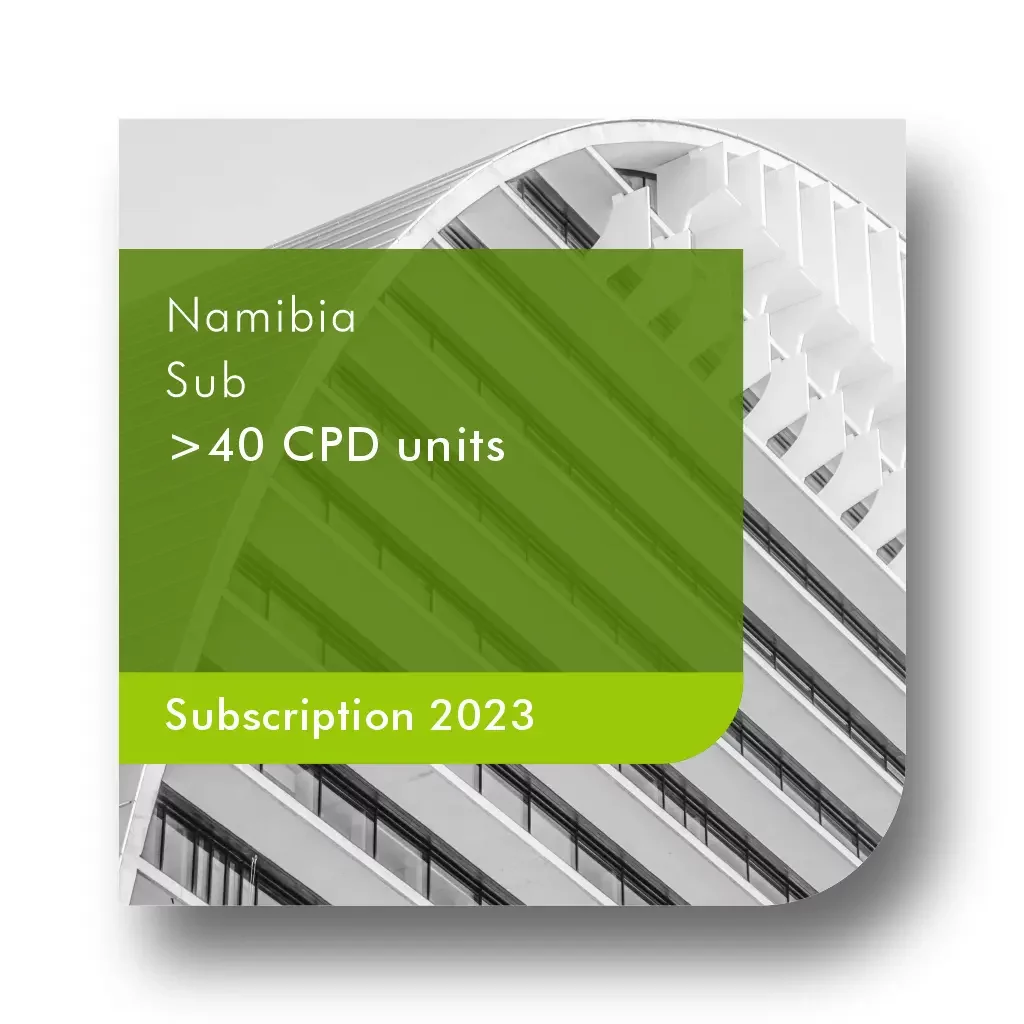 Namibia CPD Subscription 2023
The SAIBA Namibian CPD Subscription package gives you the technical, practice management and regulatory updates you need to be a compliant and successful accountant in Namibia.
From: R 485 VAT Incl. / month
CPD Subscription
A bundle of CPD events paid for monthly or as a once-off annual amount. The individual CPD events are loaded to your profile during 2023, as they are released during the year and can be viewed at a convenient time 24/7.
Who will benefit from the subscription
The subscription is included in CIBA Namibian Designation holders membership fee.
The subscription is available for any accountants providing accounting and taxation services in Namibia.
What you will learn
By subscribing to the Namibia CPD Subscription, you will gain access to monthly webinars covering ethics, financials, reporting, law, management topics, and tax; which will enable you to:
Be aware of the latest legislative changes and what it means for your business, practice, and your clients;
Prepare compliant financial statements fast;
Issue reliable reports on financial statements;
Understand the laws and regulations that govern your profession;
Calculate and submit tax returns;
Perform tax advisory services; and
Develop enhanced business advisory skills.
Description
NRA, BIPA and PAAB require CPD from Namibian accountants. As a controlling body of accountants in Namibia, CIBA is required and have been requested by members to assist them with maintaining their CPD hours. This is to ensure that SAIBA members can continue to operate in Namibia and provide smart and accurate advice to their clients.
The recorded CPD webinars provides members with the opportunity to complete CPD at any time available and from the convenience of their homes or offices. This reduces travel and saves a lot of time. Content includes technical updates, practice management advice and interviews with Namibian regulators.
The subscription offers:
immediate access to new content released monthly
24/7 access to CPD events within your own online CPD portal
online recorded webinars presented by well known qualified accountants and professors
>40 CPD units available (equivalent to >40 CPD hours)
12 months professional development with automatic renewal
access to technical experts and technical FAQs
access to technical support library
access to Technical Helpdesk
CPD in-line with IES 7 of IFAC and recognized by all major professional accountancy bodies for CPD units
The subscription includes various CPD events that typically consist of:
A 2-4 hour webinar – access 24/7 to the online recordings,
Slide presentations for future reference,
An assessment providing 2 – 4, outcomes-based CPD units,
Electronic CPD certificate of attendance for sharing on social media, and
Access to presenters for Q&A support.
The CPD events cover the following topics:
Accounting
Taxation
Financial Management
Ethics
Law
Compliance and Regulatory
Advisory
Professional Skills
Practice Management
Price
The subscription package consists of events from Feb 2023 to 31 Dec 2023 at the following cost:
Annual Once-off Cost: R 5,795.00
Monthly subscription: R 485.00 per month
Subscription package registration includes an automatic annual or monthly renewal. Cancellation forms can be requested and submitted via nmamuremu@saiba.org.za. No cancellations will be considered for the first year after registration, thereafter a month's notice applies from the date the signed cancellation form is received. This Namibian subscription package is included in Namibian members membership fee for 2023. (Not included in South African members membership fee or Associate Namibia Membership.) The CPD events are accessible for 12 months from January 2023. If you are not a CIBA member, join here to become an Associate member at R1,360 per year. No incorrect purchases will be refunded.
Card payments:
Payments are managed via PayFast. International card holders whose territory has not yet undergone 3D Secure implementation might experience some challenges. 3D Secure is a Visa & MasterCard program. We ask for your co-operation in resolving any challenges you might experience. Please send an email to academy@saiba.org.za with as much detail as possible and screenshots and we will resolve as soon as possible.
CPD events included in the Subscription
Focus on current Tax issues: Capital Allowances, Recoupments & Cross border considerations (Feb 2023)
 Law Reform: Namibia Companies and Closed Corporations Act (Mar 2023)
Practical tools for time and task management (Apr 2023)
Determination of taxable income: Farming activities (May 2023)
Client engagements: Best practices (Jun 2023)
Business Advisory: Support SMEs with Cost and Management Accounting (Jun 2023)
Payroll and Labour Legislation Updates (Jul 2023)
Corporate Finance Administration Best Practices
Corporate Governance Practical Insights
Ethics, Independence and NOCLAR
IFRS for SME's Update
Financial Intelligence Center (FIC) Updates
Vat Updates
Presenters
Various Industry Experts
SAIBA Academy Support
Login to SAIBA Academy
Select My Dashboard
Select Submit a Ticket to log a new query