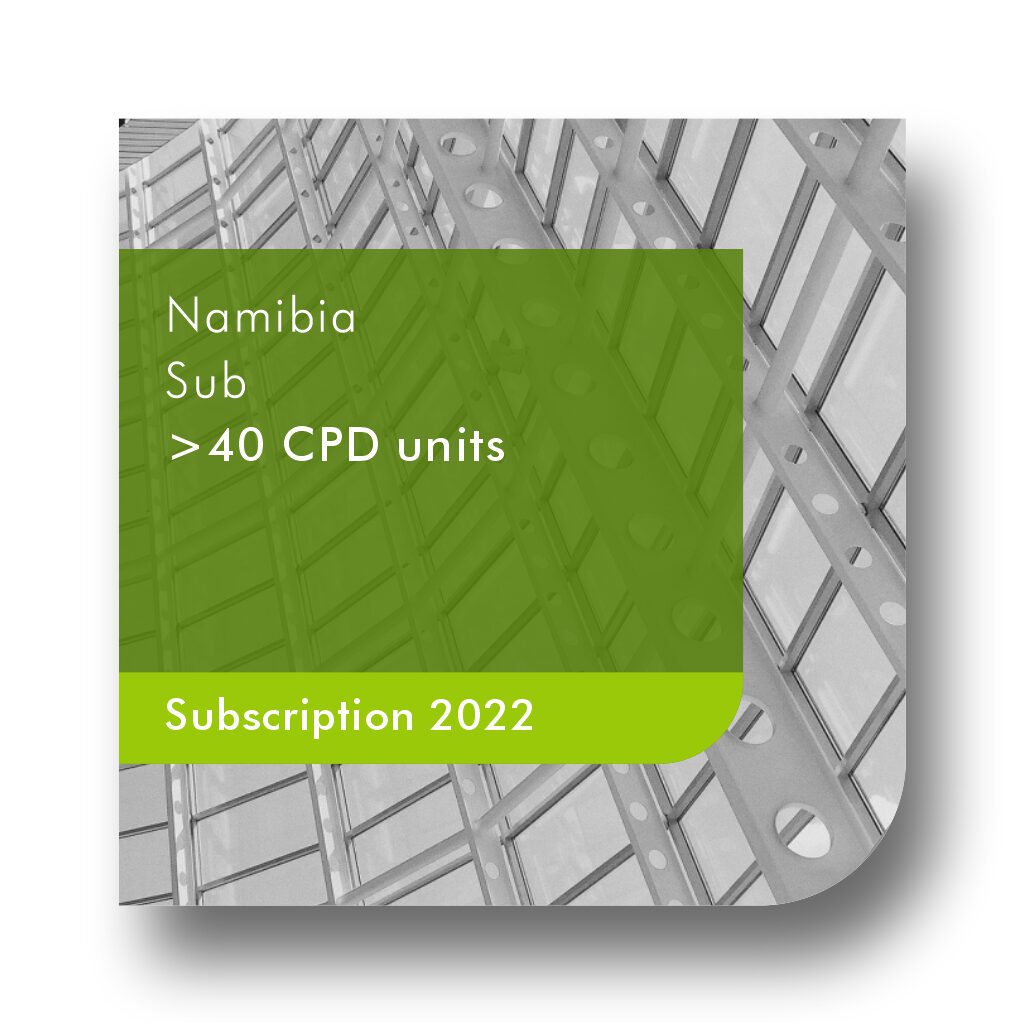 Namibia CPD Subscription 2022
The SAIBA Namibian CPD Subscription package gives you the technical, practice management and regulatory updates you need to be a compliant and successful accountant in Namibia.
From: R 485 VAT Incl. / month
WHAT YOU WILL LEARN
Subscribing to the Namibia CPD Subscription will gain you access to monthly webinars covering ethics, financials, reporting, law,  management topics, and tax; and will enable you to:
Be aware of the latest legislative changes and what it means for your business, practice, and your clients;
Prepare compliant financial statements fast;
Issue reliable reports on financial statements;
Understand the laws and regulations that govern your profession;
Calculate and submit tax returns;
Perform tax advisory services;
Develop enhanced business advisory skills; and
Have access to the presenter via an online Q & A.
DESCRIPTION
NRA, BIPA and PAAB require CPD from Namibian accountants. As a controlling body of accountants in Namibia, SAIBA is required and have been requested by members to assist them with maintaining their CPD hours. This is to ensure that SAIBA members can continue to operate in Namibia and provide smart and accurate advice to their clients. The Namibian CPD subscription is included in the SAIBA membership fees for 2022.
The recorded webinars provides members with the opportunity to complete CPD at any time available and from the convenience of their homes or offices. This reduces travel due to Covid-19 and saves a lot of time.
CPD Subscription for Namibia
Content: Technical updates, practice management advice and interviews with Namibian regulators.
Topics: Income Tax, Vat Update, Payroll Update, Customs Act, Companies Act, Close Corporations Act, Ethics, Reporting Engagements, IFRS Update, Financial Intelligence Centre obligations, Marketing and Growing your Accounting Firm, Navigating BIPA, PAAB and ITAS.
CPD hours: Between 30 – 40 hours.
Format: Access is via the SAIBA Academy and offered as online webinars with access to presenters for technical support.
The subscription includes CPD events that consists of:
A webinar – access 24/7 to the online recordings;
Slide presentations for future reference; and
Electronic CPD certificate of attendance for sharing in social media.
Access to presenters for Q&A support
PRICE
This Namibian subscription package is included in Namibian members membership fee for 2022. (Not included in South African members membership fee.)
The subscription package consists of events from Feb 2022 to 31 Dec 2022 at the following cost:
Annual Once-off Cost: Normal:  R 5,795.00.
Monthly subscription: R 485.00 per month.
Card payments:
Payments are managed via PayFast. International card holders whose territory has not yet undergone 3D Secure implementation might experience some challenges. 3D Secure is a Visa & MasterCard program. We ask for your co-operation in resolving any challenges you might experience. Please send an email to [email protected] with as much detail as possible and screenshots and we will resolve as soon as possible.
Subscription package registration includes an automatic annual or monthly renewal. Cancellation forms can be requested and submitted via [email protected].
DATE AND TIME
Online recorded webinars available within you SAIBA Academy profile
Annual CPD subscription service
Content available to watch at any time
Topics loaded monthly from February 2022
CONTENT
Income Tax update 2022
VAT and Customs Tax update 2022
Payroll update
Compilation Engagements
Management Accounting and Performance Reporting
Effective Change Management
Companies and CC Act Update
Ethics, Independence and NOCLAR
IFRS for SME's Update
Financial Intelligence Center (FIC)
Practice Management
Interviews with Namibian Regulators
Powerful Presentation Skills
PRESENTERS
Various Industry Experts