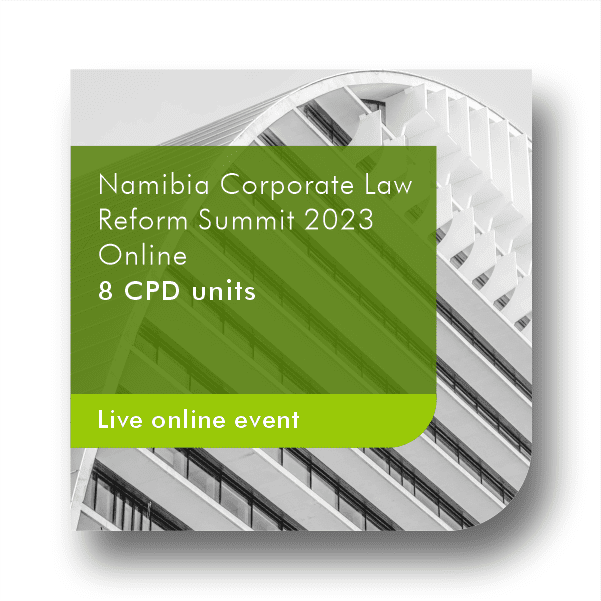 Namibia Corporate Law Reform Summit 2023 (Recording)
This event will provide accountants with the opportunity to stay updated, enhance their professional knowledge, network with industry professionals, understand the business impact of legal changes, and contribute to the development of a better business environment. July 2023
Namibia Corporate Law Reform Summit 2023
The overhaul of the Close Corporations Act and Companies Act is giving the economical landscape a massive makeover and contributes to the shaping of the legal environment/democracy of Namibia. By reshaping the law, the capacity of business is strengthened through legal empowerment and accountability promoted.
With this summit, CIBA brought together the role-players who was dedicated to a better business environment and fast-tracked the reform. This summit offered a unique opportunity to have direct access and understand the impact on business and prepare for the upcoming legislation changes in January 2024.
Event Information
Cost: Non-CIBA members R575.00, CIBA Members R375.00 per person
Past Live Event Date: 13 July 2023, Thursday, from 08:00-16:00
Format: Recording of past online event.
CPD: 8 Units
To purchase more than 1 ticket you will have to register under a different email address. The online link is unique to each delegate.
Card payments:
Payments are managed via PayFast, but OTP's are send directly from your bank. If you do not receive an OTP, minimise your screen and log in to your banking App and approve the transactions.
International card holders whose territory has not yet undergone 3D Secure implementation might experience some challenges. 3D Secure is a Visa & MasterCard program. We ask for your co-operation in resolving any challenges you might experience. Please send an email to academy@saiba.org.za with as much detail as possible and screenshots and we will resolve as soon as possible.
What you will learn
Stay updated on regulatory changes: Accountants need to stay up-to-date with changes in laws and regulations that govern the business environment. Attending this event will provide firsthand information on the recent changes to the Close Corporations Act and Companies Act. Understanding these changes is crucial for accountants to comply with new requirements and ensure accurate financial reporting.
Enhance professional knowledge: By attending the event, accountants can gain valuable insights into the updated legal framework and its implications for business operations. They can learn about new reporting standards, corporate governance requirements, and any amendments related to financial statements, audits, or tax regulations. This knowledge will enable accountants to improve their professional expertise and provide more effective services to their clients or employers.
Networking opportunities: The event will bring together various stakeholders, including policymakers, legal experts, business professionals, and fellow accountants. Networking with these individuals can be advantageous for accountants as they can exchange ideas, build connections, and collaborate with professionals who are directly involved in the reform process. Such networking can lead to potential business opportunities, partnerships, and referrals.
Gain insights into business impact: The overhaul of these acts will have a significant impact on the business landscape in Namibia. Accountants attending the event will have the opportunity to understand how the legal changes can affect business operations, financial reporting requirements, compliance obligations, and governance practices. This understanding will enable accountants to advise their clients or organizations effectively and help them navigate the new legal environment.
Professional development: Attending industry-specific events like this summit contributes to the continuous professional development of accountants. It demonstrates a commitment to staying informed about regulatory changes and maintaining a high level of competence in their field. Participation in such events can also earn accountants continuing professional education (CPE) credits, which are often required for maintaining professional certifications or licenses.
Brochure
You can read the brochure here.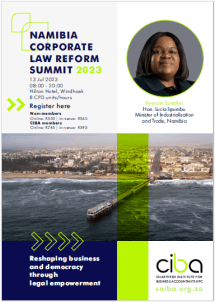 Terms and Conditions
The following applies:
The event is open to all accountants
The event is non-refundable
We do not guarantee the availability of the presenter or exhibitors. Replacements might be invited.
CPD credits is dependent on completing an outcomes based assessment available on your free profile in CIBA Academy.
Registration
Click on register now to book your seat.
Pay the attendance fee.
Check your email for the confirmation and ticket. Take note of the email you have used to register.
Information available in CIBA Academy | Login | My Dashboard| My Courses | Select Start next to Namibia Corporate Law Reform Summit 2023 – Online
Speakers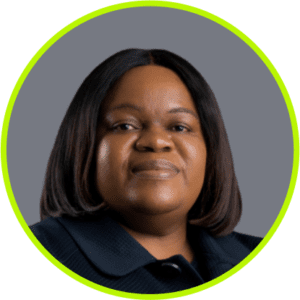 Hon. Lucia Iipumbu Minister of Industrialisation and Trade serves as a member of Parliament since 2015. She has a Bachelor of Administration and Master of Administration degrees from the University of Namibia and is currently pursuing her LLB in Law.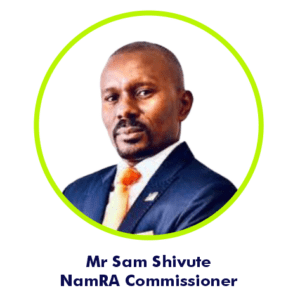 Mr Sam Shivute NamRA Commissioner. Sam joined NamRa over 2 years ago before serving as the Chairperson of the Council of the University of Namibia. His governance
experienced grew from being a director at the Bank of Namibia, a member of the APRM and chairperson of the National Housing Enterprise.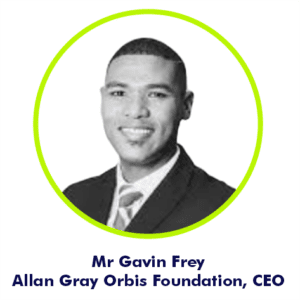 Mr Gavin Frey CEO Allan Gray Orbis Foundation. Gavin holds a Bachelor of Accounting (CTA) and Master in Business Administration from the University of Stellenbosch. He is a qualified Chartered Accountant with extensive experience in the financial services sector.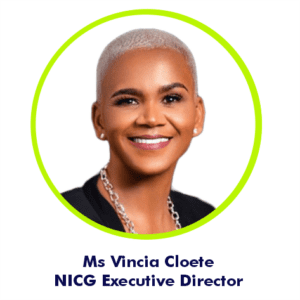 Ms Vincia Cloete NICG Representative. Vincia serves as Executive Director of the NICG and has extensive experience as a legal advisor and company secretary. She completed her legal practitioner candidacy at Kangueehi & Kavendjii Inc Legal Practitioners.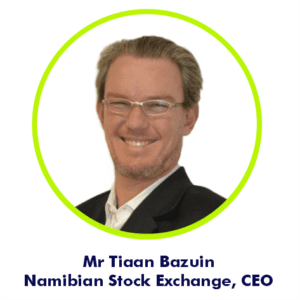 Mr Tiaan Bazuin CEO Namibian Stock Exchange. Tiaan is the CEO since 2013 and has served on various boards, including Chairman of the Namibian Employers Association and chairman of the Audit and Risk Committee of the Law Society of Namibia and a Board member of the Legal Practitioners Fidelity Fund.
For the event agenda and full list of presenters please click here
CIBA Academy Support
Login to CIBA Academy
Select My Dashboard
Select Submit a Ticket to log a new query