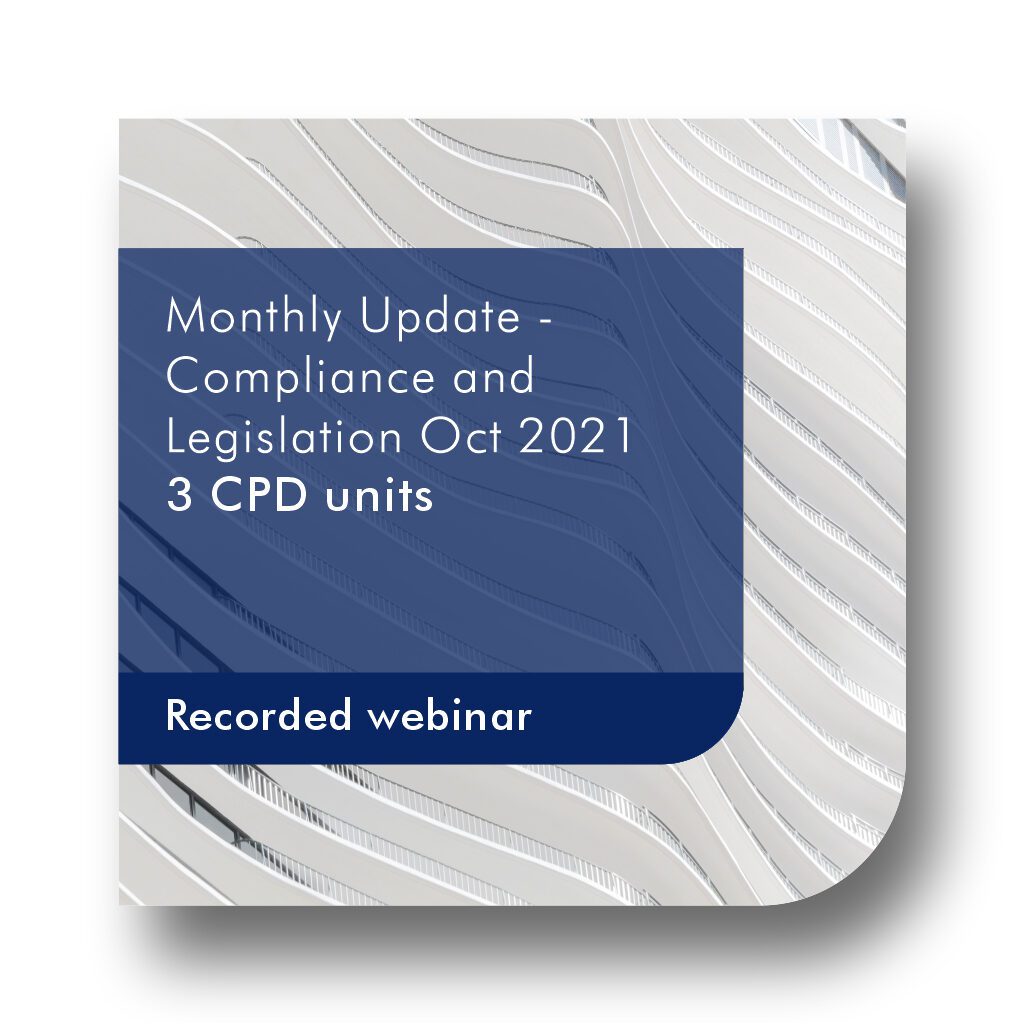 Monthly Update – Compliance and Legislation October 2021
Our Compliance and Legislation Update webinars provide a summary of some of the most important legislation updates. October 2021.
WHAT YOU WILL LEARN
After attending this webinar you will:
Stay up to date with the most important legislation updates;

Be aware of the latest legislative changes and what it means for your business, practice, and your clients;

Be able to inform your staff and clients on how to stay compliant;

Adapt business models to fit new legislative landscapes;

Receive references to documents and guides; 

Have access to your own technical resource; and 

Have access to the presenter via email for follow-up Q & A.
DESCRIPTION
Accountants and auditors must stay informed about changes in legislation and regulations that affect their firms and the business of their clients. 
Technical expert Caryn Maitland CA(SA) researches and summarises all relevant and important changes on a monthly basis and presents this in an easily understandable webinar.  
The webinar includes: 
A reference guide of all changes to share within the firm; 

PPT summary of all new amendments;

Interactive session with the presenter; and

Online Q&A.
Stay up-to-date on recent and important legislation developments in auditing, accounting, tax, SARS operations, CIPC operations, Labour and other relevant laws by joining us for the webinar.
PRICE
The following pricing apply:
Adhoc: R399.00
Subscription: Included for free in Accountant in Practice, Accountant in Practice plus Tax, Bookkeeper and QuickUpdate packages.
CONTENT
Study unit 1 -IFRS – Standards 
– What's new?
IFRS Monthly news summary
Board workplan update
Study unit 2 – IFRS – Accounting Issues
Investor perspectives: Disclosures in financial statements reflect investor needs
Right-of-use assets (Conceptual Framework issues)
Study unit 3 – IRBA – Standards & Legal/Ethics
Quality Management Standards: IFAC – First-time Implementation Guide for ISQM 1 Updated and Reissued
ISA315 (Revised): Identifying and assessing the risks of material misstatement – Effective date reminder.
Staff Audit Practice Alert 6: Protection and Retention of Client Data
Study unit 4 – CIPC –

Notices and Practice Notes issued (enforcement and to customers)
Companies Act Amendment Bill
Re-registration of companies and CCs due to failure to submit returns
Notice No. 48 of 2021: Notice to accounting and auditing professional bodies: Independent Review Survey 2021
Notice No. 49 of 2021: Important changes to CIPC electronic platforms relating to short standard private and short standard non-profit without members company registrations
Notice No. 50 of 2021: Filling of joint business rescue practitioner appointments
Study unit 5 – Covid-19 Updates –
New announcements/guidance:
IFAC COVID-19 Response to Recovery
Lockdown adjusted to Alert Level 1
Vaccines registrations open for 12 to 17 year-olds
The right to refuse a vaccination is not cast in stone (article)
Study unit 6 – Labour Law –

Employment law
Is your company conducting disciplinary hearings in line with legislation? (article)
Is it fair discrimination to exclude unvaccinated people (article)
To be or not to be.… vaccinated against Covid-19 (article)
Quantifying compensation for unfair dismissal – Labour Relations Act (article)
Study unit 7 –

Other Laws & Regulations affecting your client AND impact on NOCLAR:
This months Big 5
This month's issue 17 Vol 16 covers new national laws up to 1 October 2021
The big 5 include:
The Companies Act (Draft Companies Amendment Bill)

The Constitution of the Republic of South Africa (Constitution Eighteenth Amendment Bill)

The Disaster Management Act (COVID-19 regulations)

The Financial Sector Laws Amendment Bill 2020

The Liquor Products Act (Liquor Products Amendment Act)
Study unit 8 – SARS
Refer to September and October 2021 Maitland and Associates Tax Newsletter distributed to attendees.  
Study unit 9 – Regulator News –

IRBA
48% of JSE Listed Entities have rotated auditors
Fraud and the role of auditors – what more can be done to detect fraud risk?
Study unit 10 – Regulator News – SAIBA
Accounting Weekly Newsletter
CFO Talks
Study unit 11 – Regulator News – CIPC
CIPC enforces Sec 30 of the Companies Act: High Court orders JCI Ltd to pay the CIPC an administrative fine of R1 million
Considering business rescue for financially distressed companies (article)
Revisiting blockchain technology and intellectual property (article)
Study unit 12

– 

Regulator News –

Consumer Regulator (CGSO)
Can money in your account be used when it belongs to someone else (article)   
Study unit 13 – Regulator News – 

Information Regulator

 
The impact of the Cybercrimes Act on electronic communication (article)
Further obligations of an information officer in terms of PAIA (article)
Disclosure of medical or confidential information – when it is permitted (article)
Study unit 14 – General Announcements / News Releases – Media articles
Artificial intelligence identified as inventor of a patent
Don't mess with neighbourhood watches in communities
Department of Agriculture takes steps to prevent misleading descriptions
Are influencers inciting their followers to buy counterfeit products?
Are tests for provisional and final liquidation orders really different?
Understanding the legal implications of property sale agreements
REQUIREMENTS
There are no preconditions for this course.
Moderate level.
Recorded webinar made available on a specified date.
PRESENTER
Caryn Maitland is a Chartered Accountant (SA). She has been a member of IRBA as a registered auditor and accountant since 2002, Caryn has lectured Auditing and Accounting at various institutions and has conducted independent workshops and seminars for professional accountants since 2006 on various topics.
SAIBA ACADEMY SUPPORT
Go to HTTPS://SAIBA.ACADEMY/LOGIN/
Login
Select MY DASHBOARD
Select SUBMIT A TICKET to log a new query
ADDITIONAL MATERIAL
By attending this webinar, you will be provided with: 
Summarised slide presentation 

Reference documents and / or course material where available 

Access to a technical knowledge base

Recorded webinar that includes an expert presenter and participant interaction