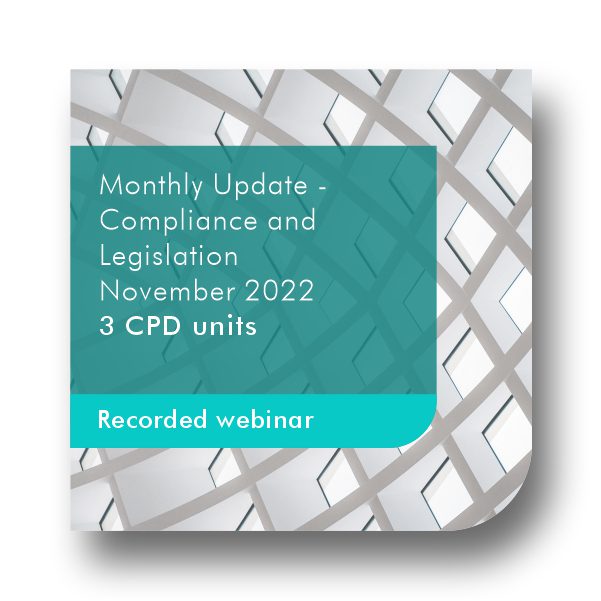 Monthly Update – Compliance and Legislation November 2022
Our Compliance and Legislation Update webinars provide a summary of some of the most important legislation updates. November 2022
What you will learn
After attending this webinar you will:
Stay up to date with the most important legislation updates;

Be aware of the latest legislative changes and what it means for your business, practice, and your clients;

Be able to inform your staff and clients on how to stay compliant;

Adapt business models to fit new legislative landscapes;

Receive references to documents and guides; 

Have access to your own technical resource; and 

Have access to the presenter via email for follow-up Q & A.
Description
Accountants and auditors must stay informed about changes in legislation and regulations that affect their firms and the business of their clients. 
Technical experts research and summarise all relevant and important changes on a monthly basis and presents this in an easily understandable webinar.  
The webinar includes: 
A reference guide of all changes to share within the firm; 

PPT summary of all new amendments;

Interactive session with the presenter; and

Online Q&A.
Stay up-to-date on recent and important legislation developments in auditing, accounting, tax, SARS operations, CIPC operations, Labour and other relevant laws by joining us for the webinar.
Price
The following pricing apply:
Non-subscriber Ad hoc: R380.00 incl. VAT
Subscriber: Included for free in Accountant in Practice, Accountant in Practice plus Tax, Bookkeeper and Quick Update packages.
Content
Study unit 1 -IFRS – Standards 
– What's new?
IFRS Monthly news summary
Study unit 2 – IFRS – Accounting Issues
ASB Factsheet on the classification of VAT
National Treasury Modified Cash Standards Accounting Manuals for comment
ASB Amendments to GRAP 103 on Heritage Assets
DBE Guideline for Preparation of Financial Statements by Public Schools
Study unit 3 – IRBA – Standards & Legal/Ethics/Other
IRBA Board Adopts International Standard on Auditing 600 (Revised), Special Considerations – Audits of Group Financial Statements (Including the Work of Component Auditors)
IRBA_Information regarding the Registration Requirement: Police Clearance Certificate
IRBA Staff Audit Practice Alert 7: Content of a Transparency Report
An overview of the latest Communications from the IAASB
Study unit 4 – CIPC –

Notices and Practice Notes issued (Enforcement and to customers)/

Articles
Notice 20 of 2022 – Update: status on file transition project
Gazetted – Automation of company records
Notice 21 of 2022 –Extension cooperatives annual submission of info XBRL
Notice 22 of 2022 – Filing requirements for appointment of business rescue practitioner (COR123.2)
Notice 23 of 2022 – Filing requirements for licensing as business rescue practitioner (COR126.1)
Notice – Deactivation of Domain Names
Study unit 5 – Labour Law –

Employment law
Reminder: Submit your EE online from 1 September 2022
What employers should know about the new employment equity laws
Study unit 6 –

Other Laws & Regulations affecting your client AND impact on NOCLAR:
This months Big 5
Covers new relevant National laws up to 12 August 2022:
The Auditing Profession Act: Police clearance certificate interim measures;

The Criminal Law (S Offences and Related Matters) Amendment Act: Amendment Act 2021;

The Financial Intelligence Centre Act: Draft accountable institutions and employee screening;

The Income Tax Act: Draft Revenue Laws Amendment Bill 2022; Draft Tax Administration Laws Amendment Bill 2022 and Draft Taxation Laws Amendment Bill 2022; and

The Occupational Health and Safety Act: Registration fees.
Covers new relevant National laws up to 2 September 2022:
The General Laws (Anti-Money Laundering and Combating Terrorism Financing) Amendment Bill;

The Competition Act: Draft block exemption regulations for small, micro and medium sized businesses;

Special Investigating Units and Special Tribunals Act: National Student Financial Aid Scheme;

Superior Courts Act: Intermediaries; and

The Draft Unlawful Entry on Premises Bill
Study unit 7 – SARS – Guides (new, updated & issued)
Value-added tax levied on the importation of goods into South Africa
VAT Reference Guide for Foreign Donor Funded Projects (Issue 2)
The comprehensive guide for Trusts (updated with minor changes)
Basic guide to section 18A approval (Issue 4)
Guide to building allowances (Issue 2)
Guide to the SARS Online Query System (Version 6)
Foreign Suppliers of Electronic Services (updated)
Study unit 8 – SARS –

Interpretation Notes (updated & issued)
Draft IN – Exemption for international aid received or accrued under an official development assistance agreement
IN 122 (Issue 1) – Public benefit activity: Bid to host or hosting of any international event
IN 75 (Issue 4) – Exclusion of certain companies and shares from a "group of companies" as defined in section 41
Study unit 9 – SARS –

Binding Rulings (Private/Class/General) issued
BPR 376 – Corporate restructuring
BPR 375 – Unbundling of shares in a CFC
BCR 080 – Tax implications for resident beneficiaries of a foreign pension trust
Study unit 10 – SARS –

Notices and other publications issued:
Third Party Data Bi-Annual Submissions 2023
FAQs: SARS Tax Practitioner Readiness Programme
FAQ: Domestic Reverse Charge Regulations (Issue 2)
Customs – Valuation of Imports
Study unit 11 – SARS –

Tax court cases:
SARSTC IT 25042 (IT) [2022] ZATC BFN (14 July 2022) 
Study unit 12 – SARS –

High court cases:
Premier Plastics (Pty) Ltd v CSARS (9726/2021) [2022] ZAGPJHC (28 July 2022) 
Study unit 13 – Regulator News –

SAICA press releases and other publications:
Revisions to the Non-Assurance Services Provisions of the Code
Updated FAQs on application of the ISAs
FAQs for Business rescue practitioners and business rescue administration
Study unit 14 – Regulator News – SAIBA
CFO Talks (CFO Talks™ is devoted to sharing ideas and conversations between CFOs. It is a platform which facilitates insightful and powerful talks relevant to CFOs)

Accounting Weekly (weekly newsletter)
Study unit 15 – Regulator News –

Companies Tribunal, Information Regulator, FSCA publications & press releases, CGSO, OTO, SARS
11 Cases finalised in AUGUST 2022
POPIA: Enforcement Committee established
POPIA and PAIA online portals go live
Guidelines on Completing the Section 22 Security Compromise Notification Form
FSCA fines Praesidium operators millions
FSCA imposes administrative penalty of R50 000 on KEB Prosperity
2 Warnings issued against fraudulent FSPs
CGSO Media Statement: Consumer Goods & Services Ombud Annual Report 2021/22
Fairplay Issue 25 – Newsletter for Aug 2022 now available
VAT Connect Newsletter
August 2022 issue of the VAT Connect newsletter
Latest Tax Practitioner Newsletter
August 2022 issue of the Tax Practitioner Connect newsletter
Latest Government Connect newsletter
Study unit 16 – General Announcements / News Releases – Media articles
Accountancy Today
Legal implications for WhatsApp group admins
Requirements
There are no preconditions for this course.
Moderate level.
Recorded webinar made available on a specified date.
Presenter
Lettie Janse van Vuuren | CBA (SA)
Lettie is a Certified Business Accountant (SA), Chartered Accountant, Registered Auditor, as well as an Assessor and Moderator. As a professional trainer and webinar host, she is able to hold the attention of an audience with her relaxed and humorous presentation style.  She has a unique ability to communicate with delegates at their respective levels of knowledge and experience.  Over the last 20 years, she has trained thousands of partners, managers, trainee accountants and other professionals.
She is responsible for researching, compiling and presenting our MCLU (Monthly Compliance and Legislation Updates). 
SAIBA Academy Support
Login to SAIBA Academy
Select My Dashboard
Select Submit a Ticket to log a new query