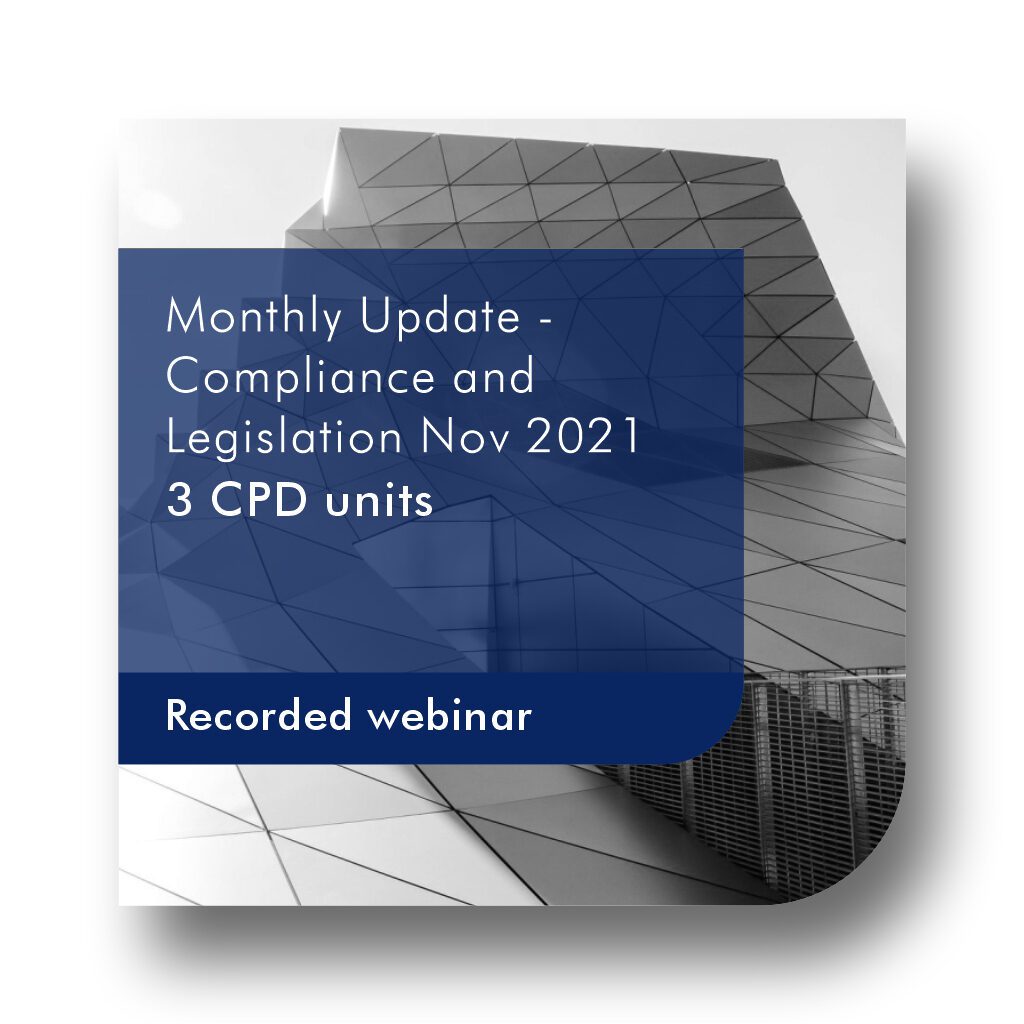 Monthly Update – Compliance and Legislation November 2021
Our Compliance and Legislation Update webinars provide a summary of some of the most important legislation updates. November 2021.
WHAT YOU WILL LEARN
After attending this webinar you will:
Stay up to date with the most important legislation updates;

Be aware of the latest legislative changes and what it means for your business, practice, and your clients;

Be able to inform your staff and clients on how to stay compliant;

Adapt business models to fit new legislative landscapes;

Receive references to documents and guides; 

Have access to your own technical resource; and 

Have access to the presenter via email for follow-up Q & A.
DESCRIPTION
Accountants and auditors must stay informed about changes in legislation and regulations that affect their firms and the business of their clients. 
The webinar includes: 
A reference guide of all changes to share within the firm; 

PPT summary of all new amendments;

Interactive session with the presenter; and

Online Q&A.
Stay up-to-date on recent and important legislation developments in auditing, accounting, tax, SARS operations, CIPC operations, Labour and other relevant laws by joining us for the webinar.
PRICE
The following pricing apply:
Adhoc: R399.00
Subscription: Included for free in Accountant in Practice, Accountant in Practice plus Tax, Bookkeeper and QuickUpdate packages.
CONTENT
Study unit 1 -IFRS – Standards 
– What's new?
IFRS Monthly news summary 
Study unit 2 – IFRS – Accounting Issues
Public Sector Tools Released
Accounting Manuals for Modified Cash Standards
Study unit 3 – IRBA – Other
IFAC Audits of LCEs: Supplemental Guidance & Mapping documents published

FRC Guidance – Addressing exceptions in the use of audit data analytics

Staff Audit Practice Alert 6: Protection and Retention of Client Data
Study unit 4 – CIPC –

Notices and Practice Notes issued (enforcement and to customers)
Notice 50 of 2021 – Filling of joint business rescue practitioner appointments 

Notice 52 of 2021 – Co-operative Annual returns and Annual submissions

Notice 53 of 2021 – Commencement of deregistration notification to companies and close corporations

CIPC enforces Sec 30 of the Companies Act – High court orders JCI ltd to pay the CIPC an administrative fine of R1 million
Study unit 5 – Labour Law –

Employment law
Victimization of workers at the workplace in relation to occupational health and safety 
Study unit 6 –

Other Laws & Regulations affecting your client AND impact on NOCLAR:
This months Big 5
SAICA Legal Update 2021 Volume 16 Issue 18 (it covers new relevant National laws up to 15 October 2021)

The Compensation for Occupational Injuries and Diseases Act (Withdrawal of notice);

The Disaster Management Act (COVID-19 regulations and directions);

The Local Government Municipal Structures Act (Amendment Act);

The Non-profit Organisations Act (Draft Amendment Bill); and

The Private Security Industry Regulation Act (Amendment Act not commenced).

SAICA Legal Update 2021 Volume 16 Issue 19 (it covers new relevant National laws up to 15 November 2021)

The Compensation for Occupational Injuries and Diseases Act (Updating of bank details);

The Hazardous Substances Act (Draft lead paint and coating material regulations);

The Pension Funds Act (Draft asset spreading requirements);

The Protection of Personal Information Act (Draft regulations); and

The Tax Administration Act (Administrative non-compliance penalties).
Study unit 7 –

Other Laws & Regulations affecting your client AND impact on NOCLAR – Other acts and articles
POPIA_Security compromise notification

Amendments to POPIA Regulations

Companies Amendment Bill 2021

Directors: Increased obligations and potential exposure to liability as set out in the Companies Act
Study unit 8 – COIDA Update
Mandatory Covid-19 Vaccinations in the Workplace: Compensation for Injuries or Death

Notice on banking information requirements for Occupational Injuries and Diseases related claims released for comment

Notice on Notice on updating of banking details Occupational Injuries and Diseases related payments
Study unit 9 – SARS

Guides (new, updated & issued)
Draft Guide to the Voluntary Disclosure Programme

How to Complete the Registration Amendments and Verification Form RAV01

The guide on How to submit a dispute via eFiling has been updated with the extension of Covid-19 PAYE and ETI information
Study unit 10 – SARS Binding Rulings (Private/Class/General) issued
BGR 57 – Whether the term "consideration" includes an amount of transfer duty for the purposes of calculating a notional input tax deduction on the acquisition of second-hand fixed property
Study unit 11 – SARS

Notices and other publications issued:
Updated e@syFile Employer version released 

Businessman gets 5-year jail term for VAT fraud

Submitting an application for Tax Exemption

SARS tackles non-compliant PPE companies

New e@syFile Employer version released

Enhanced Notice of Registration functionality on eFiling

Update on share valuations for Estate Duty

An upgraded e@syFile™ Employer version 7.1.9 was released

Amended List of Physical Impairment or Disability Expenditure
Study unit 12 – SARS Tax court cases/ High court cases / SCA cases
7 Tax court case Judgments finalised

 

14 High court case Judgments finalised

CSARS v Glencore Operations SA (Pty) Ltd (462/2020) [2021] ZASCA 111; [2021] 4 All SA 14 (SCA) (10 August 2021)
Study unit 13 – SARS

Taxpayers must be on the lookout for New Scams:
Possible refunds
Study unit 14 – Regulator News – IRBA News and press releases
News #55 
Study unit 15 – Regulator News – SAIBA

press releases and other publications:
CFO Talks (CFO Talks™ is devoted to sharing ideas and conversations between CFOs. It is a platform which facilitates insightful and powerful talks relevant to CFOs)

Accounting Weekly (weekly newsletter)
Study unit 16 – Regulator News – 

Companies Tribunal: 
11 Cases finalised in October 2021

Quarterly Newsletter
Study unit 17 – Regulator News – 

Information Regulator: 
PAIA Guide

New Email addresses

How to handle POPIA complaints

Information Regulator's PAIA Manual prepared in terms of Section 14

Registration of Information Officer Portal is still unavailable
Study unit 18

– 

Regulator News – Law Society of SA
LSSA publishes POPIA guide for attorneys 
Study unit 19 –

Regulator News – 

FSCA publications and press releases
FAQs about Registration with FIC

Various Warnings issued against fraudulent FSPs
Study unit 20 – Regulator News – CSOS
CSOS issues 3 Circulars 
Study unit 21 – Regulator News – CGSO
Consumer Alert October 2021: Suppliers most likely to take your money and run

CGSO Newsletter issued Quarter 3 of 2021
Study unit 22 – Regulator News – SARS
Latest Tax Practitioner Newsletter

 

 
Study unit 23 – General Announcements / News Releases – Media articles
Business rescue and Employee rights

The growing threat of ransomware

The legal dangers of a side hustle
REQUIREMENTS
There are no preconditions for this course.
Moderate level.
Recorded webinar made available on a specified date.
PRESENTER
Lettie Janse van Vuuren | CBA (SA)
Lettie is a Certified Business Accountant (SA), Chartered Accountant, Registered Auditor, as well as an Assessor and Moderator. As a professional trainer and webinar host, she is able to hold the attention of an audience with her relaxed and humorous presentation style.  She has a unique ability to communicate with delegates at their respective levels of knowledge and experience.  Over the last 20 years, she has trained thousands of partners, managers, trainee accountants and other professionals.
She is responsible for researching, compiling and presenting the SAIBA QUICK UPDATE SUBSCRIPTION PACKAGE.
SAIBA ACADEMY SUPPORT
Go to HTTPS://SAIBA.ACADEMY/LOGIN/
Login
Select MY DASHBOARD
Select SUBMIT A TICKET to log a new query
ADDITIONAL MATERIAL
By attending this webinar, you will be provided with: 
Summarised slide presentation 

Reference documents and / or course material where available 

Access to a technical knowledge base

Recorded webinar that includes an expert presenter and participant interaction