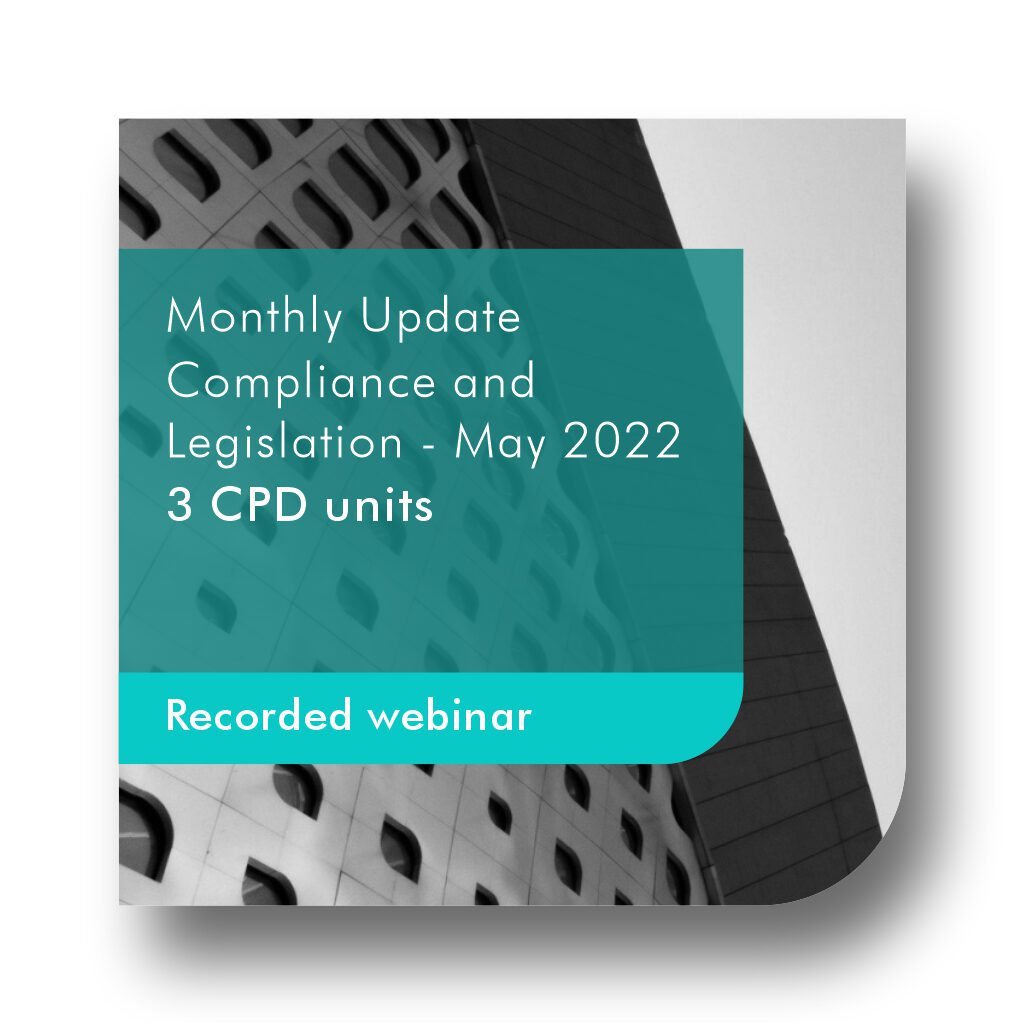 Monthly Update – Compliance and Legislation May 2022
Our Compliance and Legislation Update webinars provide a summary of some of the most important legislation updates. May 2022
What you will learn
After attending this webinar you will:
Stay up to date with the most important legislation updates;

Be aware of the latest legislative changes and what it means for your business, practice, and your clients;

Be able to inform your staff and clients on how to stay compliant;

Adapt business models to fit new legislative landscapes;

Receive references to documents and guides; 

Have access to your own technical resource; and 

Have access to the presenter via email for follow-up Q & A.
Description
Accountants and auditors must stay informed about changes in legislation and regulations that affect their firms and the business of their clients. 
Technical expert Caryn Maitland CA(SA) researches and summarises all relevant and important changes on a monthly basis and presents this in an easily understandable webinar.  
The webinar includes: 
A reference guide of all changes to share within the firm; 

PPT summary of all new amendments;

Interactive session with the presenter; and

Online Q&A.
Stay up-to-date on recent and important legislation developments in auditing, accounting, tax, SARS operations, CIPC operations, Labour and other relevant laws by joining us for the webinar.
Price
The following pricing apply:
Non-subscriber Ad hoc: R399.00 incl. VAT
Subscriber: Included for free in Accountant in Practice, Accountant in Practice plus Tax, Bookkeeper and Quick Update packages.
Content
Study unit 1 -IFRS – Standards 
– What's new?
IFRS Monthly news summary 
Study unit 2 – IFRS – Accounting Issues/Other
SAICA: Educational material on the application of IAS 12 – Income Taxes
Modified Cash Standards FAQs
Accounting Guideline on GRAP 1
GRAP Accounting and Disclosure checklist 2022
Update to GRAP 19 accounting manual published
GRAP Tool on GRAP 13
New FAQ on MCS published
Study unit 3 – IRBA – Standards, Legal/Ethics/Other & Reminders
IAASB: Revised standard for group audits
IAASB: ISA 600 Fact sheet
IESBA: Final Pronouncement: Revisions to the Definitions of Listed Entity and Public Interest Entity (#PIE) in the Code
IFAC releases new implementation tool for auditors
Issue of Illustrative Regulatory Reports in terms of the Insurance Act
Revised Illustrative Section 15 Retirement Fund Agreed-upon Procedures Reports
IFAC's new IAASB Fact Sheet addresses engagement team definition
Study unit 4 – CIPC –

Notices and Practice Notes issued (enforcement and to customers)
Practice Note 2 of 2022: Trademark Certificates
Notice 9 of 2022 – Status update on file transition project
Study unit 5 –

Other Laws & Regulations affecting your client AND impact on NOCLAR
Volume 17 Issue 7 (covers legislation up to 8 April 2022):
The Disaster Management Act: Transitional COVID-19 measures;
The Electronic Communications Act: End-users and subscribers;
The Electronic Communications Act: Equipment authorisation;
The Hazardous Substances Act: Industrial substances and pesticides; and
The National Environmental Management Waste Act: Extended producer responsibility.
Volume 17 Issue 8 (covers legislation up to 22 April 2022):
The Compensation for Occupational Injuries and Diseases Act: Assessment of employer;
The Critical Infrastructure Protection Act: Draft interim critical infrastructure protection regulations;
The Electronic Communications Act: Limiting control and ownership;
The Electronic Communications and Transactions Act: ZA registry and registrar; and
The South African Post Office Soc Ltd Act: Draft Amendment Bill 2022.
SAICA: FAQs on Legal compliance considerations in a virtual environment
COIDA: Notice of the Maximum Earnings and Minimum Assessment (OID limit) for 2023
Deregistration from Compensation Fund
Dept. of Labour Return of Earnings 2021: Open from 1 April 2022 to 31 May 2022
Study unit 6 – SARS – Guides
Third Party Data – updated
Tax Directives legislative changes – updated
Study unit 7 – SARS – Notices and other publications issued
Anti-fraud leaflet
SARS Notice to employer changes on the PAYE Admin penalties and disputes process
SARS PAYE BRS PAYE Employer Reconciliation_V21_1
Reminder to Tax Practitioners of SARS online channel functionality
Implementation of Tax Directives Enhancements
2022 Draft Rates Bill
Transfer Duty applications
Distribution of funds to non-resident trusts by resident trusts
Study unit 8 – SARS – Scams
SARS-SCAM-311 – SARS eFiling notification – 14 April 2022
SARS-SCAM-310 – Letter of Demand email – 13 April 2022
SARS-SCAM-309 – Customer PO Order – 6 April 2022
Study unit 9 – Regulator News – IRBA news and press releases
IRBA News #57
Study unit 10 – Regulator News –

SAICA 
Retention of records guide updated
2022 Tax Debt Management Guide
Study unit 11 – Regulator News – SAIBA
Newsletters:
CFO Talks (CFO Talks™ is devoted to sharing ideas and conversations between CFOs. It is a platform which facilitates insightful and powerful talks relevant to CFOs)
Accounting Weekly (weekly newsletter)
Study unit 12 – Regulator News – Companies Tribunal
13 Cases finalised in APRIL 2022 
Study unit 13 – Regulator News – Information Regulator
Information Regulator monitors the Department of Health on POPIA compliance 
Study unit 14 – Regulator News – FSCA Publications and press releases
FSCA fines Viva Cover (Pty) Ltd and Comit Technologies (Pty) Ltd both R110 000 for contravening financial sector laws
FSCA fines Tempest Trading (Pty) Ltd R200 000 and Storm Elisio R200 000 for contravention of financial sector laws
FSCA fines Mr Renault Otto Kay R500 000 and debar him for a period of 5 years
13 Warnings issued against fraudulent FSPs
Study unit 15 – Regulator News – CGSO
CPA Guidelines: Did you know? Direct Marketing: info and tips for suppliers and consumers
CPA Guidelines: Did you know? CPA tips for consumers & suppliers
CGSO: Consumers warned against online supplier: Sassy Heels
Quarterly newsletter
Study unit 16 – Regulator News – Anti-Fraud Collaboration
Anti-fraud collaboration webpage 
Study unit 17 – Regulator News – PPRA
Draft Guidelines on Audit and Trust Accounts Requirements for Business Property Practitioners 
Study unit 18 – Regulator News – IFAC
New instalment in the Anti-Money Laundering: The Basics educational series: Instalment 9: Tools to fight back 
Study unit 19 – General Announcements/New Releases – Media Articles
IFAC: Mindset and Enabling Skills of Professional Accountants – A Competence Paradigm Shift explores how the accountancy profession can stay relevant in a time of unprecedented change 
Requirements
There are no preconditions for this course.
Moderate level.
Recorded webinar made available on a specified date.
Presenter
Lettie Janse van Vuuren | CBA (SA)
Lettie is a Certified Business Accountant (SA), Chartered Accountant, Registered Auditor, as well as an Assessor and Moderator. As a professional trainer and webinar host, she is able to hold the attention of an audience with her relaxed and humorous presentation style.  She has a unique ability to communicate with delegates at their respective levels of knowledge and experience.  Over the last 20 years, she has trained thousands of partners, managers, trainee accountants and other professionals.
She is responsible for researching, compiling and presenting our MCLU (Monthly Compliance and Legislation Updates). 
SAIBA Academy Support
Login to SAIBA Academy
Select My Dashboard
Select Submit a Ticket to log a new query