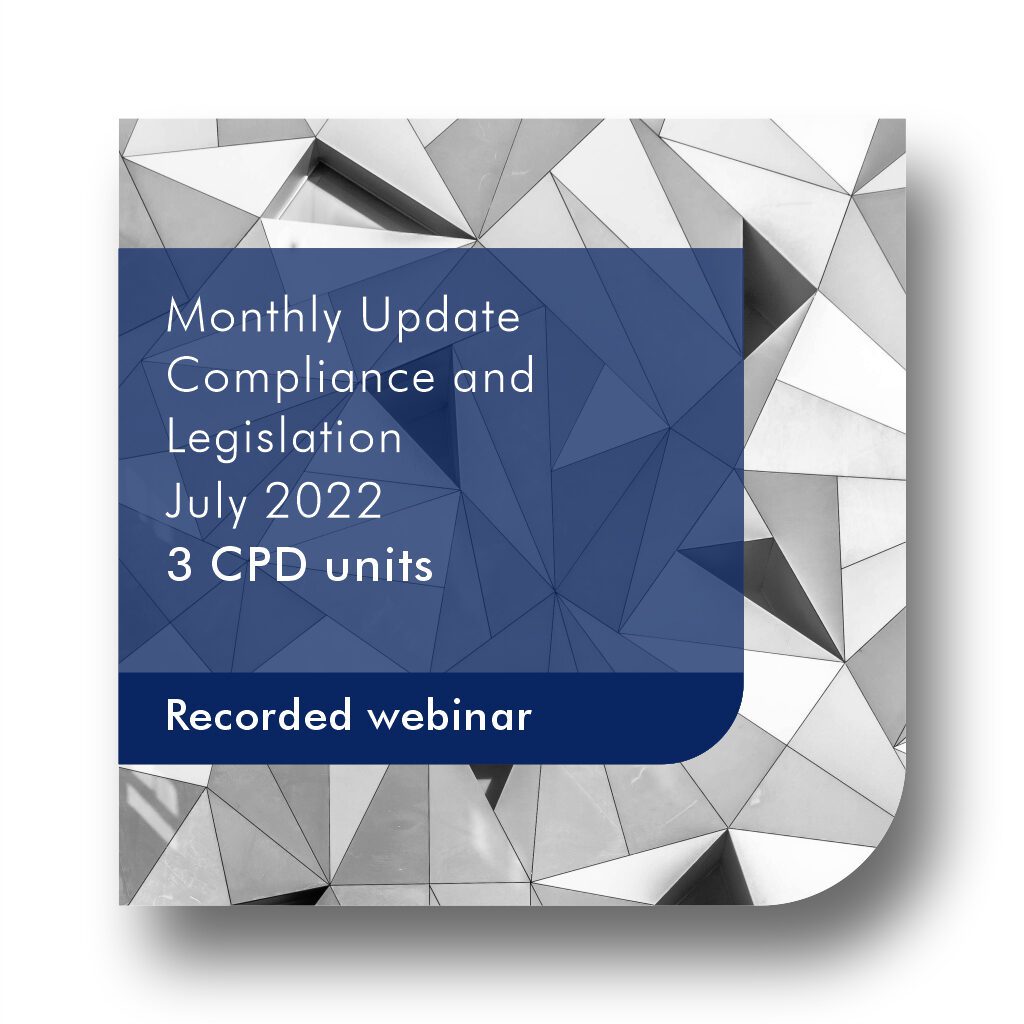 Monthly Update – Compliance and Legislation July 2022
Our Compliance and Legislation Update webinars provide a summary of some of the most important legislation updates. July 2022
What you will learn
After attending this webinar you will:
Stay up to date with the most important legislation updates;

Be aware of the latest legislative changes and what it means for your business, practice, and your clients;

Be able to inform your staff and clients on how to stay compliant;

Adapt business models to fit new legislative landscapes;

Receive references to documents and guides; 

Have access to your own technical resource; and 

Have access to the presenter via email for follow-up Q & A.
Description
Accountants and auditors must stay informed about changes in legislation and regulations that affect their firms and the business of their clients. 
Technical experts research and summarise all relevant and important changes on a monthly basis and presents this in an easily understandable webinar.  
The webinar includes: 
A reference guide of all changes to share within the firm; 

PPT summary of all new amendments
Stay up-to-date on recent and important legislation developments in auditing, accounting, tax, SARS operations, CIPC operations, Labour and other relevant laws by joining us for the webinar.
Price
The following pricing apply:
Non-subscriber Ad hoc: R380.00 incl. VAT
Subscriber: Included for free in Accountant in Practice, Accountant in Practice plus Tax, Bookkeeper and Quick Update packages.
Content
Study unit 1 -IFRS – Standards 
– What's new?
IFRS Monthly news summary 
Study unit 2 – IFRS – Accounting Issues/Other
ASB Urgent clarification on the status of Standards GRAP
National Treasury: AFS template for departments published for comment and testing
National Treasury: Application of GRAP 109 and MCS Chapter 16 re Principal Agent arrangements
JSE publishes its first guidance on sustainability and climate disclosures
ASB Newsletter #4 – Useful lives of assets
Study unit 3 – IRBA – Standards, Legal/Ethics/Other & Reminders
IAASB: Approved but not yet published: Amendments to ISA700 and ISA260
Proposed IRBA Rules Arising from the International Standards on Quality Management
IRBA Section 15 Retirement Fund Agreed-upon Procedures Engagements
PPRA Transitional Provisions for 2022 Trust Account Audits (Property Practitioners)
Study unit 4 – CIPC –

Notices and Practice Notes issued (enforcement and to customers)
Notice 14 of 2022 – Co-Operatives that have been directed to change names by the Registrar
Notice 16 of 2022 – Voluntary deregistration of companies and close corporations
Study unit 5 – Labour Law – Employment Law
Labour inspectors on a mission! 
Study unit 6 –

Other Laws & Regulations affecting your client AND impact on NOCLAR
SAICA Legal Update 2022 Volume 17 Issue 11 – covers new relevant National laws up to 17 June 2022
The Mine Health and Safety Act: Draft Amendment Bill;
The Road Accident Fund Act: Withdrawal of notice;
The Social Assistance Act: Amendment Act 2020;
The Tax Administration Act: Income tax returns; and
The Value-added Tax Act: Domestic reverse charge relating to valuable metals
SAICA Legal Update 2022 Volume 17 Issue 12 – covers new relevant National laws up to 8 July 2022
The Labour Relations Act: Code of good practice (Managing exposure to Sars-Cov-2 in the workplace);
The National Environmental Laws Amendment Act 2022 (Not commenced);
The National Environmental Management Act (Draft prior informed consent procedure for certain hazardous chemicals and pesticides in international trade);
The Pension Funds Act (Asset spreading requirements); and
The Special Investigating units and Special Tribunals Act (Investigations).
Employment Equity submission
OHSA Commercial Diving Regulations 2022
Study unit 7 – SARS – Guides
VAT 404 – Guide for Vendors (Issue 14)
Guide on Income Tax and the Individual (2021/22)
Tax Exemption Guide for Companies Wholly Owned by Institutions, Boards or Bodies
Tax Exemption Guide for Institutions, Boards or Bodies
Draft Interpretation – Persons not eligible to register as a Tax Practitioner and deregistration of registered Tax Practitioners for Tax Non-compliance
Study unit 8 – SARS – Notices and other publications issued
Trusts are reminded of their duty to register trusts for income tax purposes
Specified persons who must submit returns for the 2022 year of assessment
SARS Media Release re 2022 Tax Filing Season
Average Exchange Rates
Study unit 9 – SARS – SCA Cases
SARS wins R71m Vat case against Capitec
CSARS v Candice-Jean van der Merwe (211/2021) [2022] ZASCA 106 (30 June 2022)
Media Release re SARS sews victory protecting the textile industry
Study unit 10 – Regulator News –

SAICA 
FAQs re the Companies Act 
Study unit 11 – Regulator News – SAIBA
Newsletters:
CFO Talks (CFO Talks™ is devoted to sharing ideas and conversations between CFOs. It is a platform which facilitates insightful and powerful talks relevant to CFOs)

Accounting Weekly (weekly newsletter)
Study unit 12 – Regulator News – Companies Tribunal
3 Cases finalised in June 2022
Quarterly Newsletter
– Companies Tribunal bulletin Volume 1: April to June 2022
– April to June 2022
Study unit 13 – Regulator News – LPFF
4 Publications re Engagements on Legal Practitioners' Trust Accounts 
Study unit 14 – Regulator News – FSCA Publications and press releases
FSCA is conducting an investigation into the affairs of Regenesis Markets (Pty) Ltd
FSCA fines Poneso Employee Benefits and Actuarial Consultants (Pty) Ltd and Poneso Consulting (Pty) Ltd
FSCA appoints Statutory Manager for N-e-FG Administrators (Pty) Ltd
Update on Administrative Sanction imposed on Ravensberg Advisory and Consulting Services
The FSCA warns against Regulatory Examination Misconduct
3 Warnings issued against fraudulent FSPs
FSCA Q4 eNewsletter (March 2022)
Study unit 15 – Regulator News – CGSO
Warning issued against an online retailer (PC Link Computers)
Tips for online suppliers on how to ensure compliance with the CPA
Study unit 16 – Regulator News – Legal Ombud
Office of the Legal Service Ombud newly launched 
Study unit 17 – Regulator News – OTO
Fair Play (Issue 24) – Office of the Tax Ombud Newsletter 
Study unit 18 – Regulator News – Department of Labour
Booklet on Entrepreneurship – How to start your own business 
Study unit 19 – Regulator News – SARS
SARS Tax Practitioner Readiness Programme
Latest Tax Practitioner Newsletter
Latest Government Connect newsletter
Requirements
There are no preconditions for this course.
Moderate level.
Recorded webinar made available on a specified date.
Presenter
Lettie Janse van Vuuren | CBA (SA)
Lettie is a Certified Business Accountant (SA), Chartered Accountant, Registered Auditor, as well as an Assessor and Moderator. As a professional trainer and webinar host, she is able to hold the attention of an audience with her relaxed and humorous presentation style.  She has a unique ability to communicate with delegates at their respective levels of knowledge and experience.  Over the last 20 years, she has trained thousands of partners, managers, trainee accountants and other professionals.
She is responsible for researching, compiling and presenting our MCLU (Monthly Compliance and Legislation Updates). 
SAIBA Academy Support
Login to SAIBA Academy
Select My Dashboard
Select Submit a Ticket to log a new query