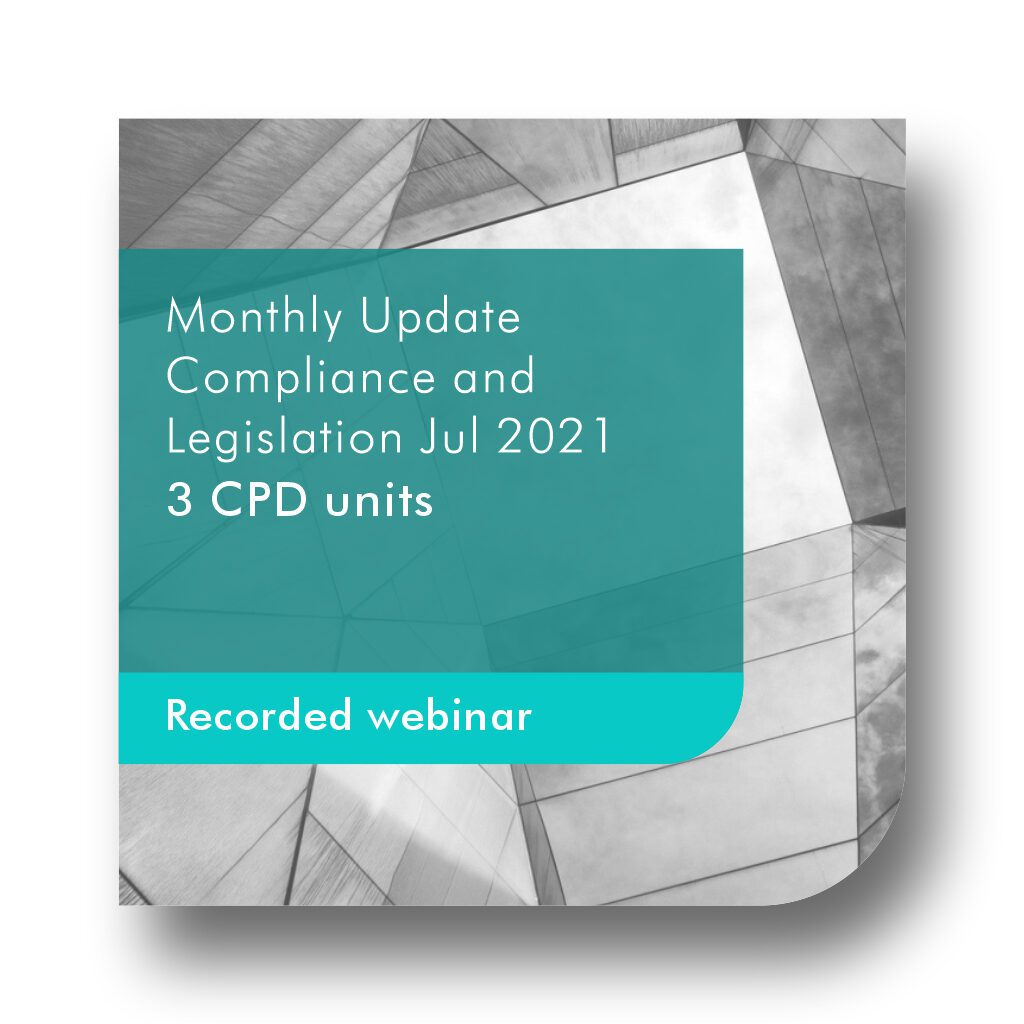 Monthly Update – Compliance and Legislation July 2021
Our Compliance and Legislation Update webinars provide a summary of some of the most important legislation updates. July 2021.
WHAT YOU WILL LEARN
After attending this webinar you will:
Stay up to date with the most important legislation updates;

Be aware of the latest legislative changes and what it means for your business, practice, and your clients;

Be able to inform your staff and clients on how to stay compliant;

Adapt business models to fit new legislative landscapes;

Receive references to documents and guides; 

Have access to your own technical resource; and 

Have access to the presenter via email for follow-up Q & A.
DESCRIPTION
Accountants and auditors must stay informed about changes in legislation and regulations that affect their firms and the business of their clients. 
Technical expert Lettie Janse van Vuuren CA(SA), RA researches and summarises all relevant and important changes on a monthly basis and presents this in an easily understandable webinar. 
The webinar includes: 
A reference guide of all changes to share within the firm; 

PPT summary of all new amendments;

Interactive session with the presenter; and

Online Q&A.
Stay up-to-date on recent and important legislation developments in auditing, accounting, tax, SARS operations, CIPC operations, Labour and other relevant laws by joining us for the webinar.
PRICE
The following pricing apply:
Adhoc: R399.00
Subscription: Included for free in Accountant in Practice, Accountant in Practice plus Tax, Bookkeeper and QuickUpdate packages.
CONTENT
Study unit 1 -IFRS – Standards 
– What's new?
IFRS Monthly news summary 
Study unit 2 – IFRS –

Issued by the Office of the Accounting-General in the Department of National Treasury
Updated Accounting Guidelines on 2 GRAP standards 
Study unit 3 – IRBA – Guidance/Other
Consultation Paper – Enhancing Disclosures in the Auditor's Reports in South Africa: Addressing the Needs of Users of Financial Statements 
Study unit 4 – CIPC –

Notices and Practice Notes issued (enforcement and to customers)
Notice 29 of 2021 – List of Accredited Professional Bodies whose members are eligible to be licensed as business rescue practitioners as at 01 June 2021
Practice Note 1 of 2021
Guidance Note – Essential services certificate issued by CIPC
Notice 33 of 2021 – Close Corporations without Accounting Officers
Study unit 5 – Covid-19 Updates –
New announcements/guidance:
Employment and Labour Minister issues new direction with regard to vaccination in the workplace  
Study unit 6 – Labour Law – Employment Law
A self-help guide to the CCMA  
Study unit 7 –

Other Laws & Regulations affecting your client AND impact on NOCLAR:
This months Big 5
Volume 16 Issue 11 up to 21 Jun 2021:

The Disaster Management Act (COVID-19 workplace safety directions);

The National Environmental Management Act (Environmental impact assessments);

The National Health Act (Certificates of need);

The Occupational Health and Safety Act (Ergonomics regulations); and

The Protection of Personal Information Act (Transitional arrangements).
Study unit 8 –

Other Laws & Regulations affecting your client AND impact on NOCLAR – Other acts and articles
UIF Contribution Threshold increased with effect from 1 June 2021

New Consolidated directions on OHS measures in certain workplaces 

– Ad-hoc webinar will be presented on these important changes. Click here.

Sectional Titles Act: Amendment of Regulations 2021

Deeds Registries Amendment Act: Amendment of Regulations 2021

New Extension of PAIA Manual exemption
Study unit 9 –

Other Laws & Regulations affecting your client AND impact on NOCLAR – COIDA Update
Minimum assessment introduced for Domestic Workers 
Study unit 10 – SARS – Guides and FAQs

(new, updated & issued)
New Guide to SARS Mobile Tax Services
Guide on the Determination of Medical Tax Credits (Issue 12)
Updated: Guide to the Tax Compliance Status on eFiling
Comprehensive Guide to Dividends Tax (Issue 4)
Study unit 11 – SARS –

Binding Rulings (Private/Class/General) issued
Binding Class Ruling (BCR) 077 – Capital gains tax consequences of in specie distribution by company to its shareholders
Binding Private Ruling (BPR) 366 – Distribution in specie of shares
Binding Private Ruling (BPR) 365 – Interpretation and application of the de-grouping provision in section 45(4)(b)
Draft Binding General Ruling (BGR) – Purchase of different types of annuities at retirement
Draft Binding General Ruling (BGR) – Disqualification as a qualifying company under section 12R(4)(b)
Study unit 12 – SARS –

Notices and other publications issued
SARS provides guidance on claiming Home Office Expenses
Six SARS forms to migrate from Adobe Flash Player to HTML5
RAV01 form converted to HTML5
Verify a Tax Compliance Status
Updated Average Exchange Rates Tables
Guidance: Cease to be a Resident
Study unit 13 – SARS –

Taxpayers must be on the lookout for New Scams
Application for learnerships by unemployed youth
Notices of Administrative Penalty from SARS
Study unit 14 – Regulator News – IRBA news and press releases
IRBA News #54 published 
Study unit 15 – Regulator News –

SAICA press releases and other publications
Retention of records guide updated
Educational Material: Application of IAS 12 – Income Taxes: Substantively enacted tax rates
Study unit 16 – Regulator News – SAIBA
Accounting Weekly Newsletter
CFO Talks
Study unit 17 – Regulator News –

Companies Tribunal 
10 Cases finalised in JUNE 2021 (2 AGM, 4 Name Disputes, 2 Directorship Disputes, 2 Exemption from SEC) 
Study unit 18 – Regulator News – CIPC
CIPC enforcing the Companies Act, 2008 
Study unit 19 – Regulator News – NCC
The Competition Commission's draft guidelines on small merger notification 
Study unit 20 – Regulator News –

Information Regulator of SA
BASA Code of Conduct
POPIA update from Information Regulator (including their enforcement powers)
PAIA update from Information Regulator
Guidance note on exemptions from the conditions of POPIA
Information Regulator in the PAIA driving seat
Information Regulator confirms commencement date of Section 58(2) of POPIA
Guidance note on Processing of Special Personal Information
Guidance note on Processing of personal information of children
Study unit 21 – Regulator News –

FSCA publications & press releases
Lists of recognised qualifications
FSCA imposes penalty on African Unity Life Limited
FSCA announces enforcement action against Vesticento CC [ Mutual Direct Group Funeral Benefits
Covid-19 vaccines and life insurance policies
Update on Impilo Plus Insure
Africrypt (Pty) Ltd
8 Warnings issued against fraudulent FSPs this month
Study unit 22 – Regulator News – SARS
VAT Connect Newsletter
Latest Tax Practitioner Newsletter
REQUIREMENTS
There are no preconditions for this course.
Moderate level.
Recorded webinar made available on a specified date.
PRESENTER
Lettie Janse van Vuuren
Lettie is a Chartered Accountant, Registered Auditor, as well as an Assessor and Moderator. As a professional trainer and webinar host, she is able to hold the attention of an audience with her relaxed and humorous presentation style.  She has a unique ability to communicate with delegates at their respective levels of knowledge and experience.  Over the last 20 years, she has trained thousands of partners, managers, trainee accountants and other professionals.
She is responsible for researching, compiling and presenting the SAIBA QUICK UPDATE SUBSCRIPTION PACKAGE.
SAIBA ACADEMY SUPPORT
Go to HTTPS://SAIBA.ACADEMY/LOGIN/
Login
Select MY DASHBOARD
Select SUBMIT A TICKET to log a new query
ADDITIONAL MATERIAL
By attending this webinar, you will be provided with: 
Summarised slide presentation 

Reference documents and / or course material where available 

Access to a technical knowledge base

Recorded webinar that includes an expert presenter and participant interaction