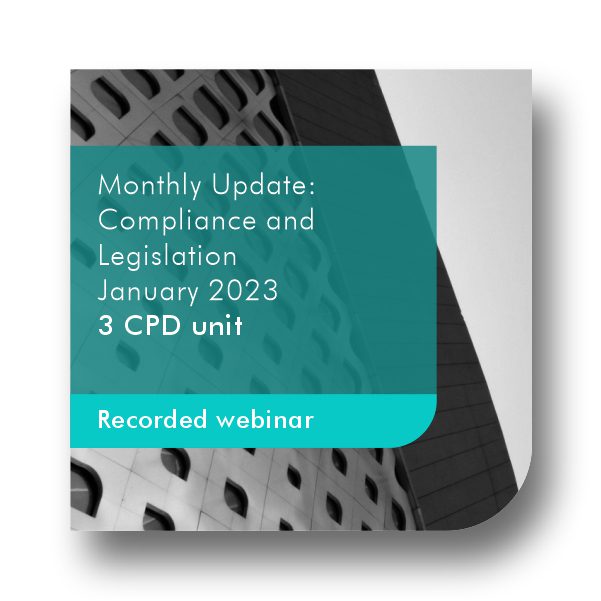 Monthly Update – Compliance and Legislation January 2023
Our Compliance and Legislation Update webinars provide a summary of some of the most important legislation updates. January 2023
What you will learn
After attending this webinar you will:
Stay up to date with the most important legislation updates;

Be aware of the latest legislative changes and what it means for your business, practice, and your clients;

Be able to inform your staff and clients on how to stay compliant;

Adapt business models to fit new legislative landscapes;

Receive references to documents and guides; 

Have access to your own technical resource; and 

Have access to the presenter via email for follow-up Q & A.
Description
Accountants and auditors must stay informed about changes in legislation and regulations that affect their firms and the business of their clients. 
Technical experts research and summarise all relevant and important changes on a monthly basis and presents this in an easily understandable webinar.  
The webinar includes: 
A reference guide of all changes to share within the firm; 

PPT summary of all new amendments;

Interactive session with the presenter; and

Online Q&A.
Stay up-to-date on recent and important legislation developments in auditing, accounting, tax, SARS operations, CIPC operations, Labour and other relevant laws by joining us for the webinar.
Price
The following pricing apply:
Non-subscriber Ad hoc: R380.00 incl. VAT
Subscriber: Included for free in Accountant in Practice, Accountant in Practice plus Tax, Bookkeeper and Quick Update packages.
Content
Study unit 1 -IFRS – Standards 
– What's new?
IFRS Monthly news summary 
Study unit 2 – IRBA – Standards & Legal/Ethics/Other
New Edition of the IAASB Handbook Now Available
The IESBA Releases Update on Sustainability Work
Exposure Draft: Proposed Amendments to the IRBA Code of Professional Conduct for Registered Auditors – Revisions to the Definitions of Listed Entity and Public Interest Entity
IRBA publishes fourth Audit Quality Indicators Report: Talent turnover at manager and supervisory level is a growing risk to audit quality
ISQM 1 illustrative risk matrix and proforma toolkit
IFAC Releases New Implementation Tool for Auditors on Identifying and Assessing Risks of Material Misstatement
New IAASB Fact Sheet Helps Auditors Navigate Quality Management for Group Audits
IFAC resources: Implementing the IAASB's Quality Management Standards
Study unit 3 – CIPC –

Notices and Practice Notes issued (Enforcement and to customers)/

Articles
Practice note 05: Issuance of Notices of Acceptance and Official Actions and e-filing of outstanding documents  
Study unit 4 –

Other Laws & Regulations affecting your client AND impact on NOCLAR
Crypto asset regulation gaining traction in South Africa 
Study unit 5 – SARS – Guides (new, updated & issued)
The guides for Income Tax return have been updated:
Comprehensive Guide to the ITR12 Income Tax Return for Individuals
How to submit your individual income tax return via eFiling
Guide to the Tax Directive functionality on eFiling (updated)
Study unit 6 – SARS –

Interpretation Notes (updated & issued)
Interpretation Note 10 (Issue 4) – Skills development levy exemption: Public benefit organisations
Interpretation Note 18 (Issue 5) – Rebate and deduction for foreign taxes on income
Interpretation Note 126 – Extraordinary dividends treated as income or proceeds on the disposal of certain shares
Study unit 7 – SARS –

Binding Rulings (Private/Class/General) issued
Binding General Ruling 62 – Value-added tax implications of securities lending arrangements
Binding Private Ruling 387 – Attribution of nett income to a public benefit organisation
Binding Class Ruling 085 – En commandite partnerships investing in photovoltaic solar energy plants
Binding Class Ruling 084 – Transfer of funds held in trust to a "beneficiary fund"
Study unit 8 – SARS –

Notices and other publications issued:
Tax Directives
Average Exchange Rates updated
Study unit 9 – SARS –

Tax court cases:
SARSTC IT 45710 (ADM) [2022] ZATC CPT (29 November 2022) 
Study unit 10 – SARS –

High court cases:
Glencore International AG v CSARS (34490/2021) [2022] ZAGPPHC (7 December 2022) 
Study unit 11 – SARS – SCA cases
Pacific Solar Technologies (Pty) Ltd v CSARS (715/2021) [2020] ZASCA 166 (29 November 2022) 
Study unit 12 – SARS – Scams
Taxpayers must be on the lookout for new Pay-fast scams
Study unit 13 – Regulator News – IRBA
IRBA News #60 
Study unit 14 – Regulator News –

SAICA press releases and other publications:
2023 Training Regulations (Lettie to present webinar on 21.02.2023)
2023 SAICA Training Office Fees
Accreditation Policy
CA Accredited training offices – Using SAICA Branding
2022 CPD Declarations are due by 28 February 2023
The Tax Practitioner Annual Declaration is due on 31 January 2023
Study unit 15 – Regulator News – CIBA
CFO Talks Newsletter

Accounting Weekly Newsletter
Study unit 16 – Regulator News – CIPC,

Companies Tribunal, Information Regulator, FSCA publications & press releases, CGSO, OTO, SARS
CIPC Troubleshooting sessions in January 2023
1 Case finalised in Dec 2022
Quarterly Newsletter – Bulletin
The Information Regulator's first bite!
FSCA issues revised penalty of R20 million to Mr Markus Jooste in line with the Financial Sector Tribunal's decision on Insider Trading regarding Steinhoff International Holdings N.V.
Consumers Alert: Reliable Store not reliable
VAT Connect Newsletter
Study unit 17 – General Announcements / News Releases – Media articles
Changes to pensions in South Africa in 2023 – what you need to know 
Requirements
There are no preconditions for this course.
Moderate level.
Recorded webinar made available on a specified date.
Presenter
Lettie Janse van Vuuren | CBA (SA)
Lettie is a Certified Business Accountant (SA), Chartered Accountant, Registered Auditor, as well as an Assessor and Moderator. As a professional trainer and webinar host, she is able to hold the attention of an audience with her relaxed and humorous presentation style.  She has a unique ability to communicate with delegates at their respective levels of knowledge and experience.  Over the last 20 years, she has trained thousands of partners, managers, trainee accountants and other professionals.
She is responsible for researching, compiling and presenting our MCLU (Monthly Compliance and Legislation Updates). 
CIBA Academy Support
Login to CIBA Academy
Select My Dashboard
Select Submit a Ticket to log a new query