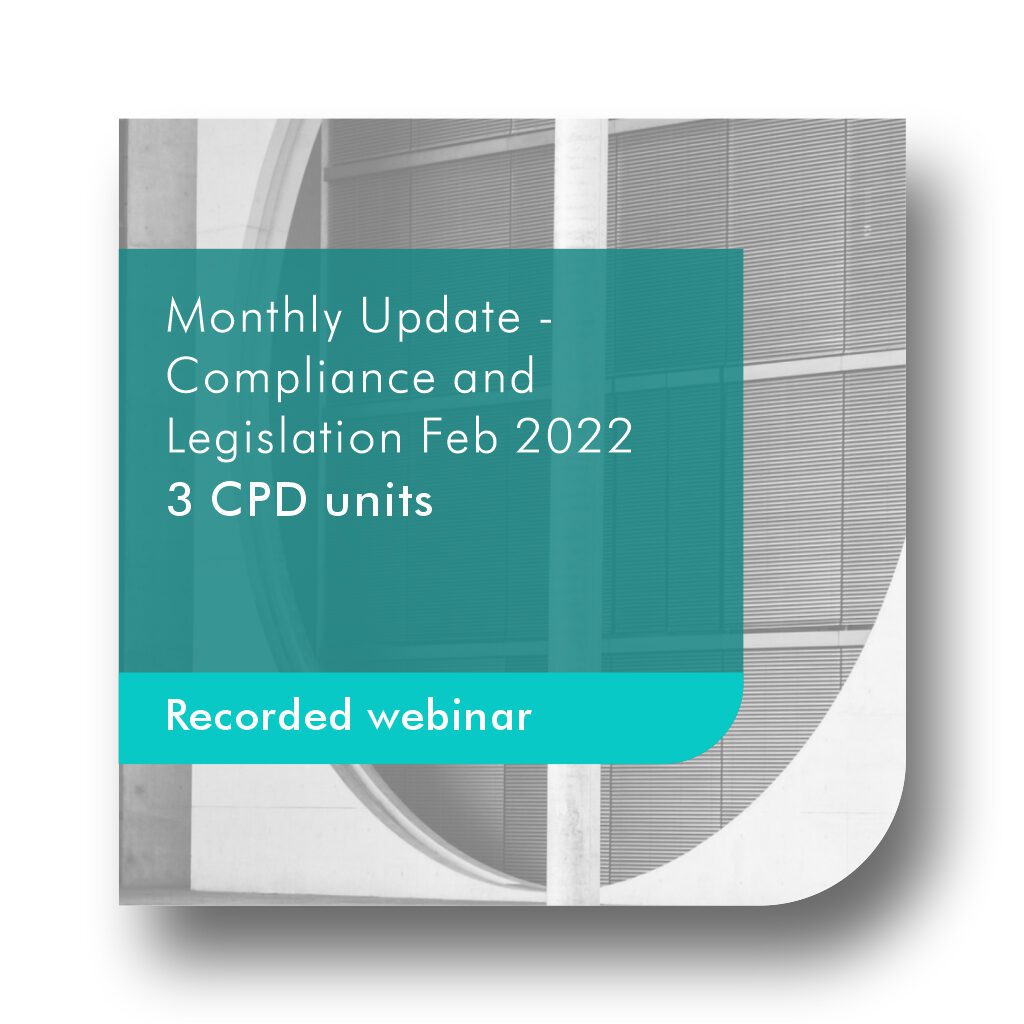 Monthly Update – Compliance and Legislation February 2022
Our Compliance and Legislation Update webinars provide a summary of some of the most important legislation updates. February 2022
What you will learn
After attending this webinar you will:
Stay up to date with the most important legislation updates;

Be aware of the latest legislative changes and what it means for your business, practice, and your clients;

Be able to inform your staff and clients on how to stay compliant;

Adapt business models to fit new legislative landscapes;

Receive references to documents and guides; 

Have access to your own technical resource; and 

Have access to the presenter via email for follow-up Q & A.
Description
Accountants and auditors must stay informed about changes in legislation and regulations that affect their firms and the business of their clients. 
Technical expert Caryn Maitland CA(SA) researches and summarises all relevant and important changes on a monthly basis and presents this in an easily understandable webinar.  
The webinar includes: 
A reference guide of all changes to share within the firm; 

PPT summary of all new amendments;

Interactive session with the presenter; and

Online Q&A.
Stay up-to-date on recent and important legislation developments in auditing, accounting, tax, SARS operations, CIPC operations, Labour and other relevant laws by joining us for the webinar.
Price
The following pricing apply:
Adhoc: R399.00
Subscription: Included for free in Accountant in Practice, Accountant in Practice plus Tax, Bookkeeper and QuickUpdate packages.
Content
Study unit 1 -IFRS – Standards 
– What's new?
IFRS Monthly news summary 
Study unit 2 – IFRS – Accounting Issues
Long term debts with covenants – classification
Supplier finance arrangements
IFRS 17 Insurance contracts
Study unit 3 – IRBA – Standards & Legal/Ethics
New Quality Management Standards – Towards restoring confidence and enhancing audit quality
Impact of auditor independence in an uncertain environment
IRBA Newsletter 56
IRBA completed its investigation process on all SAA complaints between 2017 and 2019
Extension in the comment period for the proposed Disciplinary Rules for registered auditors
Study unit 4 – CIPC –

Articles
Section 161 of the Companies Act and a shareholder's claim for reflective loss
Common law derivative action survives for close corporations
Study unit 5 – Covid-19 Updates –
New announcements/guidance:
Alert Level 1 adjusted 
Study unit 6 – Labour Law –

Employment law
Saying no to the jab could mean saying goodbye to your job?  
Study unit 7 –

Other Laws & Regulations affecting your client AND impact on NOCLAR:
This months Big 5
The latest SAICA Legal Update has been released and it covers relevant national laws up to 31 January 2022:
The Criminal Law (Sexual Offences and Related Matters) Amendment Act: Amendment Act 2021

The Domestic Violence Act: Amendment Act 2021 

The Income Tax Act: Tax Administration and Taxation Laws Amendment Acts

The Tax Administration Act: Tax Administration Laws Amendment Act 2021.

The Value-added Tax Act: Taxation Laws Amendment Act 2021.
Study unit 8 – SARS
Refer to January and February 2022 Maitland and Associates Tax Newsletter distributed to attendees.  
Study unit 9 – Regulator News – SAIBA
Accounting Weekly Newsletter
CFO Talks
Study unit 10 – General Announcements / News Releases – Media articles
The Report by the State Capture Commission of Zondo – our takeaways as a profession
The State of The Nation Address by The President 2022
Requirements
There are no preconditions for this course.
Moderate level.
Recorded webinar made available on a specified date.
Presenter
Caryn Maitland is a Chartered Accountant (SA). She has been a member of IRBA as a registered auditor and accountant since 2002, Caryn has lectured Auditing and Accounting at various institutions and has conducted independent workshops and seminars for professional accountants since 2006 on various topics.
SAIBA Academy Support
Login to SAIBA Academy
Select My Dashboard
Select Submit a Ticket to log a new query
Additional Material
By attending this webinar, you will be provided with: 
Summarised slide presentation 

Reference documents and / or course material where available 

Access to a technical knowledge base

Recorded webinar that includes an expert presenter and participant interaction