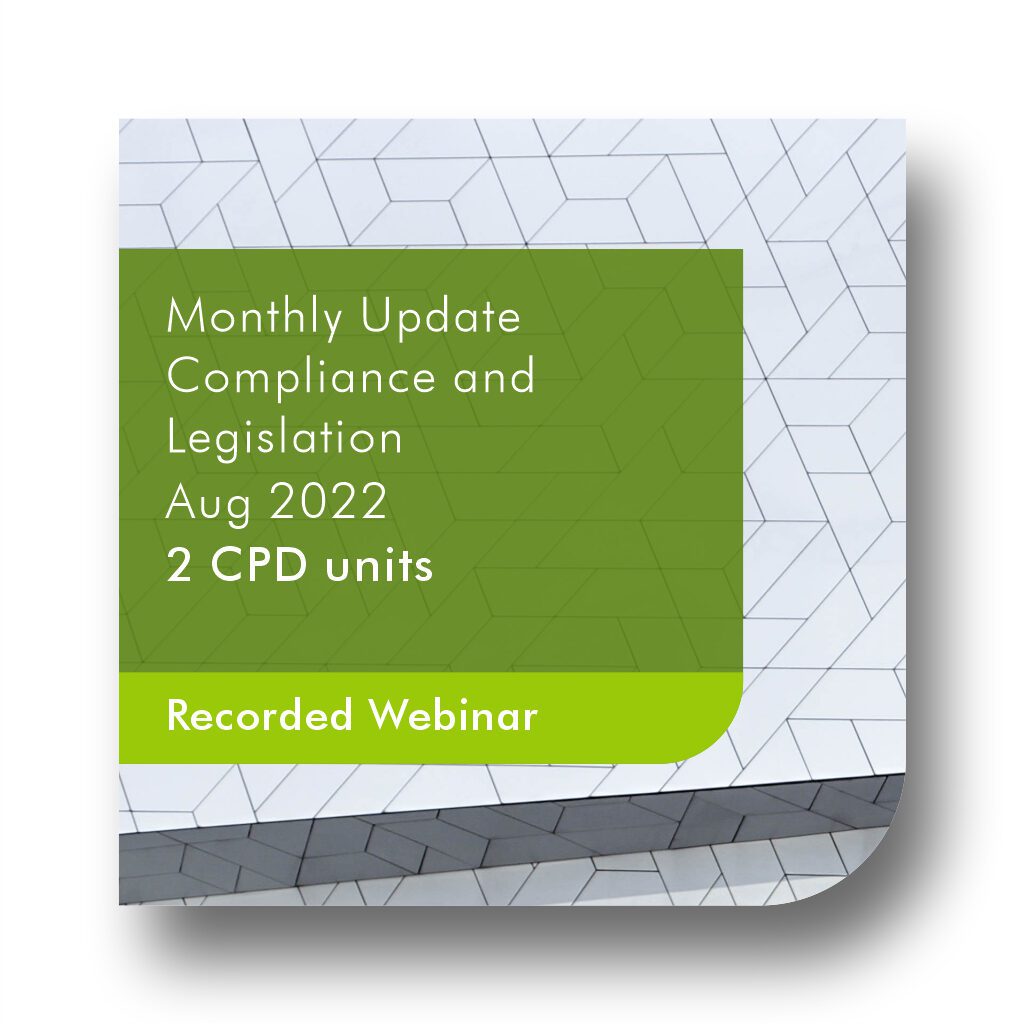 Monthly Update – Compliance and Legislation August 2022
Our Compliance and Legislation Update webinars provide a summary of some of the most important legislation updates. August 2022
What you will learn
After attending this webinar you will:
Stay up to date with the most important legislation updates;

Be aware of the latest legislative changes and what it means for your business, practice, and your clients;

Be able to inform your staff and clients on how to stay compliant;

Adapt business models to fit new legislative landscapes;

Receive references to documents and guides; 

Have access to your own technical resource; and 

Have access to the presenter via email for follow-up Q & A.
Description
Accountants and auditors must stay informed about changes in legislation and regulations that affect their firms and the business of their clients. 
Technical expert Caryn Maitland CA(SA) researches and summarises all relevant and important changes on a monthly basis and presents this in an easily understandable webinar.  
The webinar includes: 
A reference guide of all changes to share within the firm; 

PPT summary of all new amendments;

Interactive session with the presenter; and

Online Q&A.
Stay up-to-date on recent and important legislation developments in auditing, accounting, tax, SARS operations, CIPC operations, Labour and other relevant laws by joining us for the webinar.
Price
The following pricing apply:
Adhoc: R450.00
Subscription: Included for free in Accountant in Practice, Accountant in Practice plus Tax, Bookkeeper and QuickUpdate packages.
Content
Study unit 1 -IFRS – Standards 
– What's new?
IFRS Monthly news summary
Feedback from the IFRS Advisory Council meeting
Study unit 2 – IFRS – Accounting Issues
Accounting for cryptos – still a talking point! 
Study unit 3 – IFRS – Sustainability Reporting
IFRS: 'MOU with the Global Reporting Foundation' 
Study unit 4 – IRBA – Standards & Legal/Ethics/Other
ISA 220 (Revised) – definition of an engagement team fact sheet
IESBA Expands the Definition of Public Interest Entities and the Implications for South Africa
Report on IESBA's accomplishments – Elevating Ethics and Independence Standards in a complex world
Report: IRBA issues Conforming and Consequential Amendments to the Other International Standards
IAASB LCE Conference takeaways
Audit Quality Indicators (AQIs): a global overview of initiative – factsheet
ESG governance: recommendations for audit committees
Study unit 5 – CIPC –

Notices and Practice Notes issued (Enforcement and to customers)/

Articles
Admin Independent Review Practice Note 3 of 2022
CIPC Notice 13 of 2022 – CIPC link with DHA has been restored
SAICA: FAQs for members and associates relating to the Companies Act
Study unit 6 – Labour Law –

Employment law
Interim suspension of UIF Compliance Certificate requirement for doing business with government, SOEs etc.  
Study unit 7 –

Other Laws & Regulations affecting your client AND impact on NOCLAR:
This months Big 5
The latest SAICA Legal Update has been released and it covers relevant national laws up to 30 May 2022:
The Civil Aviation Act: Amendment Act 2021

The Electronic Communications Act: End-users and subscriber service charter

The Financial Sector Regulation Act: Introductory commissions

The Long-term Insurance Act and Short-term Insurance Act: Demarcation regulations benefit escalations

The Occupational Health and Safety Act: Commercial diving regulations 2022
Study unit 8 –

Other Laws & Regulations affecting your client AND impact on NOCLAR:
Other Acts and articles
Amendments to the JSE Listings Requirements
Financial Sector Regulation Act: Introductory commissions Information request 4 of 2022
Draft Magistrates Bill
National Health Act: Notifiable conditions
Non-profit Organisations Act: Draft Amendment Bill 2021
Study unit 9 – SARS
Refer to April and May 2022 Maitland and Associates Tax Newsletter distributed to attendees.  
Study unit 10 – Regulator News – SAIBA
Accounting Weekly Newsletter
CFO Talks
Study unit 11 – Regulator News – CGSO, Competitions Commission, FIC Advisory & Guidance, Companies Tribunal,

Property Practitioners Board, SARS, LPC
1st Quarter Newsletter (April to June 2022)
CompuTicket agrees to pay R11.3M as a second fine for alleged abuse of dominance
Commission meets with airlines
Commissions Decisions from May 2022
FIC Warms of Scam notices using its name
Name disputes (3 granted 1 refused)
Director disputes (2 granted 2 refused)
Exemptions (2 granted)
AGM (1 granted)
Other matters dismissed
Extension of deadline to submit financials (4 months to 6 months)
Change in Tax Practitioner CPD requirements
LPC welcomes Ombud
Study unit 12 – Regulator News – SAICA
Protection of Personal Information Act (POPIA) guide released
Fact Sheet 1 – Overview of the 8 conditions of the POPI Act
Fact Sheet 2 – Understanding Data Subjects Rights
Fact Sheet 3 – Direct marketing: staying on the right side of the law
Fact Sheet 4 – Basic security information checklist for small low risk owners
Study unit 13 – General Announcements / News Releases – Media articles
Debt management – When does the clock for prescription start? 
Requirements
There are no preconditions for this course.
Moderate level.
Recorded webinar made available on a specified date.
Presenter
Caryn Maitland is a Chartered Accountant (SA). She has been a member of IRBA as a registered auditor and accountant since 2002, Caryn has lectured Auditing and Accounting at various institutions and has conducted independent workshops and seminars for professional accountants since 2006 on various topics.
SAIBA Academy Support
Login to SAIBA Academy
Select My Dashboard
Select Submit a Ticket to log a new query