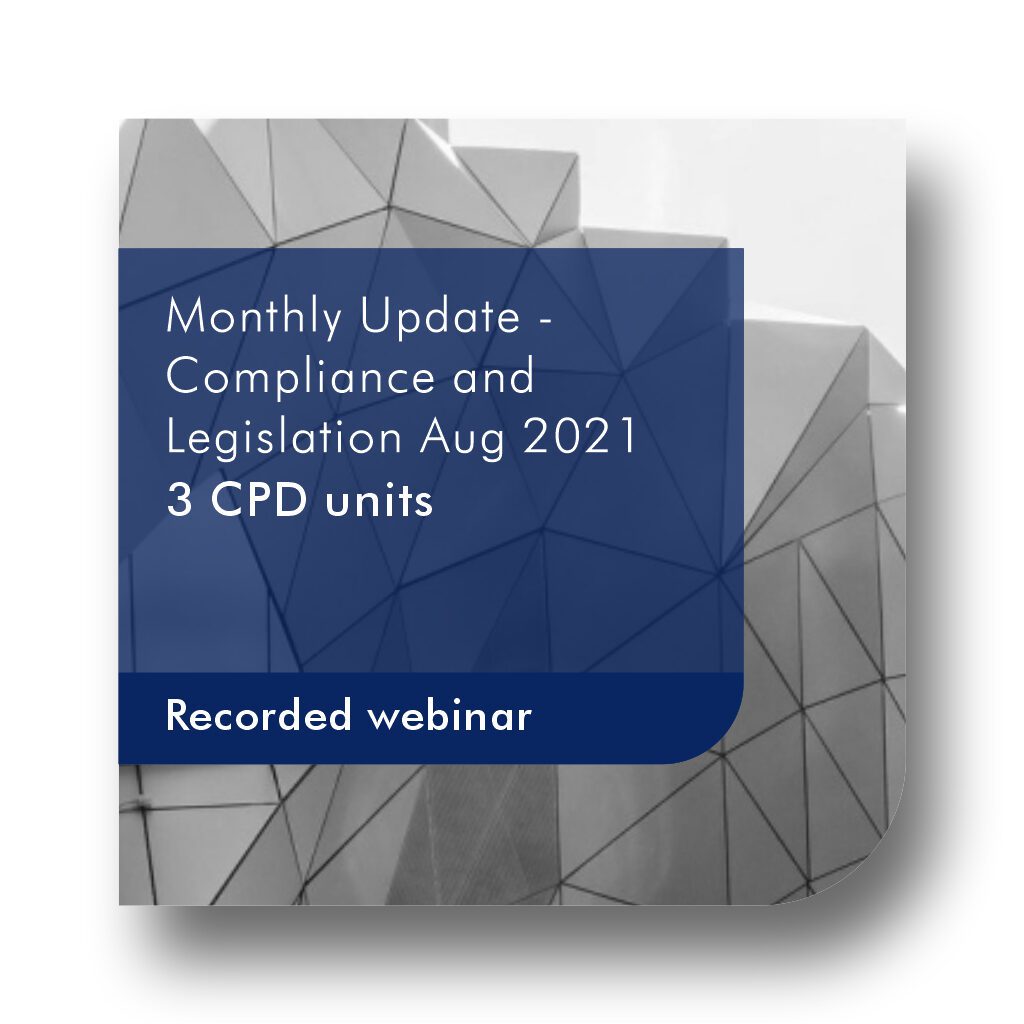 Monthly Update – Compliance and Legislation August 2021
Our Compliance and Legislation Update webinars provide a summary of some of the most important legislation updates. August 2021.
WHAT YOU WILL LEARN
After attending this webinar you will:
Stay up to date with the most important legislation updates;

Be aware of the latest legislative changes and what it means for your business, practice, and your clients;

Be able to inform your staff and clients on how to stay compliant;

Adapt business models to fit new legislative landscapes;

Receive references to documents and guides; 

Have access to your own technical resource; and 

Have access to the presenter via email for follow-up Q & A.
DESCRIPTION
Accountants and auditors must stay informed about changes in legislation and regulations that affect their firms and the business of their clients. 
Technical expert Caryn Maitland CA(SA) researches and summarises all relevant and important changes on a monthly basis and presents this in an easily understandable webinar.  
The webinar includes: 
A reference guide of all changes to share within the firm; 

PPT summary of all new amendments;

Interactive session with the presenter; and

Online Q&A.
Stay up-to-date on recent and important legislation developments in auditing, accounting, tax, SARS operations, CIPC operations, Labour and other relevant laws by joining us for the webinar.
PRICE
The following pricing apply:
Adhoc: R399.00
Subscription: Included for free in Accountant in Practice, Accountant in Practice plus Tax, Bookkeeper and QuickUpdate packages.
CONTENT
Study unit 1 -IFRS – Standards 
– What's new?
IFRS Monthly news summary 
Study unit 2 – IFRS – Accounting Issues
Focus on sustainability reporting
IFRS 17 Insurance Contracts and IFRS 9 Financial Instruments
Reviewing disclosure requirements for subsidiaries
ED Disclosure Requirements in IFRS Standards– a Pilot approach
Study unit 3 – IRBA – Standards & Legal/Ethics
Auditing of Less Complex Entities (ED)
Quality Management Standards  – implementation guides and other related material
Auditing Profession Amendment Act signed in
IESBA Global Ethics Webinars on the Non-Assurance Services and Fee-Related Revisions to the IESBA Code of Ethics
Study unit 4 – IRBA – Other
IRBA to refer non audit complaints to professional bodies
IRBA heeds stakeholder calls and opens consultation on Enhancing Disclosures in Audit Reports
Auditing Profession Act (Inspection fees) Fees payable from 1 April 2021 to 31 March 2022, for an inspection or review by IRBA, gazetted
Access to the Recording of South Africa's Launch Event of the IAASB's Non-Authoritative Guidance on Applying ISAE 3000 (Revised) to Extended External Reporting (EER) Assurance Engagements
Study unit 5 – CIPC –

Notices and Practice Notes issued (enforcement and to customers)
Notice No. 35 of 2021: Rotation of Auditors in terms of S92 of Companies Act
Notice No. 36 of 2021 Discontinuation of enterprise search on the CIPC e-services website
Notice 38 of 2021: CIPC File Transition Project
Notice No 39 of 2021 Accounting and Auditing Professional Bodies (independent Review)
Study unit 6 – Covid-19 Updates – 
New announcements/guidance:
Declaration of COVID-19 as a national disaster extended to 15 September 2021 "taking into account the need to continue augmenting the existing legislation and contingency
Disaster Management Act (COVID-19) COVID-19 regulations amended (adjusted level 4 regulations as at 12 July 2021, table and forms).
Study unit 7 – Labour Law –

Employment law
Unemployment Insurance Act (Looting and damage temporary financial relief)
The legal timing of a financial incentives in lieu resignation (case law)
Workplace attendance by employees during the Covid-19 pandemic
Employee discipline in the face of Covid-19 workplace protocols
Exemption from minimum wage rule
UIF and Covid-19:  How to ensure you meet your obligations
Study unit 8 –

Other Laws & Regulations affecting your client AND impact on NOCLAR:
This months Big 5
Up to 9 July 2021:
The Disaster Management Act (COVID-19 workplace safety directions)

The National Environmental Management Act (Environmental impact assessments)

The Promotion of Access to Information Act (Information manual exemption)

The Protection of Personal Information Act (Prior authorisation processing)

The Upstream Petroleum Resources Development Bill.
Up to 26 July 2021:
The Competition Act (Exemption of essential goods);

The Disaster Management Act (Regulations and directions);

The National Health Act (Certificates of need);

The National Water Act (Hydraulic fracturing and underground gasification); and

The Occupational Health and Safety Act (Draft pressure equipment regulations).
Study unit 9 –

Other Laws & Regulations affecting your client AND impact on NOCLAR – Other acts and articles
The Cybercrime Act 
Study unit 10 – SARS
Refer to July and August 2021 Maitland and Associates Tax Newsletter distributed to attendees.  
Study unit 11 – Regulator News –

SAICA 
Impact on recent unrest on Auditing Standards
Emergency Room project
Study unit 12 – Regulator News – SAIBA
Accounting Weekly Newsletter
CFO Talks
Study unit 13 – Regulator News – CIPC
Broken register between Companies Register and Trade Mark Register (article) 
Study unit 14

– 

Regulator News – LPC
Attorney Trust Engagement Deadline
Managing assets in a fiduciary capacity – a discussion
Study unit 15 – Regulator News – National Credit Regulator
Financial assistance – Must companies register as a Credit Provider? 
Study unit 16 – 

Regulator News – 

FSCA publications and press releases
Financial Advisory and Intermediary Services Act (Reports)
Insurance Act (Contingent business interruption claims)
Insurance Law – Business insurance policies to rescue businesses (article)
Should an insured be penalised for untrue information supplied (article)
Study unit 17 – Regulator News – 

Information Regulator

 
POPIA Alert: When does public interest trump your right to privacy?
Maintaining compliance with POPIA – Application and Exceptions
The POPIA prior authorisation conundrum – What is it and do you need it?
POPIA – Prior authorisation processing
Study unit 18 – Regulator News – SARS
Tax implications from devastating insurrection and carnage (article) 
Study unit 19 – General Announcements / News Releases – Media articles
Why mark documents and correspondence "Without Prejudice)
Electronic signatures and email – What you need to know
Protecting your IP – Think outside the box but make sure the box is locked
Dealing with the Small Claims Court
Understanding contracts and dealing with contractual disputes
REQUIREMENTS
There are no preconditions for this course.
Moderate level.
Recorded webinar made available on a specified date.
PRESENTER
Caryn Maitland is a Chartered Accountant (SA). She has been a member of IRBA as a registered auditor and accountant since 2002, Caryn has lectured Auditing and Accounting at various institutions and has conducted independent workshops and seminars for professional accountants since 2006 on various topics.
SAIBA ACADEMY SUPPORT
Go to HTTPS://SAIBA.ACADEMY/LOGIN/
Login
Select MY DASHBOARD
Select SUBMIT A TICKET to log a new query
ADDITIONAL MATERIAL
By attending this webinar, you will be provided with: 
Summarised slide presentation 

Reference documents and / or course material where available 

Access to a technical knowledge base

Recorded webinar that includes an expert presenter and participant interaction