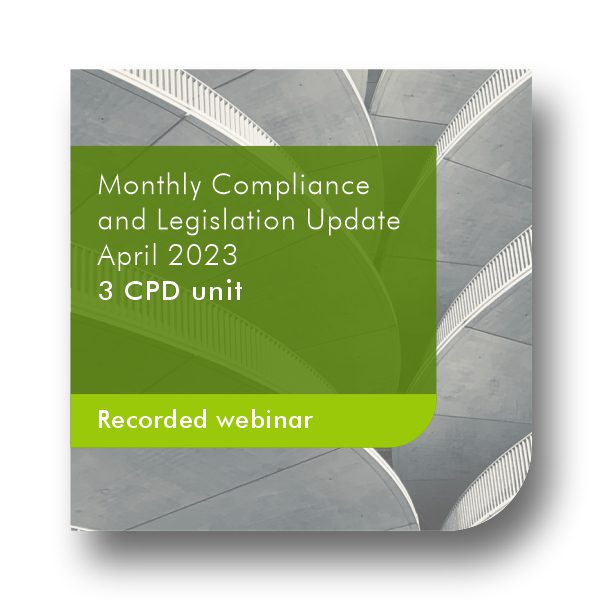 Monthly Update – Compliance and Legislation April 2023
Our Compliance and Legislation Update webinars provide a summary of some of the most important legislation updates. April 2023.
What you will learn
After attending this webinar you will:
Be aware of the latest legislative changes and what it means for your business, practice, and your clients;

Be able to inform your staff and clients on how to stay compliant;

Adapt business models to fit new legislative landscapes;

Receive references to documents and guides; 

Have access to your own technical resource; and 

Have access to the presenter via email for follow-up Q & A
Description
Accountants and auditors must stay informed about changes in legislation and regulations that affect their firms and the business of their clients. 
Technical expert Caryn Maitland CA(SA) researches and summarises all relevant and important changes on a monthly basis and presents this in an easily understandable webinar. 
The webinar includes: 
A reference guide of all changes to share within the firm; 

PPT summary of all new amendments;

Interactive session with the presenter; and

Online Q&A.
Price
The following pricing apply:
Adhoc: R380.00
Subscription: Included for free in Accountant in Practice, Accountant in Practice plus Tax, Bookkeeper and Quick Update packages.
Content
The following legislative, regulatory, industry standards, items and guides have been issued and/or updated during the preceding month and will be covered in the webinar: 
IFRS:

Standards – What's new?

IFRS Monthly news summary

IIFRS Foundation publishes IFRS Accounting Taxonomy 2023

IFRS – IASB proposed narrow-scope amendments – IFRS 17 Insurance contracts 

IFRS for SMEs Accounting Standard Update – March 2023

IASB – Tentative Agenda Decision and comment letters

Accounting issues

IASB – Conclusion of project on disclosure requirements in IFRS Accounting Standards

IFRS – Meeting notes Taxonomy Consultation Group 

IFRS Foundation publishes 2022 Annual Report

Public sector

National Treasury – 2023 GRAP Accounting and Disclosure Checklist

ASB – Latest ASB FAQs

IPSASB – Activities update

Sustainability Reporting

IFRS – Connectivity in practice

Technology

Financial Reporting Council Technology and Digital Hub

IRBA:

Legal/Ethics

International Foundation for Ethics and Audit launch

IESBA – Proposed revisions to the Code addressing tax planning and related services

SAICA – NOCLAR – Do you know your responsibilities? 

Technology

IAASB – IAASB Digital Technology Market – Scan Digital Assets IAASB (7

th

 Ed)

Public Companies and Blockchain – Exploring the Digital Asset Landscape 

Sustainability 

IESBA and IAASB Highlight Commitment to Deliver on Recommendations

Other

IRBA – Public Inspections Report 2022

IFIAR – Public Inspections Report 2022

FRC – List of Companies whose reports and accounts have been reviewed

SAICA – FAQs on ISAs

SAICA – Submission to IRBA on Due Process Policy

Property Practitioner Trust Account Engagement Reports 

CIPC:

Notices and Practice Notes issued (Enforcement and to customers):

Notice 15 of 2023 – CIPC notice setting out the Requirements on the Appointment of an Accounting officer

Notice 16 of 2023 – CIPC experiencing a delay in processing credit notes 

Notice 19 of 2023 – CIPC commencing final deregistration

Notice 20 of 2023 – CIPC deregistered 646 853 companies and CCs

Sustainability and Integrated Reporting:

News releases

ISSB – transitional relief to support companies applying IFRS S1 and IFRS S2

IASB – Improvements to climate-related disclosures in financial statements

IASB – International applicability of Sustainability Accounting Standards Board (SASB) Standards

GRI – Calls for a risk-based due diligence approach to inform business decisions

ISSB – Update by chair

IASB & ISSB – Connectivity in reports

Labour Law:

Employment law:

Compensation Commission – 2022 ROE form

COIDA – Confirmation of Life

GPTs are GPTs – An early look at the labour market impact potential of large language models

Other Laws & Regulations affecting your client AND impact on NOCLAR:

This month's big 5:

The latest SAICA Legal Update has been released and it covers relevant national laws up to 31 March 2023:

The Competition Act: Draft terms for a media and digital platforms market inquiry

The Disaster Management Act: Severe electricity constraint disaster regulations – ICASA directions

The Financial Sector Regulation Act: Financial sector amendments

The Tax Administration Act: Third party returns draft amendments

The Trust Property Control Act: Regulations

Other acts and articles:

Trust Property Control Act amendment of regulations

Trustee beneficial ownership register

Trust Property Control Act new sections effective

Chief Master Directive 1 of 2023

NPO Act Draft Regulations – SAICA comment letter 

Disaster Management Act: Severe electricity supply constraint disaster regulations

Companies Act: Regulations Draft amendments 

National Environmental Management Biodiversity Act: Withdrawal of norms and standards 

National Environmental Management Biodiversity Act: Withdrawal of Rhino measures amendment 

National Environmental Management Biodiversity Act: Withdrawal of revised threatened or protected species regulations 

SARS:

Refer to February 2023 and March 2023 Maitland and Associates Tax Newsletter distributed to attendees. 

Regulator news:

CIBA

Guide to the General Laws Amendment Act Changes

Guide on the de-registration campaign for NPOs

Accounting Weekly Newsletter 

CFO Talks

IRBA

Updated IRBA (Continuing Professional Development) CPD policy published

CGSO (Consumer Regulator)

Anniversary of the Bar Code

Competitions Commission

Commission's school uniform procurement guidelines change lives

Statement of Latest Decisions

Addressing the State Of Disaster on Energy

Commission welcomes tribunal's approval of Heineken and Distell merger

Commission releases Terms of Reference to establish a Media and Digital Platforms Market Inquiry

Remarks by the chairperson of the Fresh Produce Market Inquiry

Remarks by the Commissioner of the Competition Commission

Commission launches Fresh Produce Market Inquiry

Unjustified price increases of essential food a concern for Commission

FIC Advisory & Guidance

FIC Directive 6

FIC Directive 7

FIC Directive 8

Companies Tribunal

Names Disputes: 12 granted, 3 refused

Exemptions: 2 granted, 1 refused

Director Disputes: 1 granted, 3 refused

AGM: 1 dismissed

Property Practitioners Regulatory Authority

FCSA publications 

Flavour-of-the-year (FOTY) topics for insurers for the 2023 calendar year

IFRS 17 Insurance Contracts

Publication of Draft Notice of Amendment of Board Notice 90 of 2014 (BN90)

2023 list of planned PA surveys and questionnaires

Information Regulator

Outcomes of complaints investigated and assessments conducted in relation to POPIA and POPIA

Technology:

News releases

Open AI releases the more advanced and capable GPT-4

7 Biggest Questions about ChatGPT answered by Gartner Experts

Creating value in metaverse will require trust

General Announcements / News Releases:

Media articles and other thoughts: 

What does accounting have to do with a banking crisis – ICAEW

The collapse of Silicon Valley Bank caused panic and worry

IFAC: Accounting Technicians are a key component of the accountancy ecosystem

Elon Musk and top AI researchers call for pause on 'giant AI experiments' – The Verge
Requirements
There are no preconditions for this course.
Moderate level.
Recorded webinar made available on a specified date.
Presenter
Caryn Maitland is a Chartered Accountant (SA). She has been a member of IRBA as a registered auditor and accountant since 2002, Caryn has lectured Auditing and Accounting at various institutions and has conducted independent workshops and seminars for professional accountants since 2006 on various topics.
SAIBA Academy Support
Login to SAIBA Academy
Select My Dashboard
Select Submit a Ticket to log a new query