Monthly Update - Compliance and Legislation April 2021
Our Compliance and Legislation Update webinars provide a summary of some of the most important legislation updates. April 2021.
WHAT YOU WILL LEARN
After attending this webinar you will:
Stay up to date with the most important legislation updates;

Be aware of the latest legislative changes and what it means for your business, practice, and your clients;

Be able to inform your staff and clients on how to stay compliant;

Adapt business models to fit new legislative landscapes;

Receive references to documents and guides; 

Have access to your own technical resource; and 

Have access to the presenter via email for follow-up Q & A.
DESCRIPTION
Accountants and auditors must stay informed about changes in legislation and regulations that affect their firms and the business of their clients. 
Technical expert Lettie Janse van Vuuren CA(SA), RA researches and summarises all relevant and important changes on a monthly basis and presents this in an easily understandable webinar. 
The webinar includes: 
A reference guide of all changes to share within the firm; 

PPT summary of all new amendments;

Interactive session with the presenter; and

Online Q&A.
Stay up-to-date on recent and important legislation developments in auditing, accounting, tax, SARS operations, CIPC operations, Labour and other relevant laws by joining us for the webinar.
PRICE
The following pricing apply:
Adhoc: R399.00
Subscription: Included for free in Accountant in Practice, Accountant in Practice plus Tax, Bookkeeper and QuickUpdate packages.
CONTENT
Study unit 1 -IFRS – Standards 
– What's new?
IFRS Monthly news summary
Study unit 2 – IFRS – Accounting Issues
Comprehensive Review of IFRS for SME's (status)
Deferred Tax – Change of rate  
Study unit 3 – IRBA – Standards & Legal/Ethics
Newsletter Number 53
IAASB Publishes Non-Authoritative Guidance on Applying ISAE 3000 (Revised) to Extended External Reporting (EER) Assurance Engagements
Proposed PIE Definition
Study unit 4 – IRBA – Other
Quality Management Project (ISQM 1)
2021 Annual Renewal
Study unit 5 – CIPC –

Notices and Practice Notes issued (enforcement and to customers)
Notice 15: Requirement to voluntarily disclose solvency and liquidity test performed in the annual financial statements 
Study unit 6 – Covid-19 Updates – 
New announcements/guidance:
Stage 2 lockdown, vaccines roll out and J & J issues.
Study unit 7 –

Other Laws & Regulations affecting your client AND impact on NOCLAR:
This months Big 5
The Electronic Communications Act (Regulations)
The Occupational Health and Safety Act (Hazardous chemical agents regulations)
The Promotion of Equality and Prevention of Unfair Discrimination Act (Draft Amendment Bill)
The Protection of Personal Information Act (Prior authorisation)
The Special Investigating Units and Special Tribunals Act (Investigations).
Study unit 8 –

Other Laws & Regulations affecting your client AND impact on NOCLAR – Other acts and articles
Legal Practice Act (Accounting rules)
Protection of Personal Information Act (Prior authorisation)
Public Finance Management Act (Accounting officers)
Special Investigating Units and Special Tribunals Act (Unemployment Insurance Fund)
Electronic Communications Act (Data and cloud control)
Electronic Communications Act (Ownership)
Compensation for Occupational Injuries and Diseases Act (Forms)
Compensation for Occupational Injuries and Diseases Act (Registration of domestic worker)
Independent Communications Authority of South Africa (Advertising, infomercial and sponsorship)
National Environmental Management Waste Act (Extended producer responsibility)
Political Party Funding Act (Commencement)
Rental Housing Act (Draft rental housing regulations)
Customary Initiation Bill (Version D)
Study unit 9 – SARS
Refer to March and April 2021 Maitland and Associates Tax Newsletter distributed to attendees.  
Study unit 10 – Regulator News –

SAICA press releases and other publications
Auditor General Report for 2020 released 
Study unit 11 – Regulator News –

CIPC
Notice gazetted of the mandatory submission of annual financial statements using iXBRL by entities using generally recognized accounting principles, as from 1 October 2021. 
Study unit 12 – Regulator News – SAIBA
Accounting Weekly Newsletter (Judge Davies and Tax Practitioners)
CFO Talks
Study unit 13 – General Announcements / News Releases –

Media articles
Professional accountants' responsibility to act in the public interest during COVID-19  
REQUIREMENTS
There are no preconditions for this course.
Moderate level.
Recorded webinar made available on a specified date.
PRESENTER
Caryn Maitland is a Chartered Accountant (SA). She has been a member of IRBA as a registered auditor and accountant since 2002, Caryn has lectured Auditing and Accounting at various institutions and has conducted independent workshops and seminars for professional accountants since 2006 on various topics.
SAIBA ACADEMY SUPPORT
Go to HTTPS://SAIBA.ACADEMY/LOGIN/
Login
Select MY DASHBOARD
Select SUBMIT A TICKET to log a new query
ADDITIONAL MATERIAL
By attending this webinar, you will be provided with: 
Summarised slide presentation 

Reference documents and / or course material where available 

Access to a technical knowledge base

Recorded webinar that includes an expert presenter and participant interaction
Additional Course Information
| | |
| --- | --- |
| Category | Law |
| Accredited | SAIBA |
| Verifiable CPD Hours | 2 |
| Non-verifiable CPD Hours | N/A |
| Effort | 2 hours |
| Duration | 2 hours |
| Format | Webinar |
| Level | Moderate |
| Assessment | Yes |
| Study Material | No |
| Course Date | 3 May, 2021 |
Business Accountants in Practice (SA)
Business Accountants (SA)
Certified Business Accountants (SA)
Certified Financial Officers (SA)
This event is included in the following subscription packages: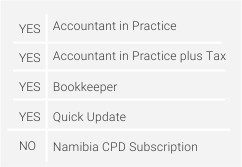 If you are not a subscriber, you need to purchase the event as a stand-alone event or subscribe to a SAIBA subscription package.
Subscribers pay less for their CPD points.
SAIBA offers 4 subscription packages that provides access to everything to run a successful accounting and tax practice.

Pay a small monthly amount and gain access to monthly webinars covering ethics, financials, reporting, audit and assurance, working papers, law, technology, management topics, and tax.