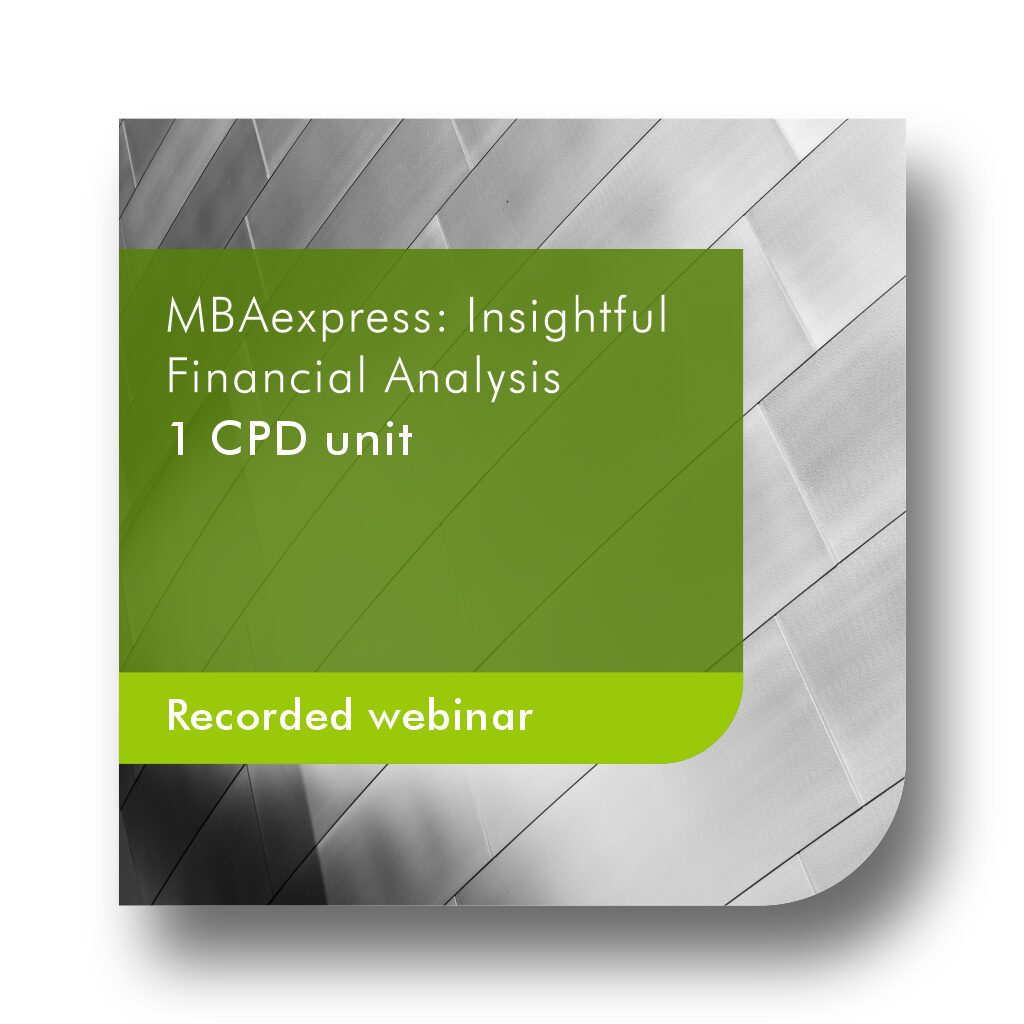 MBAexpress: Insightful Financial Analysis
Attendees will gain insight to the basic steps and a logical approach to the financial analysis process.
WHAT YOU WILL LEARN
Enhance your knowledge of the financial analysis steps
Identify the key components in the financial statement analysis
DESCRIPTION
There are strong reasons why you would conduct a financial analysis, from investment decisions to career management. This course lays out the basic steps and a logical approach to the process
PRICE
The following pricing apply:
Ad hoc: R 435.00 VAT incl.
Subscription: N/A
This is a digital product. You will have access to the content for 365 days after purchase date.
CONTENT
The financial analysis process
Corporate overview
Industry analysis
Business strategy
Ratio analysis
Cash sufficiency
DuPont analysis
Horizontal and vertical analysis
Continuity plan
REQUIREMENTS
There are no preconditions for this course.
Moderate level.
Recorded webinar made available on a specified date
PRESENTER
Peter Margaritis, CPA, CGMA, Mac
Peter A. Margaritis, CPA, CGMA is an author, blogger, speaker, educator, humorist, and podcaster. Partnering with the Business Learning Institute, his firm "The Accidental Accountant" teaches CPAs and other business leaders how to apply the seven principles of improvisation to build respect, trust and support with their colleagues and clients. He is the author of Improv Is No Joke: Using Improvisation to Create Positive Results in Leadership and Life.
SAIBA ACADEMY SUPPORT
Go to HTTPS://SAIBA.ACADEMY/LOGIN/
Login
Select MY DASHBOARD
Select SUBMIT A TICKET to log a new query
ADDITIONAL MATERIAL
By attending this webinar, you will be provided with:
– Summarised slide presentation.
– Reference documents and / or course material where available.
– Access to a technical knowledge base.
– Recorded webinar that includes an expert presenter and participant interaction.