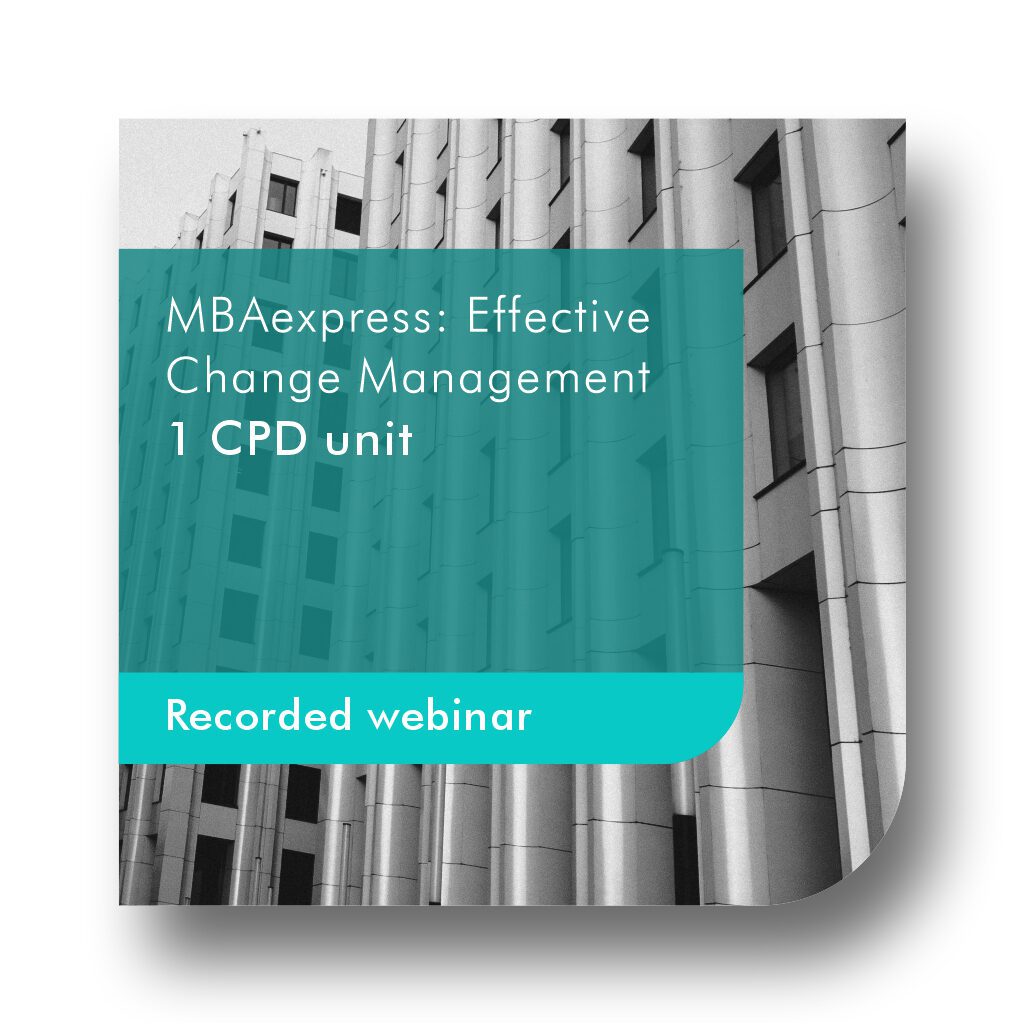 MBAexpress: Effective Change Management
Attendees will be provided with insight into various methods and ideas to consider in helping to navigate change.
WHAT YOU WILL LEARN
Identify different methods in dealing with change
Recognize the importance for continuously evolving
Contrast the differences between imposed and designed change
Identify how to get employees to "BUY" into change
DESCRIPTION
How do you react to change? Change is difficult, even when it is good and for the right reasons. This course will discuss various methods and ideas to consider in helping you navigate the turbulent waters when dealing with change.
PRICE
The following pricing apply:
Ad hoc: R 435.00 VAT incl.
Subscription: N/A
This is a digital product. You will have access to the content for 365 days after purchase date.
CONTENT
Different personality traits and how they might react during a time of change
The five change management principles
Kotter's 8 step change model
Who Moved My Cheese
Adaptive change as described by Jim Collins concept of the Big Hairy Audacious Goal (BHAG)
REQUIREMENTS
There are no preconditions for this course.
Moderate level.
Recorded webinar made available on a specified date
PRESENTER
Peter Margaritis, CPA, CGMA, Mac
Peter A. Margaritis, CPA, CGMA is an author, blogger, speaker, educator, humorist, and podcaster. Partnering with the Business Learning Institute, his firm "The Accidental Accountant" teaches CPAs and other business leaders how to apply the seven principles of improvisation to build respect, trust and support with their colleagues and clients. He is the author of Improv Is No Joke: Using Improvisation to Create Positive Results in Leadership and Life.
SAIBA ACADEMY SUPPORT
Go to HTTPS://SAIBA.ACADEMY/LOGIN/
Login
Select MY DASHBOARD
Select SUBMIT A TICKET to log a new query
ADDITIONAL MATERIAL
By attending this webinar, you will be provided with:
– Summarised slide presentation.
– Reference documents and / or course material where available.
– Access to a technical knowledge base.
– Recorded webinar that includes an expert presenter and participant interaction.