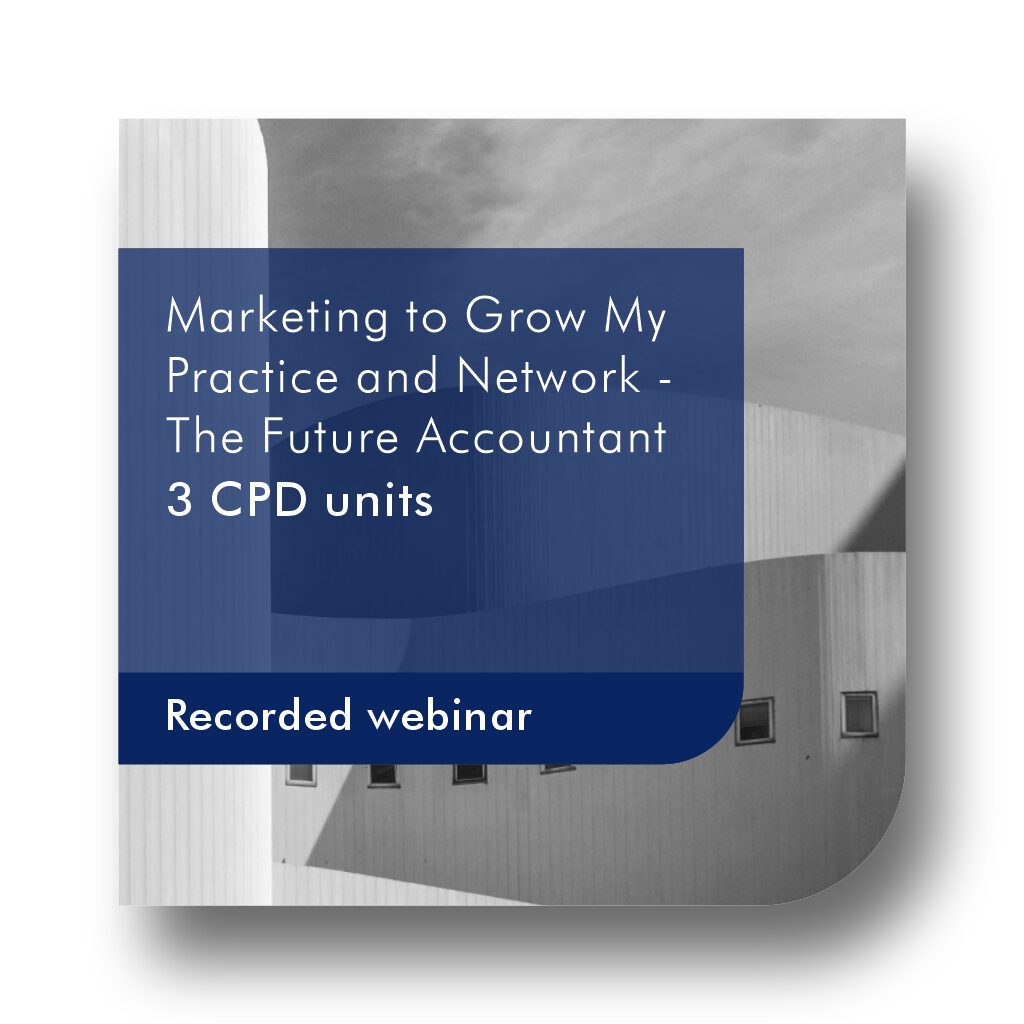 Marketing to Grow My Practice and Network – The Future Accountant
How to grow your firm and expand your network. October 2021
WHAT YOU WILL LEARN
By the end of this webinar the participant should:
Understand 

what the future accountant looks like;

Understand how to create

 a unique, inclusive and person-centric culture

 within your firm.

Know how to become technology based and paperless.

Know how to create and manage remote teams; and 

Know how to have excellent marketing for your practice.
DESCRIPTION
What does the future accountant look like? In an article that was published on the International Federation of Accountants (IFAC) website, the author Anne-Marie Vitale said, "As automation and technology continue to drive changing business models, the role of accountants and auditors will need to rapidly evolve and adapt." This is a fact that every accountant and auditor needs to face and act upon. 
The presenter of this webinar is a "digital accounting revolutionist" who runs his own thriving tech-based accounting practice.
Join us to learn what the future accountant looks like and ways in which you can future-proof your accounting practice.
PRICE
Adhoc – R475
Subscription Package – Included in Accountant in Practice plus Tax, Accountant in Practice and Bookkeeper packages.
CONTENT
Study Unit 1
Who are "tech start-ups" in the accounting space? 
Study unit 2
Becoming process-oriented.
Study unit 3
Subscription vs timesheets. 
Study unit 4
How to become technology-based and paperless.
Study unit 5
Creating and managing remote teams.
Study unit 6
How to eliminate pain-points.
Study unit 7
Marketing and acquiring business online.
REQUIREMENTS
There are no preconditions for this course.
Moderate level.
Recorded webinar made available on a specified date
PRESENTER
Willem Haarhoff CA(SA)
Willem Haarhoff qualified a few months after the whole world had thought that the computers will switch off the lights. Fortunately this never happened and so he was able to complete 20 rewarding years at one of the Big Four accounting firms. He spent the last 11 of those 20 years as an expatriate in Lagos, Nigeria gaining invaluable experience and knowledge about how to develop, drive and execute business strategy. 
ADDITIONAL MATERIAL
By attending this webinar, you will be provided with:
 Summarised slide presentation
 Reference documents and / or course material where available
Access to a technical knowledge base
Recorded webinar that includes an expert presenter and participant interaction