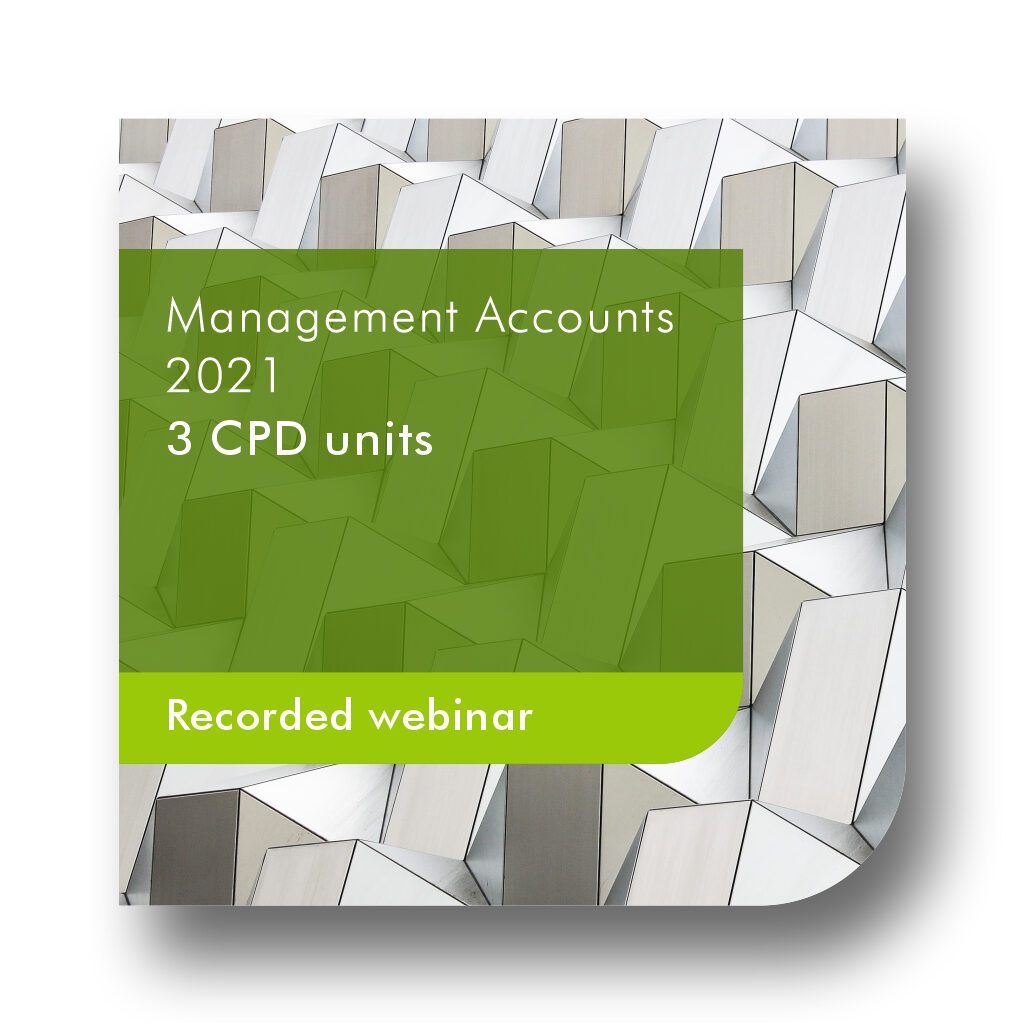 The aim of this session is to discuss the broad subject of management accounts with a focus on converting detailed reports into user-friendly and concise reports. July 2021
WHAT YOU WILL LEARN
By the end of this event the attendee should:  
Know the importance of understanding the business and identifying key elements that need to be tracked and reported on.

Understand minimum requirements needed in the reports for directors to meet their fiduciary duty.

Know the importance of conveying information in an easily digestible manner.

Be able to identify additional services and revenue streams for the accountant's practice.

Be able to effectively assist clients in their decision making process.

 

 
DESCRIPTION
When drafting effective management accounts, accountants need to focus on information that is relevant and useful to owners and managers of SMEs. This will assist these users to make good business decisions and also to monitor the health of their business.  
There are two elements to producing good reports:
Including all the necessary detail that is useful and relevant to users.

Having a visually appealing presentation for the non-financially minded to get the big picture.  
This webinar focuses on taking the detailed reports produced in management accounting and converting them into user-friendly, visually appealing and concise reports.
PRICE
The following pricing apply:
Ad hoc: R475 for this webinar
Subscription: Included for free in Accountant in Practice plus Tax, Accountant in Practice and Bookkeeper package.
CONTENT
Study Unit 1
Understanding the business being reported on. 
Study Unit 2
How to draft a concise and useful set of management accounts. 
Study Unit 3
Identifying key factors to track. 
Study Unit 4
Variety of methods to display data. 
Study Unit 5
Assisting clients in decision making. 
Study Unit 6
Additional services and revenue streams.  
REQUIREMENTS
There are no preconditions for this course.
Moderate level.
Recorded webinar made available on a specified date
PRESENTER
Caryn Maitland is a Chartered Accountant (SA). She has been a member of IRBA as a registered auditor and accountant since 2002, Caryn has lectured Auditing and Accounting at various institutions and has conducted independent workshops and seminars for professional accountants since 2006 on various topics.
SAIBA ACADEMY SUPPORT
Go to HTTPS://SAIBA.ACADEMY/LOGIN/
Login
Select MY DASHBOARD
Select SUBMIT A TICKET to log a new query
ADDITIONAL MATERIAL
By attending this webinar, you will be provided with:
– Summarised slide presentation.
– Reference documents and / or course material where available.
– Access to a technical knowledge base.
– Recorded webinar that includes an expert presenter and participant interaction.