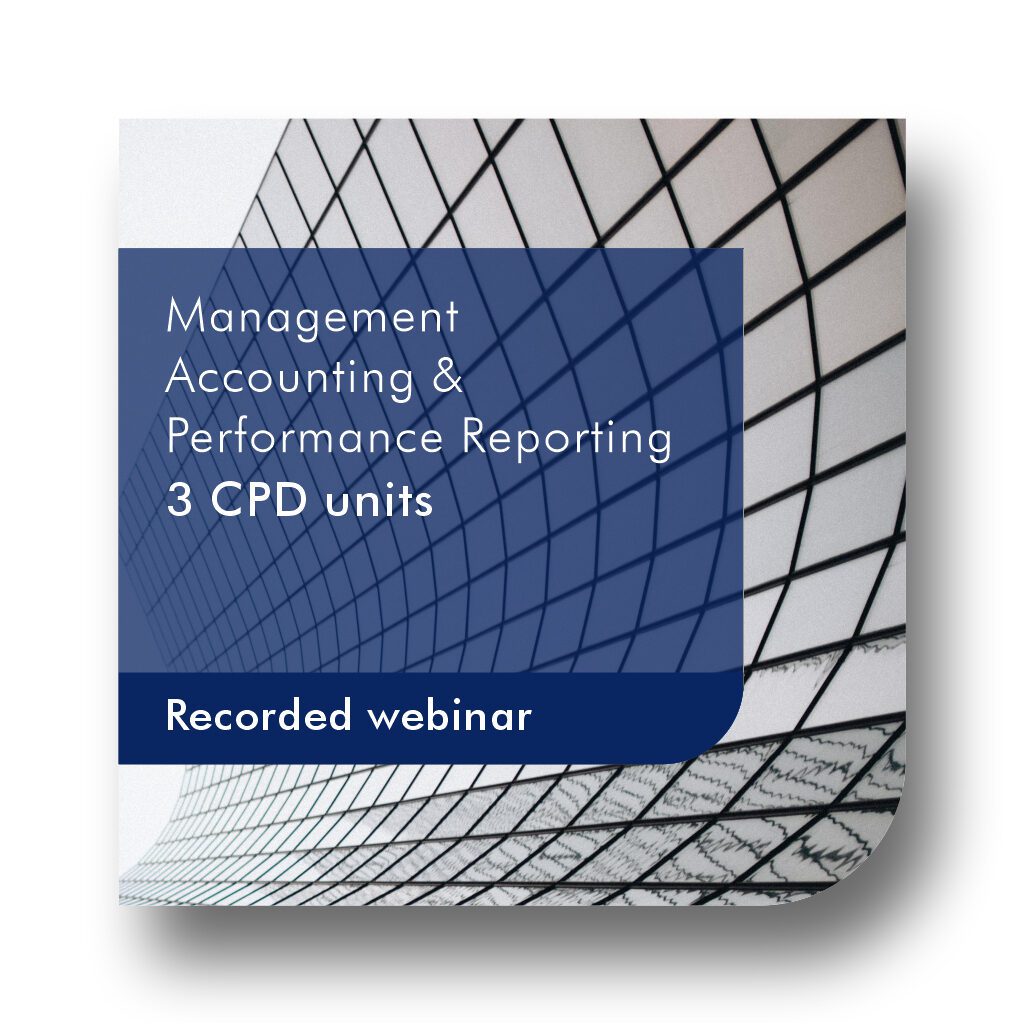 Management Accounting & Performance Reporting
To show attendees how to produce relevant and concise management accounting and performance reports that will benefit their clients. June 2022
What you will learn
By the end of this webinar the participant should:
Possess new innovative thinking skills to obtain the right business intelligence about an enterprise that will inform decision-making in creating value and growth.

Have the ability to use management accounting reporting and tools in a strategic context to drive sustainable growth in a business.

Have insights to performance measures, descriptors and declarations that you can use in practice to guide you to assist clients in its strategic decision-making.

Be able to facilitate an appropriate guiding framework for you and your team to ensure a consistently positive client experience.

Be able to act as a trusted business advisor on business performance with the ability to present clear recommendations that will ensure long-term sustainable growth and profit. 
Description
The success of a business depends in large part in gaining new insights faster than the competition, and to turn those insights into good decision-making. The best decisions are supported by good data. 
Management accounting reports developed by accountants can assist clients (particularly SMEs) to monitor the health of their businesses and to make strategic business decisions that will ensure growth and wealth creation. In order to draft effective management accounts, accountants must focus on relevant and useful data to drive tactics and strategic decision making. The ability to translate financial and other business data into management and performance reports are critical for growth and success!
Price
Non-subscriber Ad hoc : R450.00 incl. VAT
Subscriber: Included for free in Accountant in Practice, Accountant in Practice plus Tax
Content
Understanding your client's business.
Management accounting – a necessary business tool.
Management information beyond management accounts.
Key metrics to track regularly.
Methods used to display useful and relevant data.
Assisting clients in decision-making.
Adding a forecasting element to your reporting.

Designing a performance dashboard. 

The seven steps to creating a Knowledge-to-Action culture. 
Requirements
There are no preconditions for this course.
Moderate level.
Recorded webinar made available on a specified date
Presenter
Phuthanang Cenea Motsielwa CA(SA), RA 
Phuthanang Motsielwa CA(SA) is a subject matter expert on Enterprise Development – New Venture Creation, Business Practice, Generic Management, Labour Relations Practice and Dispute Resolutions.
She is a chartered accountant by profession with over 10 years of experience in her own practice. Phuthanang holds a Bachelor's Degree in Accountancy from the University of the Witwatersrand. She is a member of the South African Institute of Chartered Accountants (SAICA) and a registered auditor with Institute of Regulatory Board of Auditors (IRBA) in South Africa
SAIBA Academy Support
Login to SAIBA Academy
Select My Dashboard
Select Submit a Ticket to log a new query