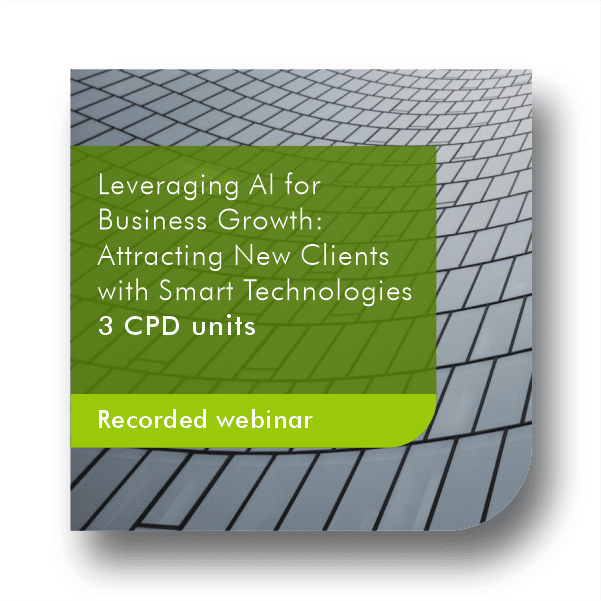 Leveraging AI for Business Growth: Attracting New Clients with Smart Technologies 2023
Participants will have a solid understanding of how AI can be leveraged for business growth and client acquisition. September 2023
What you will learn
By attending this webinar you will gain the following competencies: 
Be updated on the role of AI, Robotic Process Automation (RPA), and other technological tools in automating essential business processes.

Familiarity with ChatGPT and its potential applications in content creation, such as writing blogs, case studies, and social media posts.

Knowledge of the functionalities offered by Midjourney and Adobe Firefly, two AI-based tools for image creation.

Understand how to use Bluecap – a platform designed to measure and optimize the sales process using AI capabilities.

Acquire guidance on when and why businesses should consider bringing in tech consultants to address specific technological needs.
Description
In the relentless march of technological progress, artificial intelligence (AI) has emerged as a transformative force that is revolutionising many business processes. This session explores various AI tools such as: 

ChatGPT for content creation.

Midjourney and Adobe Firefly for image creation.

Bluecap for sales process optimisation.
Price
The following pricing apply:
Adhoc: R450.00
Content
The webinar will cover the following topics:  
AI, RPA, and other tech tools – an overview.

Bluecap Usage Guide: 

Use Bluecap to measure and optimize your sales process.

Automation Strategy Template: 

Identify key processes that could be automated. 

Consultant Engagement Guide: 

When to bring in tech consultants. 
Requirements
There are no preconditions for this course.
Moderate level.
Recorded webinar made available on a specified date.
Presenter
Justin Hacker and Fuad Miah
Fuad Miah and Justin Hacker, founders of Bluecap.ai, bring over 15 years of experience in utilizing AI and digital marketing to optimize business processes and attract new clients. They have successfully helped various intricate businesses transform their operations using AI, including CAA, one of Canada's largest business entities. 
Their in-depth knowledge in implementing AI tools such as ChatGPT, Midjourney, Adobe Firefly, and their own Bluecap for sales process optimization makes them ideal instructors for this topic. With their unique blend of experience, they are excited to help attorneys and accountants uncover the potential of AI in their profession.
CIBA Academy Support
Login to CIBA Academy
Select My Dashboard
Select Submit a Ticket to log a new query