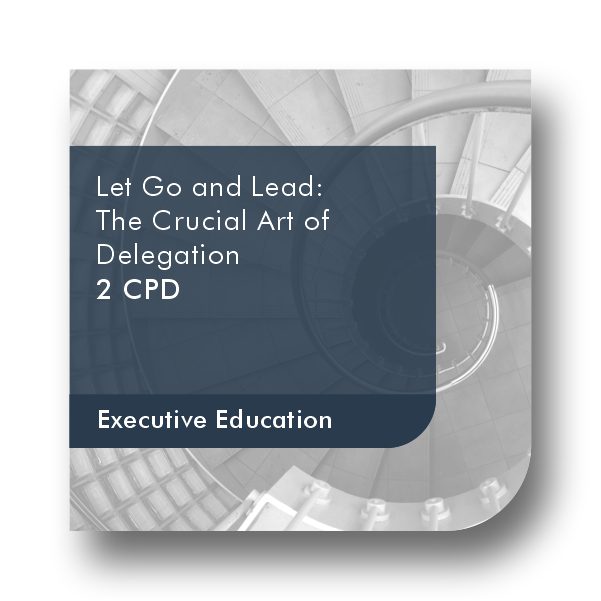 Let Go and Lead: The Crucial Art of Delegation (AICPA Event)
If you want to take your business to the next level, your leaders need to lead.
What you will learn
After attending this program you will be able to:
Identify where their time is best spent, in terms of both their careers and their organizations
Distinguish a proven process for determining which tasks are interfering with their ability to lead
Select tasks to delegate to employees who have the skills and capacity to complete them
Description
If you want to take your business to the next level, your leaders need to lead. Too often, though, they're swamped with doing someone else's work. This interactive session will show you when it's time to delegate, what you should be delegating, and to whom you should be delegating it. Most important, you'll learn the secret to delegation: It's not about your time. It's about surrounding yourselves with the right people.
About AICPA
The Association of International Certified Professional Accountants (the Association) is the most influential body of professional accountants, combining the strengths of the American Institute of CPAs (AICPA) and The Chartered Institute of Management Accountants (CIMA) to power opportunity, trust and prosperity for people, businesses and economies worldwide. AICPA & CIMA represent 689,000 members, students and engaged professionals in public and management accounting and advocates for the public interest and business sustainability on current and emerging issues.
In 2012, AICPA & CIMA established the Chartered Global Management Accountant (CGMA) designation to provide members with a new level of resources and recognition.
Price
Ad hoc normal price: R1,908.00 incl. VAT. CIBA member price R1,430.00 incl. VAT.
This is a digital product. You will have access to the content for 365 days after purchase date.
Content
When is it time to delegate
What should you be delegating
To whom should you be delegating it
What are the benefits of creating more time to lead
Requirements
There are no preconditions for this course. Moderate level. Recorded webinar made available on a specified date
Presenter
William D. Sheridan
Bill Sheridan is a knowledge hunter, content curator, lifelong learner, and EOS implementer. As chief communications officer for the Maryland Association of CPAs and the Business Learning Institute, he created and co-authors the association's acclaimed blog, CPA Success; he created and hosts the MACPA's weekly "Future-Proof" podcast; and he manages the association's member communications and numerous social networks. He was named one of Accounting Today's "100 Most Influential People in Accounting" for 2016.
SAIBA Academy Support
Login to SAIBA Academy
Select My Dashboard
Select Submit a Ticket to log a new query