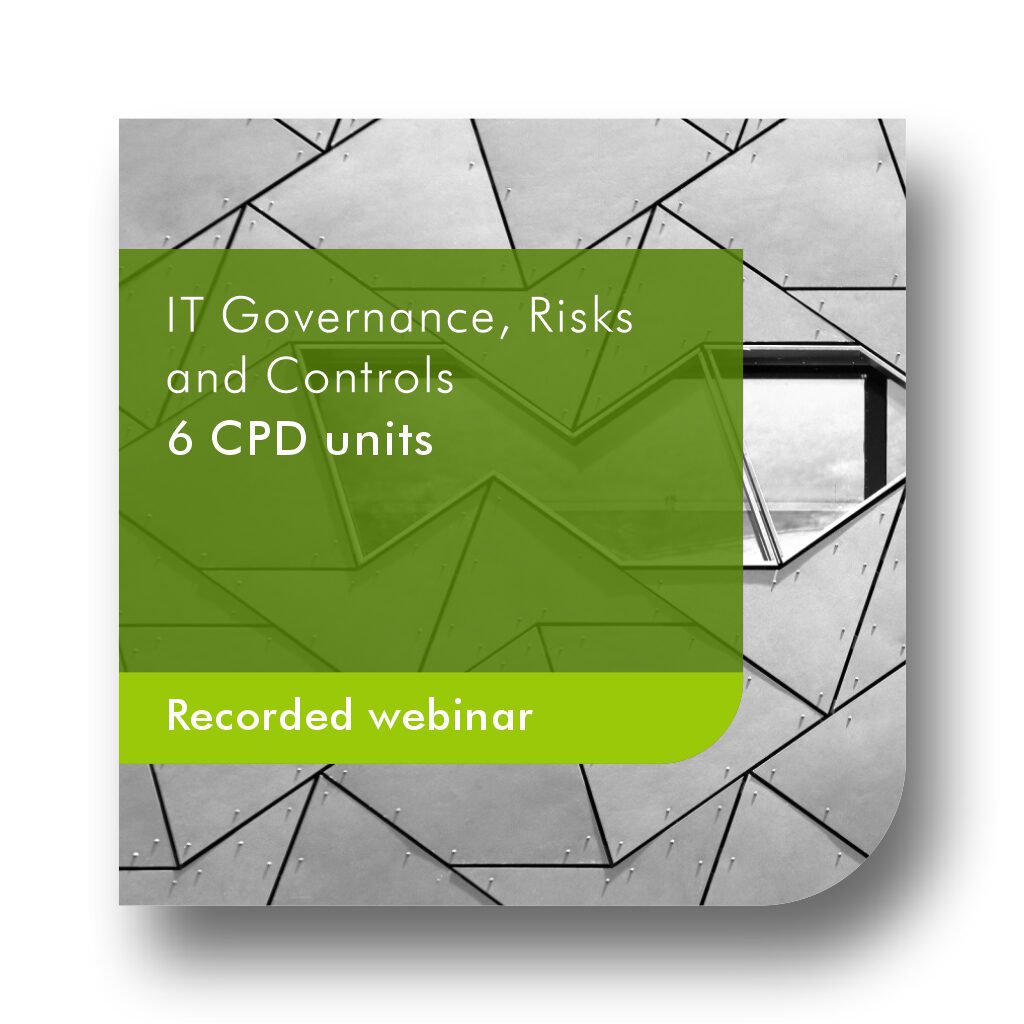 IT Governance, Risks, and Controls
Attendees will gain insight into the knowledge and tools necessary to implement and maintain an effective IT governance infrastructure.
WHAT YOU WILL LEARN
Identify the objectives and principles of IT governance, including key components and best practices.
Recognize IT governance roles, responsibilities and accountabilities and various IT control frameworks.
Identify the process involved in implementing IT governance.
Identify the key components and benefits of the IT governance structure.
Identify IT related risks that can affect the achievement of overall enterprise objectives.
Recognize how to Identify and mitigate risks through effective risk management.
Identify risk exposures and ensure properly communicated to manage risks and avoid potential future impacts to the organization.
Identify strategies for assessing and recognize the impact of control deficiencies to the entity.
DESCRIPTION
This CPE self-study course will give you the knowledge and tools necessary to implement and maintain an effective IT governance infrastructure that identifies and addresses IT related risks in support of organizational objectives.
PRICE
The following pricing apply:
Ad hoc: R 1,435.00 VAT incl.
Subscription: N/A
This is a digital product. You will have access to the content for 365 days after purchase date.
CONTENT
Elements of security policy
Organizational risk assessment
Identity and access management
Logical and physical access controls
Network and system security controls
Business continuity planning
REQUIREMENTS
There are no preconditions for this course.
Moderate level.
Recorded webinar made available on a specified date
PRESENTER
Khoa Huynh
Khoa and has extensive experience with program and project delivery through inception to close out in a wide variety of Industries. From major capital projects, enterprise wide systems implementations through to complex Business and Digital Transformation Programs, he has a strong systems engineering background to complement his project experience, and utilises both a technical and business lens to successfully deliver project outcomes. Confident in leading complex transformations utilising and a range of methodologies and techniques to suit the project (from waterfall to agile and scrum) Khoa's ability to empower the team around him to both achieve results whilst growing capability has been the cornerstone of his success with clients. Khoa's business sector experience has varied across several different industries, including Government, Consumer and Retail, Superannuation and Financial Services, Engineering, and Health. With a passion for problem solving, Khoa drives through to successful outcomes by making considered decisions based on a logical and analytical approach, whilst also adopting a pragmatic view to resolve the issues and challenges that he has faced on engagements. Melbourne, Australia
Matthew Bogusch
Matt is a Director at Deloitte & Touche LLP, specializing in Information Technology, Security & Business Controls. Matt has over 20 years of professional experience, including 15 years of managing and performing information systems and business process control reviews spanning multiple platforms and numerous applications for clients within the Consumer Business, Real Estate, Higher Education, Public Sector, and Healthcare industries. Matt focuses on Sarbanes-Oxley 404 External Audits, as well as ERP security and controls, including SAP, Great Plains, and JD Edwards. He has extensive international experience, having served a leadership role in Deloitte's Latin American practice for several years. Prior to joining Deloitte, Matt had worked for a private company for 5 years within the Financial Reporting, Internal Audit, and Information Systems departments."
Rory Heenan
Rory Heenan is a Manager and CPA within Deloitte & Touche LLP's Risk and Financial Advisory practice. He has over nine years of experience serving clients in a variety of capacities via his compliance and risk expertise, with a focus on domestic and foreign financial institutions. In this capacity, Rory has recently led teams serving large banks in responding to enforcement actions from regulatory authorities. In addition, Rory has provided counsel to clients in governance and policy & procedure consulting, forensic accounting matters, and compliance testing and reporting. He has also led teams in corporate investigations, anti-money laundering consulting, and controls audits. Rory is skilled in all aspects of project delivery and execution.
SAIBA ACADEMY SUPPORT
Go to HTTPS://SAIBA.ACADEMY/LOGIN/
Login
Select MY DASHBOARD
Select SUBMIT A TICKET to log a new query
ADDITIONAL MATERIAL
By attending this webinar, you will be provided with:
– Summarised slide presentation.
– Reference documents and / or course material where available.
– Access to a technical knowledge base.
– Recorded webinar that includes an expert presenter and participant interaction.