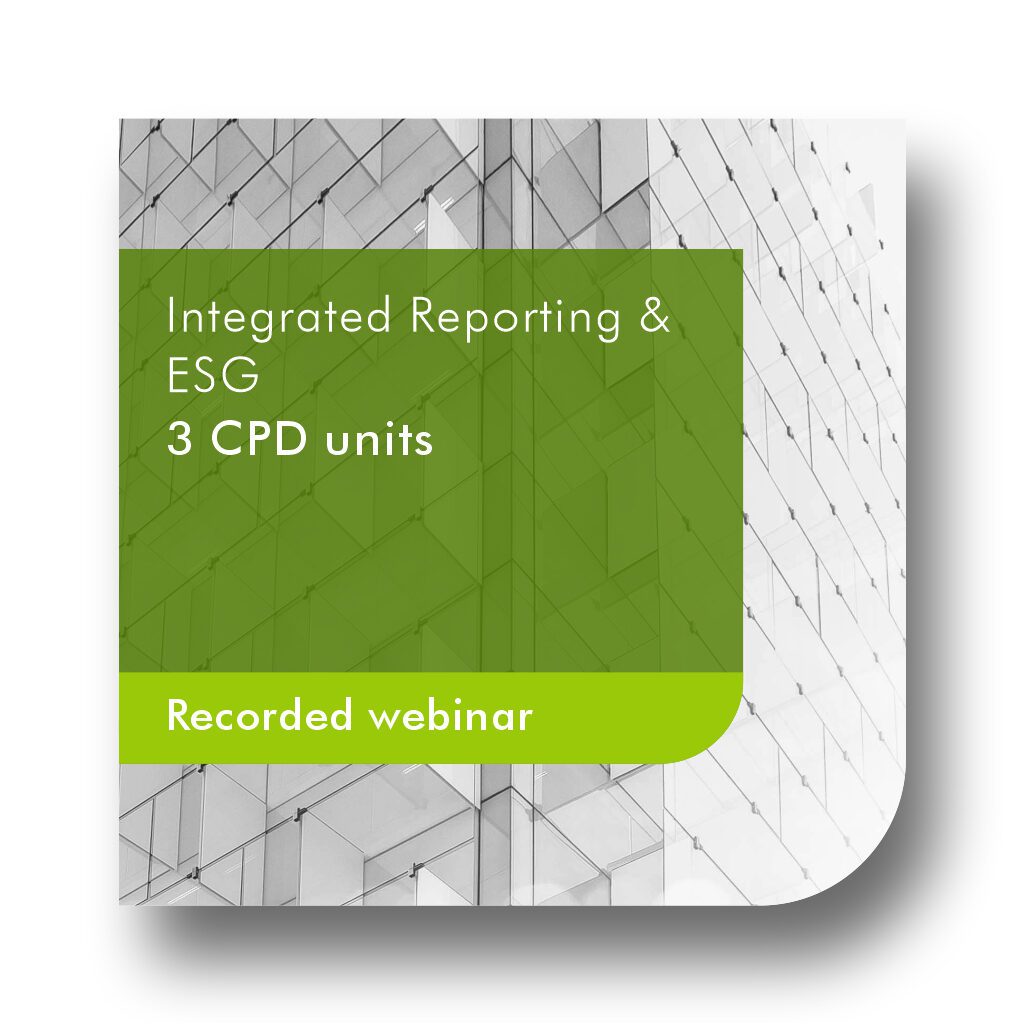 Integrated Reporting & ESG
To highlight the latest developments and an overview of integrated reporting including ESG. October 2022
What you will learn
By the end of this event the attendee should have the following competencies:  
A deeper understanding of what integrated reporting is, including ESG business review methods.

Have an awareness of the latest developments with regards to integrated reporting and ESG. 

Have the skill to collect and analyse information from internal and external sources to reveal important performance aspects of the business that assist stakeholders to make informed decisions. 

Be equipped with knowledge of the best practices to follow with regards to integrated reporting and ESG. 

Set up an integrated reporting service offering within your practice.
Description
An organisation's ability to create value is an important aspect of business performance that stakeholders (especially providers of capital) are very keen to look at and understand. 
Rather than just typically present the numbers, as does historical financial statements, integrated reporting aims to explain the state of a business entity in terms of value creation. Guided by the Integrated Reporting Framework, an integrated report will communicate the organisation's strategy, governance, performance, and prospects, showing how these elements will create value in the short, medium and long term. 
Price
The following pricing apply:
Ad hoc: R450 for this webinar
Subscription: N/A
Content
What is integrated reporting? 

What is ESG? 

Latest developments in the IR field. 

Opportunities in the market for IR including ESG. 

IR and ESG benefits. 

IR and ESG best practices.
Requirements
There are no preconditions for this course.
Moderate level.
Recorded webinar made available on a specified date
Presenter
Nestene Botha CA(SA) 
Nestene Botha completed her B.com (Hons) at North West University in 2012. In 2014 she completed her professional articles and her Masters Degree in Chartered Accountancy. She then registered with SAICA as a Chartered Accountant in 2015.
Nestene has lectured on the audit programme at the University of Cape Town. She started her own audit, tax & accounting practice which she has since grown into a reputable firm in the Table View area with 60 clients and two staff members.
SAIBA Academy Support
Login to SAIBA Academy
Select My Dashboard
Select Submit a Ticket to log a new query