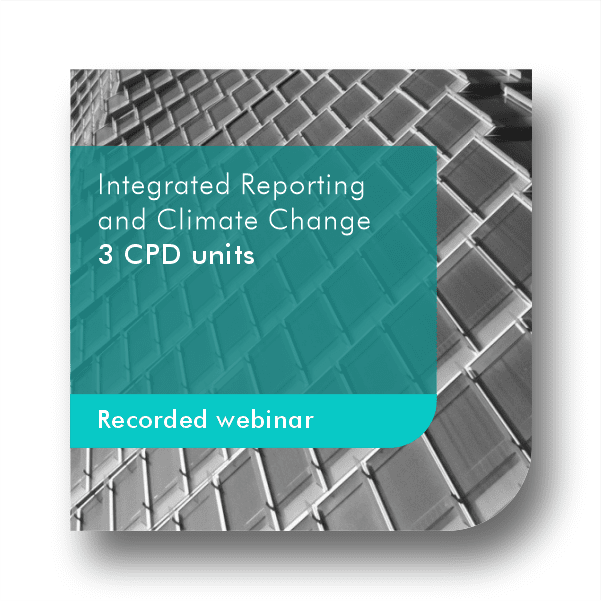 Integrated Reporting and Climate Change 2023
To give attendees an understanding of the intersection of integrated reporting and climate change, and its implications for their work. August 2023
What you will learn
By attending this webinar you will gain the following competencies: 
Possess a comprehensive understanding of integrated reporting, its importance, and your role as an accountant in this process.

Have an awareness of the relevance of climate change to the accounting profession and how it impacts financial reporting and decision-making.

Possess knowledge of the International Sustainability Standards Board (ISSB) and its role in climate-related financial disclosures, including its Partnership Framework.

Gain insights from real-world case studies, such as CDP's incorporation of the ISSB's climate-related disclosure standard, and understand the practical implications.

Understand the state of integrated reporting and climate change considerations in South Africa, and the specific role of South African accountants in driving these initiatives.
Description
Investors and global sustainability reporting organisations are increasingly demanding more transparency and accountability from business regarding its impact on the environment.
Integrated reporting goes beyond traditional financial reporting by incorporating non-financial information that answers to this demand. This more holistic form of reporting is important in driving sustainable and responsible business practices.
In this webinar, Nestene Botha CA(SA) brings attention to the vital significance of integrated reporting and the accounting profession's involvement in addressing climate change. She will delve into the latest global advancements and how they impact accountants in South Africa, highlighting their role in promoting climate-related disclosures and adhering to standards established by international sustainability and integrated reporting bodies. 
Price
The following pricing apply:
Adhoc: R450.00
Subscription: Included for free in Accountant in Practice, Accountant in Practice plus Tax and Bookkeeping.
Content
The webinar will cover the following topics:  
Integrated Reporting

Definition and Importance of Integrated Reporting

Role of Accountants in Integrated Reporting

The International Integrated Reporting Framework

Climate Change and Accounting

Relevance of Climate Change to Accounting

Impact of Climate Change on Financial Reporting and Decision-Making

Intersection of Integrated Reporting and Climate Change

Incorporation of Climate Change Factors in Integrated Reporting

Accountants as Drivers of Climate-Related Disclosures

Global Sustainability and Integrated Reporting Organizations

Overview of the International Sustainability Standards Board (ISSB)

ISSB's Role in Climate-Related Financial Disclosures

The ISSB Partnership Framework

Case Study: CDP and ISSB Climate-Related Disclosure Standard

Examination of CDP's Incorporation of the ISSB Standard

Implications for Accountants in Facilitating Disclosure

Integrated Reporting and Climate Change in the South African Context

State of Integrated Reporting and Climate Change Considerations in South Africa

Reflections from the SAICA Sustainability Technical Committee on COP27

Role of South African Accountants in Driving Integrated Reporting and Climate-Related Disclosures
Requirements
There are no preconditions for this course.
Moderate level.
Recorded webinar made available on a specified date.
Presenter
Nestene Botha CA(SA)
Nestene Botha completed her B.Com (Hons) at North West University in 2012. In 2014 she completed her professional articles and her Master's Degree in Chartered Accountancy. She then registered with SAICA as a Chartered Accountant in 2015.
Nestene has lectured on the audit programme at the University of Cape Town. She started her own audit, tax & accounting practice which she has since grown into a reputable firm in the Table View area with 60 clients and two staff members.
CIBA Academy Support
Login to CIBA Academy
Select My Dashboard
Select Submit a Ticket to log a new query