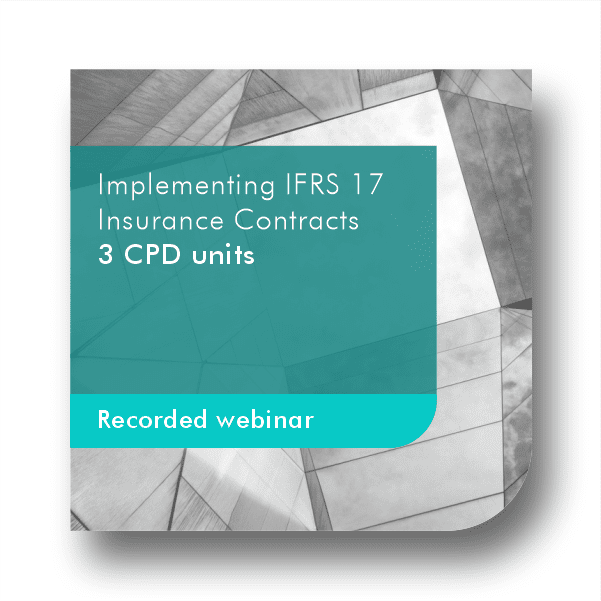 Implementing IFRS 17 Insurance Contracts 2023
To reveal to attendees how the new IFRS 17 Insurance Contracts should be implemented. March 2023
What you will learn
By attending this webinar you will gain the following competencies:
Have an understanding of the scope and full definitions of insurance contracts. 

Be able to identify whether you are subject to the standard and which of your transactions will be relevant.

Fully understand all the mechanics of accounting for insurance contracts.

Confidence in applying the correct measurement models to insurance contracts. 

Have an awareness of the disclosure requirements prescribed by the Standard.  
Description
IFRS 17 Insurance Contracts is the first truly international accounting standard for insurance contracts.  The importance of this Standard is that it is not just limited to the insurance industry but may be a trigger for transactions in other industries that meet the definition of an insurance contract.
Effective for annual reporting periods beginning on or after 1 January 2023, IFRS 17 replaces IFRS 4 and sets out principles for the recognition, measurement, presentation and disclosure of insurance contracts. 
Price
The following pricing apply:
Ad hoc: R450 for this webinar
Subscription: Included for free in Accountant in Practice plus Tax and Accountant in Practice.
Content
The webinar will cover the following foundational to intermediate topics:
What is an insurance contract?

IFRS 17 – important definitions

Who is affected by the Standard?

Simplified measurement approach vs premium allocation approach

Comparative between IFRS 4 and IFRS 17
Requirements
There are no preconditions for this course.
Moderate level.
Recorded webinar made available on a specified date.
Presenter
Caryn Maitland CA(SA)
Caryn Maitland is a Chartered Accountant (SA). She has been a member of IRBA as a registered auditor and accountant since 2002 and is also a registered member of SAICA.
Caryn has lectured Auditing and Accounting at various institutions and has conducted independent workshops and seminars for professional accountants since 2006 on various topics. She has presented on the national tour for the annual Legislation Update with ProBeta Training (Pty) Ltd in 2014 and 2015, as well as on the FASSET national tour for the Tax Administration Act in 2014.  Caryn is also involved with the annual SAICA SMP Technical tour.
CIBA AAcademy Support
Login to CIBA Academy
Select My Dashboard
Select Submit a Ticket to log a new query