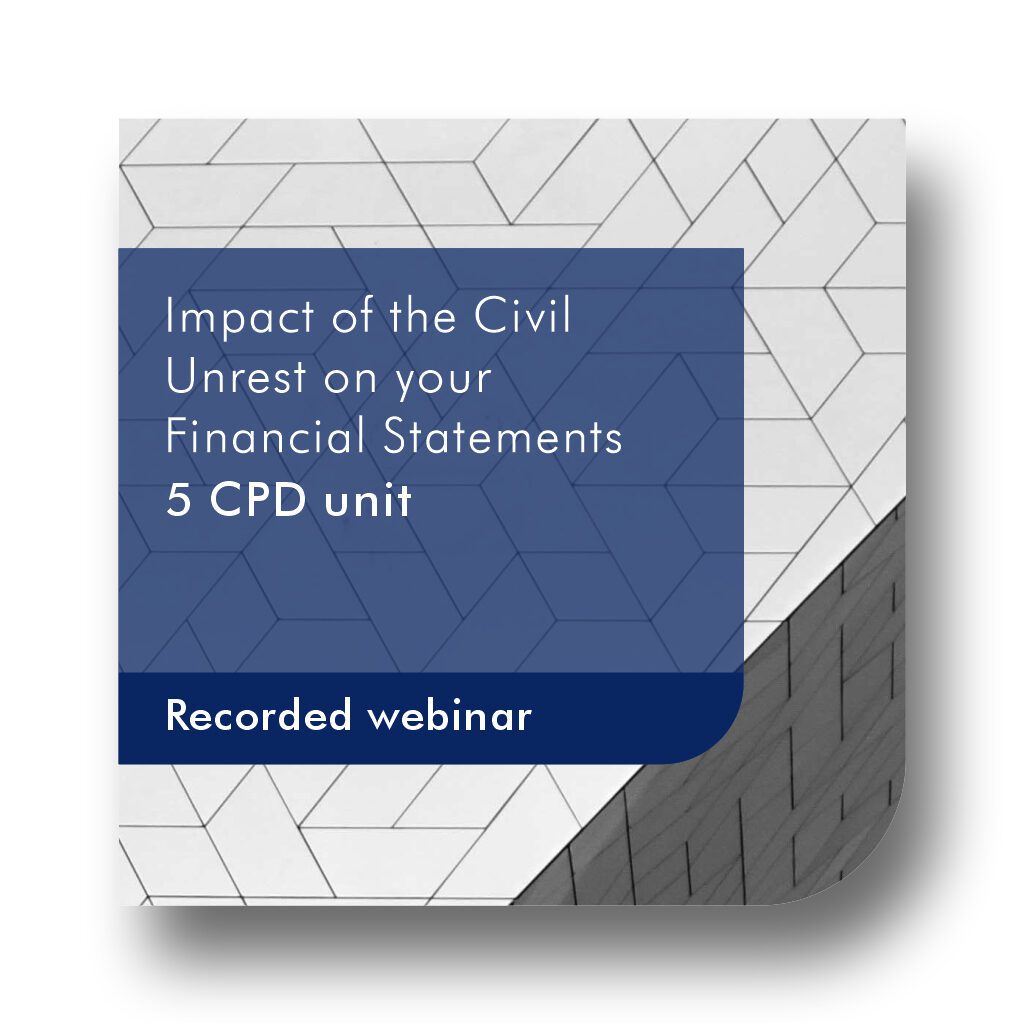 Impact of the Civil Unrest on your Financial Statements
To give attendees an insight and considerations as to how the July 2021 unrest could impact on their company's or clients' financials, potentially even if they weren't obviously affected. September 2021
WHAT YOU WILL LEARN
By the end of this event the attendee should:  
Be aware of financial reporting implications for companies whose financial years end before and after July 2021;

Be aware of challenges faced by auditing entities impacted directly and indirectly by the unrest; 

Understand SARS' viewpoint on the matter; and

Be aware of the overall impact of the unrest on the country.
DESCRIPTION
On 12 July 2021, and for the rest of that week, KwaZulu-Natal and parts of Gauteng were rocked by extensive civil unrest. The impact of this unrest was significant loss of business, damage to property and loss in investor confidence. The damage and destruction that occurred impacted not only the businesses that were directly looted and vandalised but other businesses as well in terms of supply chain and logistics.
How will these events impact on financial reporting in the financial statements? What is the impact on auditors and reviewers, and what are the considerations for the way forward? This session is aimed at answering all these questions as we reflect on what happened and unpack the fallout and consequences for our clients and potentially our own businesses.
PRICE
The following pricing apply:
Ad hoc: R575 for this webinar
Subscription: N/A
CONTENT
Study unit 1
Accounting for:
Subsequent events.

Going concern.

Discontinued operations.
Study unit 2
Assessing risk and impact. 
Study unit 3
Challenges of incomplete documentation.  
Study unit 4
SARS's view on estimates and relief. 
Study unit 5
Impact on business and the way forward. 
REQUIREMENTS
There are no preconditions for this course.
Moderate level.
Recorded webinar made available on a specified date
PRESENTER
Caryn Maitland is a Chartered Accountant (SA). She has been a member of IRBA as a registered auditor and accountant since 2002, Caryn has lectured Auditing and Accounting at various institutions and has conducted independent workshops and seminars for professional accountants since 2006 on various topics.
SAIBA ACADEMY SUPPORT
Go to HTTPS://SAIBA.ACADEMY/LOGIN/
Login
Select MY DASHBOARD
Select SUBMIT A TICKET to log a new query
ADDITIONAL MATERIAL
By attending this webinar, you will be provided with:
– Summarised slide presentation.
– Reference documents and / or course material where available.
– Access to a technical knowledge base.
– Recorded webinar that includes an expert presenter and participant interaction.