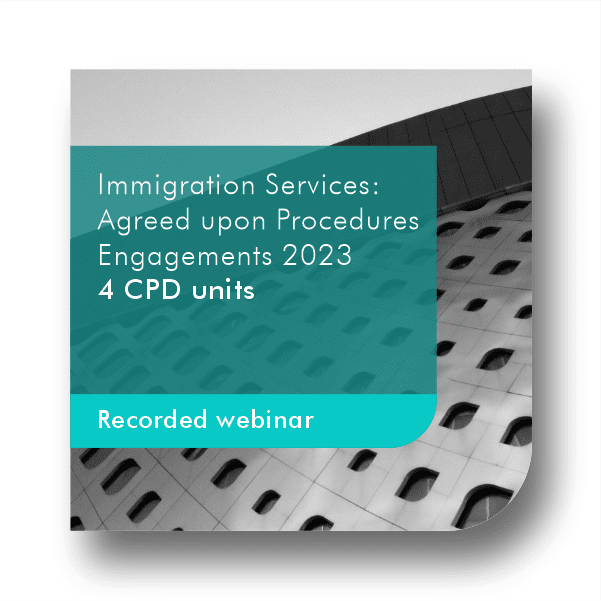 Immigration Services: Agreed upon Procedures Engagements 2023
This webinar outlines the correct application of the accounting standard ISRS 4400 (Revised) in terms of Immigration Services engagements. May 2023
What you will learn
By attending this webinar you will gain the following competencies:
Have knowledge and a better understanding of the Immigration Act and regulations, specifically, section 15 of the Act and Regulation 14.

Understand and be able to apply the requirements of ISRS 4400 (Revised) regarding immigration services engagements. 

Be able to draft an appropriate engagement letter for agreed-upon procedures engagements.

Have confidence to competently perform immigration services engagements. 

Know what to include in an AUP report and be able to draft one at the end of the engagement.
Description
Accountants, like other professionals, are always looking at how to increase their service offerings. For accountants, immigration services engagements are one increasingly popular service that they can add to their portfolios.  
Immigration services engagements fall under Agreed-upon Procedures (AUP) engagements that are guided by the International Standard on Related Services (ISRS) 4400. The aim of this webinar is to outline the correct application of ISRS 4400 (Revised) to immigration services engagements so that they comply with the requirements of the Immigration Act 13 of 2002 as well as Immigration Regulations. 
Price
The following pricing apply:
Ad hoc: R450.00 for this webinar
Subscription: Included for free in Accountant in Practice plus Tax, Accountant in Practice and Bookkeeper package.
Content
The webinar will cover the following foundational to intermediate topics:
What is a business visa?

Requirements to obtain a business visa. 

Who can compile a report for business visa purposes?

Applying ISRS 4400 (Revised).  

What is an Agreed-upon Procedure (AUP) engagement?

Acceptance and continuance of an AUP engagement.

Ethical requirements of ISRS 4400 (Revised) to consider. 

Dealing with findings encountered in an AUP engagement.

Explanatory material and other resources. 
Requirements
There are no preconditions for this course.
Moderate level.
Recorded webinar made available on a specified date.
Presenter
Maya Nikolova, BAP(SA), MTP(SA), B Com Accounting, PG Dip Tax
Maya is an accountant and registered Tax Practitioner with a demonstrated professional history in the financial accounting and tax industry for over 20 years.
She is member of SAIBA and the SAIT with respective professional designations of Business Accountant in Practice (SA) and Master Tax Practitioner (SA), and she holds Practice license for Independent Review Engagements and Professional license in Immigration Engagements from SAIBA. Maya is the founder and managing partner of Tax Advise Consulting. 
SAIBA AAcademy Support
Login to SAIBA Academy
Select My Dashboard
Select Submit a Ticket to log a new query