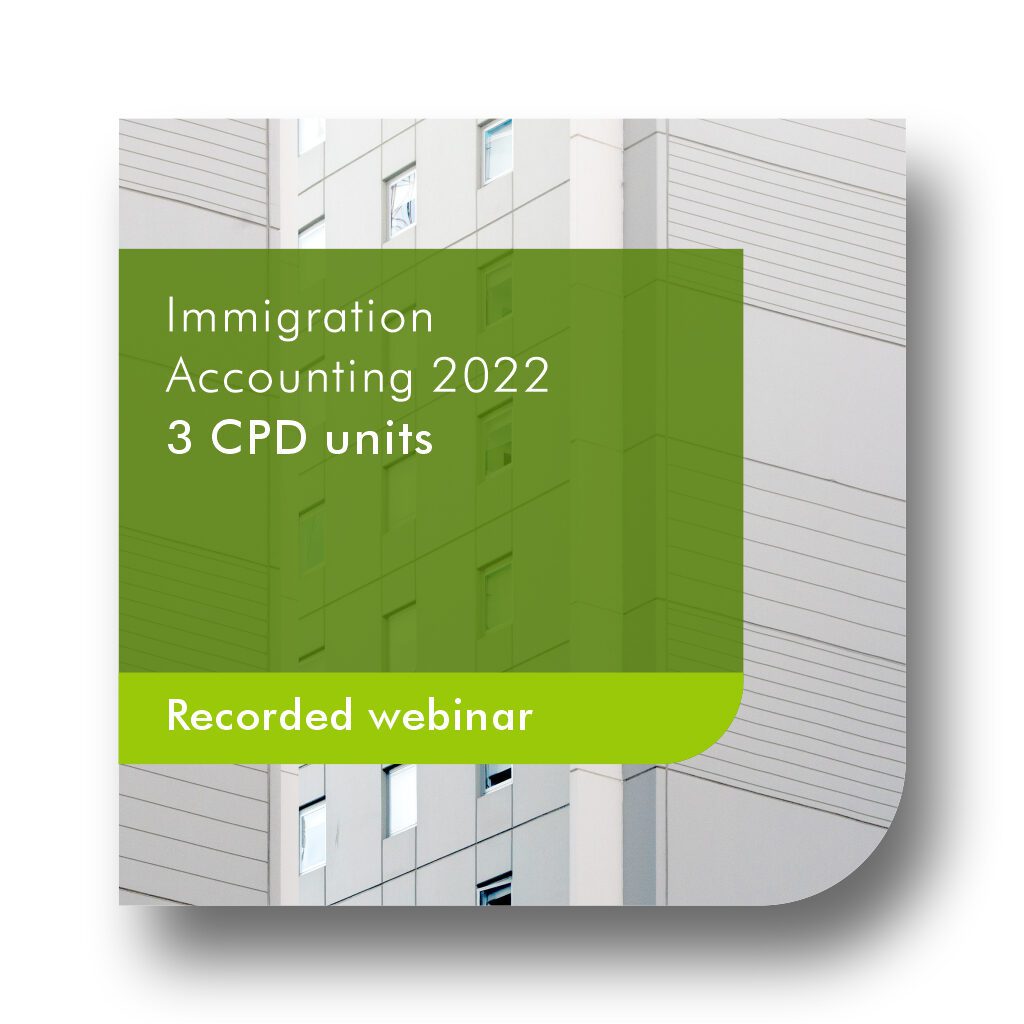 Immigration Accounting 2022
To inform participants how to take up and perform immigration accounting as an AUP engagement that can grow their service offering. April 2022
What you will learn
By the end of this event the attendee should understand:  
Understand specific requirements of the Immigration Act.

Know the role of qualifying accountants in Business Visa applications.

Understand and apply the requirements and provisions of ISRS 4400 (Revised) regarding this AUP engagement.

Be able to perform AUP engagements for Business Visa applications.

Become a licensed Immigration Accountant.
Description
Immigration accounting is a steadily growing additional service offering that qualifying accountants are taking up to grow their practices. 
This service offering falls within the ambit of Agreed-upon Procedures (AUP) engagements that must be guided by the recently revised International Standard on Related Services (ISRS) 4400. The role of accountants in this type of engagement is to perform an analysis of a foreign investor's financial affairs with the aim of issuing them with a certificate that is required in a Business Visa application. The certificate is used by the Department of Home Affairs to determine if the applicant satisfies specific Business Visa requirements.
Price
The following pricing apply:
Ad hoc: R450 for this webinar
Subscription: N/A
Content
Study unit 1
Section 15 and Regulation 14 of the Immigration Act No. 13 of 2002.
Study unit 2
ISRS 4400 (Revised): 
Introduction

.

Objectives.

Definitions.

Requirements.

Application and other explanatory material.
Study unit 3
Engagement letter for an AUP engagement.
Study unit 4
Performing the AUP engagement.
Study unit 5
Agreed-Upon Procedures report. 
Study unit 6
Subsequent and other services to provide to Business Visa holders. 
Requirements
There are no preconditions for this course.
Moderate level.
Recorded webinar made available on a specified date
Presenter
Maya Nikolova, BAP(SA), MTP(SA), B Com Accounting, PG Dip Tax
Maya is an Accountant and Registered Tax Practitioner with a demonstrated professional history in the financial accounting and tax industry for over 20 years.
She is member of SAIBA and the SAIT with respective professional designations of Business Accountant in Practice (SA) and Master Tax Practitioner (SA), and she holds Practice license for Independent Review Engagements and Professional license in Immigration Engagements from SAIBA.Maya is the founder and managing partner of Tax Advise Consulting. 
SAIBA Academy Support
Login to SAIBA Academy
Select My Dashboard
Select Submit a Ticket to log a new query