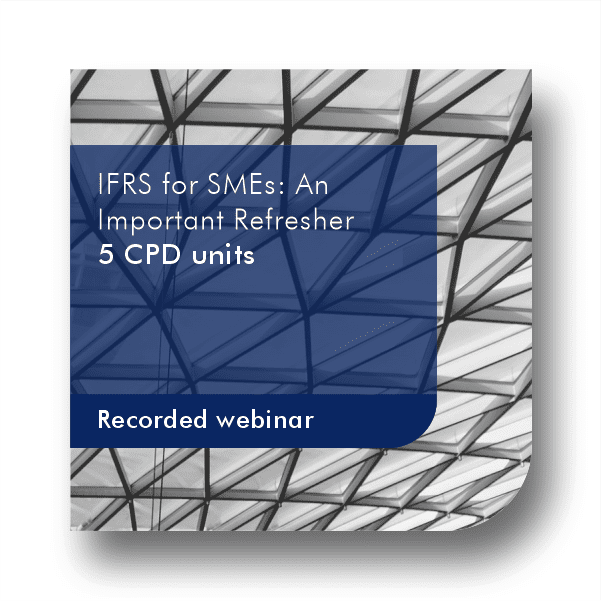 IFRS for SMEs: An Important Refresher 2023
To discuss the status of the Exposure Draft for IFRS for SMEs and refresh the delegates' knowledge with respect to the current IFRS for SME Standard. June 2023
What you will learn
Attending this webinar will equip you with the following skills:
Knowledge of the current IFRS for SMEs Standard and its practical application. 

Be up-to-date with the proposed improvements contained in the Third Edition Exposure Draft. 

Have an understanding of accounting for assets, such as PPE and investment properties.

Possess knowledge of how the Standard is applied when dealing with financial instruments, trade receivables, trade payables, and the impairment of financial assets.

Improve your skill on disclosure in IFRS for SMEs financial statements.
Description
IFRS for SMEs applies to entities that do not have public accountability and therefore can publish general purpose financial statements. Most SMMEs fall into this category as do NPOs and PBOs. 
Following its mandate to periodically review and amend this Standard, the International Accounting Standards Board (IASB) issued the Exposure Draft Third edition of the IFRS for SMEs Accounting Standard. This webinar presents a detailed discussion on the current Standard as well as the Exposure Draft, highlighting expected benefits to users of SMEs' financial statements. 
Price
The following pricing apply:
Adhoc: R575.00
Subscription: Included for free in Accountant in Practice, Accountant in Practice plus Tax, Bookkeeper.
Content
The webinar will cover the following topics: 
The IFRS for SMEs Standard (2015 edition).

General overview.

When to use this Standard.

How the Standard is applied in accounting for:

Assets e.g PPE and investment property.

Trade receivables.

Trade payables.

Asset impairment.

Correct disclosure.

The Exposure Draft – 

Third Edition

.

Contents.

Current status.

Related correspondence.
Requirements
There are no preconditions for this course.
Moderate level.
Recorded webinar made available on a specified date.
Presenter
Caryn Maitland CA(SA)
Caryn Maitland is a registered auditor and chartered accountant since 2002. Caryn has lectured Auditing and Accounting at various institutions and has conducted independent workshops and seminars for professional accountants since 2006 on various topics.
CIBA Academy Support
Login to CIBA Academy
Select My Dashboard
Select Submit a Ticket to log a new query