IAASB New FAQs: Risk of over reliance on technology
To highlight the risk of overreliance on technology in conducting a review or audit. April 2021
WHAT YOU WILL LEARN
By the end of this event the attendee should:  
Understand the impact of ever-changing technology when applying certain aspects of ISAs;

Understand the impact of automated tools and techniques (ATT) on audit working papers when compiling Annual Financial Statements;

Understand what automated tools and techniques are;

Understand what automation bias is with reference to the revised IESBA Code of Conduct; 

Understand how to address the risk of overreliance on technology; and

Have access to the full IAASB publication.
DESCRIPTION
The IAASB (International Auditing and Assurance Standards Board) have published a new FAQ (Frequently Asked Questions) document on the risk of over reliance on technology and potential automation bias when conducting an audit or review.
This publication is a useful support tool and highlights the impact of technology when applying certain aspects of the International Standards on Auditing (ISAs). It focuses on specific considerations when using the capabilities of automated tools and techniques (ATT) and when using information produced by the entity's systems. In particular, this FAQ considers how the reviewer and auditor can address automation bias and the risk of over reliance on technology when using ATT and when using information produced by the entity's systems.
The IESBA Code of Conduct was revised in October 2020 in respect of the Role and Mindset expected of professional accountants, and these FAQs specifically address automation bias.
This webinar will provide an overview of this useful tool by discussing the contents of these FAQs, and by acknowledging the possibility, understanding potential biases and recognizing the causes, which are the first steps in addressing the risk of over reliance on technology and potential automation bias when conducting a review or audit.
Join us as we unpack the FAQs and considerations in an understandable format.
PRICE
The following pricing apply:
Ad hoc: R475 for this webinar
Subscription: N/A
Study unit 1
Overview & introduction. 
Study unit 2
What are ATT?  
Study unit 3
Using ATT in applying aspects of ISAs. 
Study unit 4
Automation bias linked to the IESBA Code. 
Study unit 5
Working through FAQs and answers. 
Study unit 6
Addressing the risk of overreliance:
Implementing policies and procedures.

Designing or tailoring tech resources.

Enhanced training.

Building awareness and leveraging behavioural motivators. 
Study unit 7
Access to the IAASB publication. 
REQUIREMENTS
There are no preconditions for this course.
Moderate level.
Recorded webinar made available on a specified date
PRESENTER
Lettie Janse van Vuuren
Lettie is a Chartered Accountant, Registered Auditor, as well as an Assessor and Moderator. As a professional trainer and webinar host, she is able to hold the attention of an audience with her relaxed and humorous presentation style.  She has a unique ability to communicate with delegates at their respective levels of knowledge and experience.  Over the last 20 years, she has trained thousands of partners, managers, trainee accountants and other professionals.
She is responsible for researching, compiling and presenting the SAIBA QUICK UPDATE SUBSCRIPTION PACKAGE.
ADDITIONAL MATERIAL
By attending this webinar, you will be provided with:
– Summarised slide presentation.
– Reference documents and / or course material where available.
– Access to a technical knowledge base.
– Recorded webinar that includes an expert presenter and participant interaction.
SAIBA ACADEMY SUPPORT
Go to HTTPS://SAIBA.ACADEMY/LOGIN/
Login
Select MY DASHBOARD
Select SUBMIT A TICKET to log a new query
Additional Course Information
| | |
| --- | --- |
| Category | Assurance |
| Accredited | SAIBA |
| Verifiable CPD Hours | 2 |
| Non-verifiable CPD Hours | N/A |
| Effort | 2 hours |
| Duration | 2 hours |
| Format | Webinar |
| Level | Moderate |
| Assessment | No |
| Study Material | No |
| Course Date | 5 May, 2021 |
Business Accountants in Practice (SA)
Business Accountants (SA)
Certified Business Accountants (SA)
Bookkeepers
Accounting and Auditing support staff
Accounting Officers
This event is included in the following subscription packages: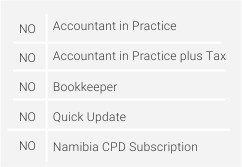 If you are not a subscriber, you need to purchase the event as a stand-alone event or subscribe to a SAIBA subscription package.
Subscribers pay less for their CPD points.
SAIBA offers 4 subscription packages that provides access to everything to run a successful accounting and tax practice.

Pay a small monthly amount and gain access to monthly webinars covering ethics, financials, reporting, audit and assurance, working papers, law, technology, management topics, and tax.