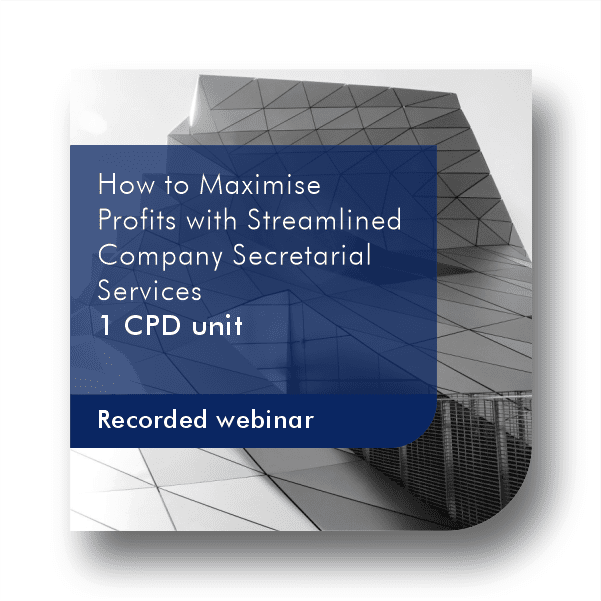 How to Maximise Profits with Streamlined Company Secretarial Services 2023
 Gain insights into the best practices for maximising profits and reducing costs within your company. May 2023
What you will learn
By attending this webinar you will gain the following competencies:
Understand the challenges of traditional company secretarial services.

Gain an understanding of ways 

to streamline your company secretarial services.

Discover cost-e

ffective ways to structure the pricing of company secretarial services. 

Appreciate software developments taking place in company secretarial and related services.  

Be able to incorporate the latest company secretarial software in your firm for profit maximisation. 
Description
Automation is replacing traditional (manual) methods of performing company secretarial functions as is happening elsewhere in our work. This webinar highlights how to increase profits generated by company secretarial services by adopting a retainer-based business model and reducing costs by saving time with InfoDocs company secretarial software. 
Price
The following pricing apply:
Free: R0.00
Content
The webinar will cover the following topics: 
A look at traditional company secretarial services.

Challenges of traditional company secretary services.

Pricing secretarial services with the accounting firms business model

. 

Incorporating the latest software. 

 
Requirements
There are no preconditions for this course.
Moderate level.
Recorded webinar made available on a specified date.
Presenter
Nadia van den Heever
Head of Customer Support – InfoDocs
Nadia van den Heever has made a name for herself in the company secretarial services industry despite only having worked at InfoDocs for a few years. As a self-taught expert and compliance advocate, she plays a vital role in helping company secretaries across South Africa ensure their clients remain compliant with the Companies Act. 
Nadia is passionate about simplifying the compliance processes and she actively introduces SME business owners to InfoDocs as a solution to save time, effort, and money in maintaining their compliance obligations.
CIBA Academy Support
Login to CIBA Academy
Select My Dashboard
Select Submit a Ticket to log a new query