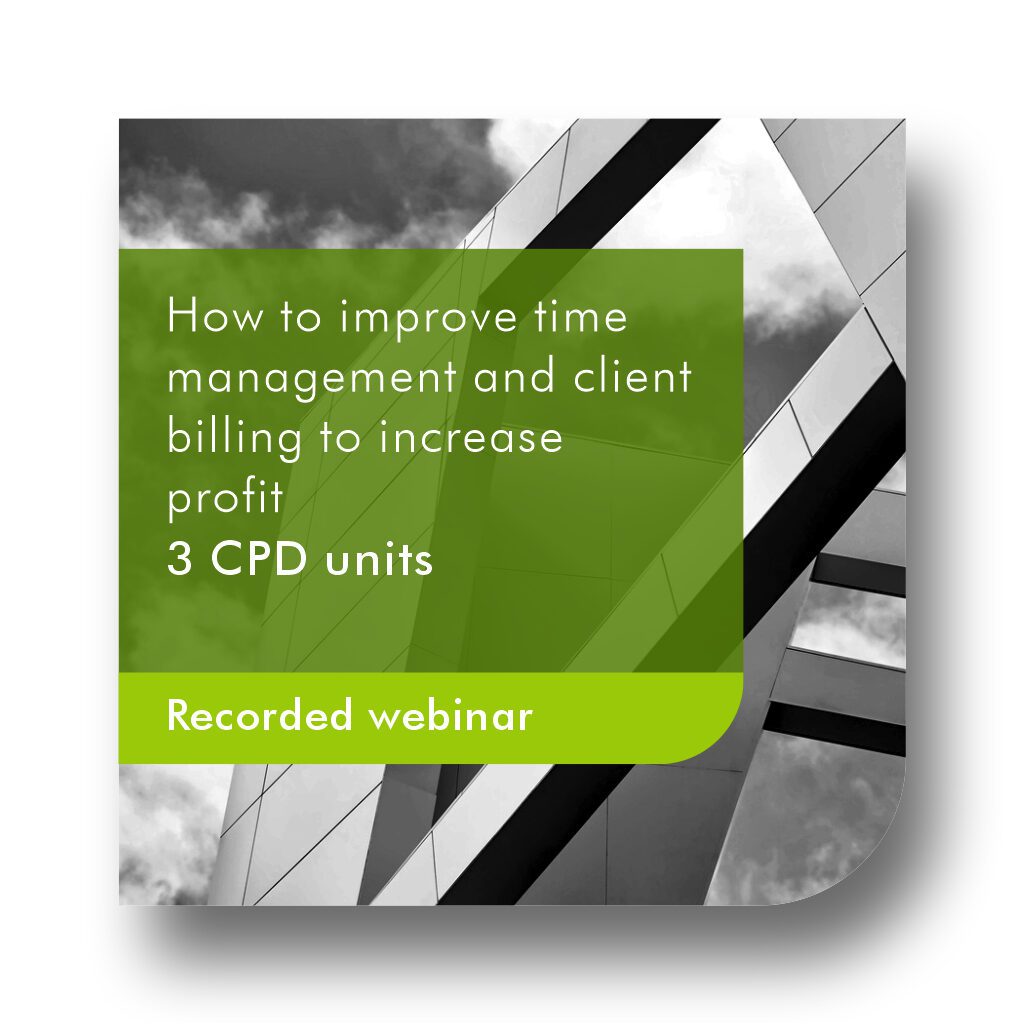 How to improve time management and client billing to increase profit
To highlight time management, effective billing, staff training and task allocation as techniques to improve profitability. May 2022
What you will learn
By the end of this event the attendee should:  
The ability to organise and coordinate colleagues and their activities to achieve organisational goals. 

Have clear methods to improve revenue and/ or reduce costs through effective time management and client billing. 

Have practical time management techniques 

for all engagements.

Manage processes that involve the calculation and monitoring of fees.

Understand

 

how to reduce engagement budget overruns and effectively communicate budget overruns with clients.
Overview
Time is one of the most valuable assets for any professional services firm and poor time management is a threat to the existence of such firms.  Striking a balance between time towards strategic goals and operational needs can be challenging for business leaders and managers. 
Effective time management is so much more than simply recording and billing staff time. Learning how to reduce engagement budget overruns and communicating budget overruns with clients are essential skills for any professional services business.   
Price
The following pricing apply:
Non-Subscriber Ad hoc: R450 incl. VAT
Subscriber: Included for free in the Accountant in Practice, Accountant in Practice plus Tax and Bookkeeper packages.
Content
What is time management?

Why is time management important for accountants?

Creating a sustainable fee structure.

How to balance staff training requirements with effective task allocation.

Ethical client billing and budget overruns.

Effective client communication regarding budget overruns.
Requirements
There are no preconditions for this course.
Moderate level.
Recorded webinar made available on a specified date
Presenter
Bekithemba Ndebele (ACCA)
Bekithemba Ndebele is an Associate of the Chartered Certified Accountants (ACCA). He completed his articles with PNA Chartered Accountants in 2015 after which he worked in the private sector as Group Finance Manager at Shearwater Adventures (Pvt) Ltd until December 2020.
Bekithemba is currently a managing partner at Zuva Financial Services (Pty) Ltd where he is responsible for tax advisory, assurance, business valuations, accounting, and business mentorship and acceleration.
SAIBA Academy Support
Login to SAIBA Academy
Select My Dashboard
Select Submit a Ticket to log a new query