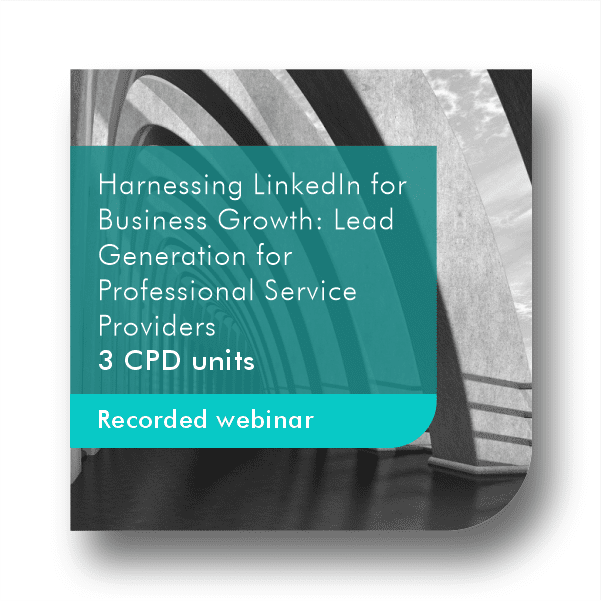 Harnessing LinkedIn for Business Growth: Lead Generation for Professional Service Providers 2023
Participants will improve their expertise in LinkedIn strategies for business growth. October 2023
What you will learn
By attending this webinar you will gain the following competencies: 
Know effective strategies to showcase your expertise and make a strong impression on potential clients

 using LinkedIn

.

Be equipped with the skills to create and optimize a compelling LinkedIn profile that attracts your ideal clients.

Apply strategies to expand your network and build meaningful connections with potential clients through LinkedIn. 

Build opportunities to engage with ideal client lookalikes and be able to nurture these relationships on LinkedIn. 

Acquire engagement and lead generation techniques that will help you leverage your network for brand and business growth.
Description
The 6th episode of our Attracting New Clients Series focuses on LinkedIn lead generation. LinkedIn is a platform with immense potential to expand business networking, multiple client acquisition efforts, and increase brand visibility in this digital era. 
In this webinar, Sommerville Lombard shows you how to optimize your LinkedIn profile, connect with ideal clients, and convert valuable connections into leads. During the webinar you will explore effective strategies for engaging with ideal client lookalikes and the steps to take once you connect with them. 
Price
The following pricing apply:
Adhoc: R450.00
Content
The webinar will cover the following topics:  
LinkedIn Profile Optimization Checklist: 

Create and optimize a compelling LinkedIn profile that attracts ideal clients with this comprehensive checklist

LinkedIn Lead Generation Blueprint:

Learn step-by-step techniques to turn LinkedIn connections into potential clients using strategic engagement and lead generation.

LinkedIn Engagement Scripts: 

 

Get sample scripts to effectively engage with ideal client lookalikes after connecting on LinkedIn.
Requirements
There are no preconditions for this course.
Moderate level.
Recorded webinar made available on a specified date.
Presenter
Sommerville Lombard
Sommerville Lombard is an Online Business Manager (OBM) based in Limpopo, South Africa. She is also the Founder of The Sommerville Agency (VA Services), Co-Founder of Explore VAN (Virtual Assistant Network), a Lead Generation Coach & an Online Project Manager.
She has almost 20 years in the teaching industry, specifically IT, Graphics and Web Design, and CAT for all ages. She has a bustling Global Virtual Assistant Agency, with multiple VAs working for her. Explore VAN is very close to her heart as it helps and supports global VAs in their businesses. 
CIBA Academy Support
Login to CIBA Academy
Select My Dashboard
Select Submit a Ticket to log a new query