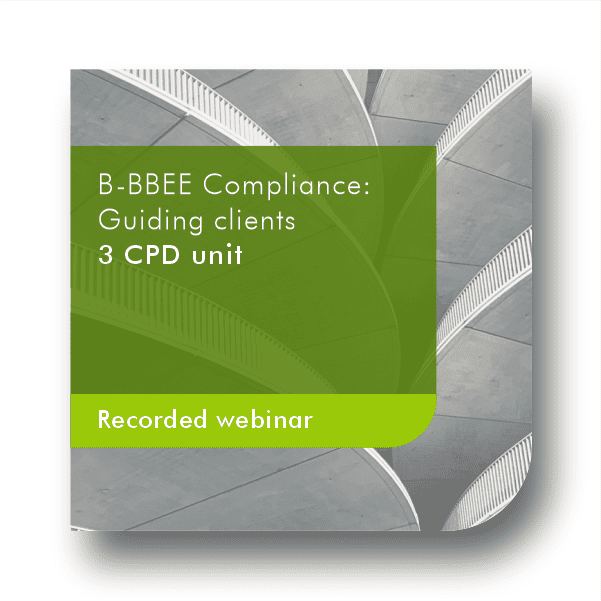 Guiding Clients About B-BBEE Compliance 2023
This webinar outlines compliance with the B-BBEE from a verification perspective.  June 2023
What you will learn
By attending this webinar you will gain the following competencies:
Knowledge on B-BBEE Scorecard Element points optimization.

Insights into compliance and verification evidence requirements.

Update on SANAS focus areas and onsite requirements.

Knowledge on Ownership structures that work.

 

Benchmarking.
Description
Offering B-BBEE advisory services requires thorough knowledge of all relevant legislation and regulations. . It is important to have a thorough understanding of the B-BBEE framework a how it works. This includes understanding the different elements of the scorecard, such as ownership, management control, skills development, enterprise and supplier development, and socio-economic development.
Accountants who offer their clients advisory services related to need to be well-versed with the Act so that they perform their duties within the scope of the law. Various companies and their advisors are being probed by the B-BBEE Commission for violation of the B-BBEE Act and failure to comply with the Codes of Good Practice contained in the Act. Areas of investigation include fronting and whether the implementation of employee trusts involving black ownership meets ownership requirements and complies with the Act. 
Price
The following pricing apply:
Adhoc: R450.00
Subscription: Included for free in Accountant in Practice, Accountant in Practice plus Tax.
Content
The webinar will cover the following foundational to intermediate topics: 
Generic and Sector specific Code Scorecard Measurement framework, principles, qualifying criteria,  indicators, weighting points and compliance targets.

Applicable Learning Programme Matrix and Benefit Factor Matrix for Supplier Development, Enterprise Development and Socio-Economic Development.

Qualifying Small Enterprises and EME opportunities.

Verification Manual documentation requirements, Programmes, Sampling, Calculations including modified flow-through principle application.
Requirements
There are no preconditions for this course.
Moderate level.
Recorded webinar made available on a specified date.
Presenter
Tony Balshaw CA(SA), ACFBA, F.FFI, F.Int.D 
Tony Balshaw is the Provincial Leader of SNG Grant Thornton in the Eastern Cape, and is the partner-in-charge of the firm's B-BBEE and Family Business divisions. 
Tony's B-BBEE expertise and experience includes verification and consulting in public listed and private companies, as well as state-owned enterprises. He has extensive B-BBEE experience across a broad spectrum of entities, including manufacturing, banking, textile, construction, petroleum, food processing, electronic, hotels, transport, agriculture, retail, NGOs and professional organisations. 
Tony has conducted a significant amount of research into BEE and has authored a number of books and articles. He has served on the ABVA/Dti technical liaison committee, and is on the leading edge of developments in the B-BBEE sector. 
CIBA Academy Support
Login to CIBA Academy
Select My Dashboard
Select Submit a Ticket to log a new query