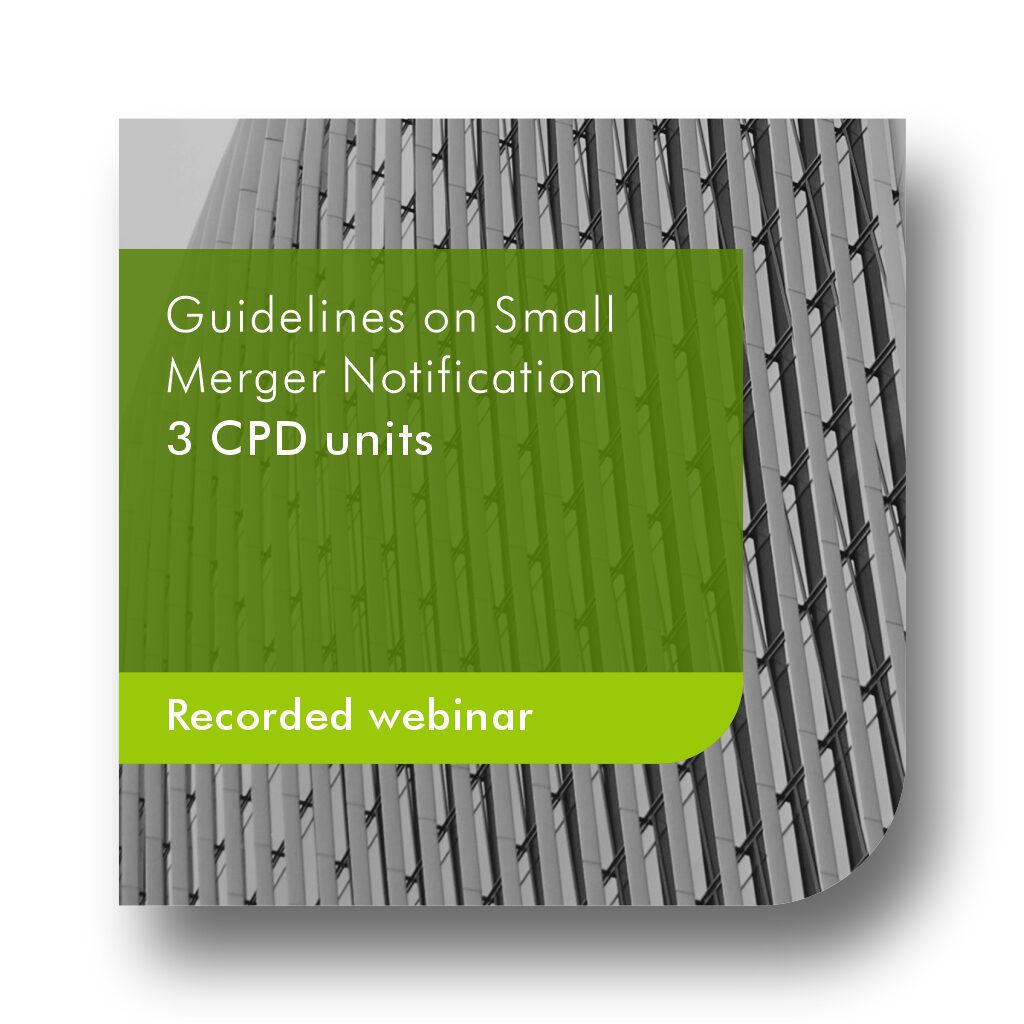 Guidelines on Small Merger Notification
To provide an overview of the guidelines on small merger notification, and also review some other important definitions and aspects of the Competitions Act. August 2021
WHAT YOU WILL LEARN
By the end of this event the attendee should:  
Be aware of the basics of the Competitions Act (specifically Section 13);

Be aware of some important definitions as well as the role of the Competition Commission;

Understand some of the risks, e.g. potentially anti-competitive transactions going unchecked;

Know under which circumstances the Competition Commission must be notified of a merger; and

Be aware of the procedures to notify the Competition Commission.
DESCRIPTION
The Competition Act does not require mandatory notification of "small mergers" but the Competition Commission has issued amended guidelines on small merger notification to enable evaluation of whether a small merger requires notification on its own merits.
Accountants and auditors must remain cognisant of their obligation towards NOCLAR. In this regard, they have to be able to apply the latest requirements of the Competition Act to those clients that small mergers (and the large ones) apply to.
In order to avoid contraventions of the Act and the consequences that follow, parties to small transactions meeting the relevant criteria need to make submissions to the Commission prior to entering into such transactions.
PRICE
The following pricing apply:
Ad hoc: R475 for this webinar
Subscription: N/A
CONTENT
Study unit 1
Basics of the Competitions Act (Section 13). 
Study unit 2
Important definitions. 
Study unit 3
The role of the Competition Commission. 
Study unit 4
Risks involved.  
Study unit 5
Notifying the Competition Commission of a merger:
The procedures involved.

When to do the notification.

Criteria relating to small mergers and acquisitions that require notification.

Criteria relating to the digital market that require notification.
REQUIREMENTS
There are no preconditions for this course.
Moderate level.
Recorded webinar made available on a specified date
PRESENTER
Lettie Janse van Vuuren CA(SA), RA, CBA(SA) 
Lettie is a CA (SA), Registered Auditor, as well as an Assessor and Moderator. She joined SA Accounting Academy in November 2017 as Head of Technical. As a professional trainer and webinar host, she is able to hold the attention of an audience with her relaxed and humorous presentation style.  She has a unique ability to communicate with delegates at their respective levels of knowledge and experience.  Over the last 20 years, she has trained thousands of partners, managers, trainee accountants and other professionals. 
She is responsible for researching, compiling and presenting our MCLU (Monthly Compliance and Legislation Updates). 
SAIBA ACADEMY SUPPORT
Go to HTTPS://SAIBA.ACADEMY/LOGIN/
Login
Select MY DASHBOARD
Select SUBMIT A TICKET to log a new query
ADDITIONAL MATERIAL
By attending this webinar, you will be provided with:
– Summarised slide presentation.
– Reference documents and / or course material where available.
– Access to a technical knowledge base.
– Recorded webinar that includes an expert presenter and participant interaction.