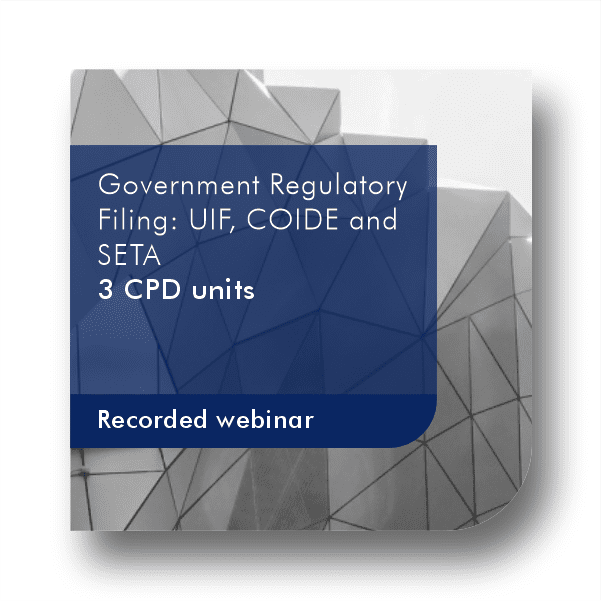 Government Regulatory Filing: UIF, COIDA, and Seta 2023
This webinar discusses background knowledge of UIF, COIDA and SDL and the timeous submission of regulatory reports 2023.
What you will learn
After attending this webinar you will:
Possess working knowledge of the background to UIF, COIDA and SDL. 

Knowledge of the registration requirements and procedures for UIF, COIDA, and SDL.

Know how to efficiently file UIF returns as well as returns of earnings with the Department of Labour.

Be capable of maintaining good standing under COIDA. 

Understand the intricacies of Workplace Skills Plans (WSP) and Annual Training Reports (ATR), while also gaining an understanding of the claim process within UIF, COIDA, and SETA.
Description
In today's ever-evolving business landscape, staying informed and compliant with essential regulatory frameworks is of paramount importance. 
We are excited to introduce a webinar dedicated to the Unemployment Insurance Fund (UIF), the Compensation for Occupational Injuries and Diseases Act (COIDA), and the Skills Development Levy (SDL) which is administered by the Sector Education and Training Authorities (SETAs). This exclusive event is designed to empower accounting professionals with the knowledge and tools necessary to navigate these crucial aspects of financial and regulatory management. 
Price
The following pricing apply:
Adhoc: R450.00
Content
The webinar will cover the following topics:
What is UIF, COIDA, SDL? 

Unemployment Insurance Act [No. 63 of 2001].

UIF/ COIDA/ SDL Registration.

Compulsory/ Voluntary registration.

UFiling, Department of Labour Returns of Earnings, Workplace Skills Plans.

How often should employers file?

What are the penalties for non-compliance?

Claim processes: 

SARS' role in UIF, COIDA and SDL administration. 
Requirements
There are no preconditions for this course.
Moderate level.
Recorded webinar made available on a specified date.
Presenter
Sydney Zizipa CGMA
Sydney Zizipa is a seasoned Chartered Management Accountant (CIMA Qualified) and CGMA, boasting a broad spectrum of expertise. His career spans multiple domains, including cost management, project management, commercial management, project accounting, project reporting, multicurrency financial reporting and foreign entity financial management. 
Sydney holds a Bachelor of Commerce in Accounting with Honors, CIMA, certification as a Certified SAP FI Solutions Consultant, and a Master of Business Leadership from UNISA Graduate School of Business Leadership. His academic excellence is underscored by his second-place ranking in South Africa during his final TOP CIMA exams in 2011.
CIBA Academy Support
Login to CIBA Academy
Select My Dashboard
Select Submit a Ticket to log a new query