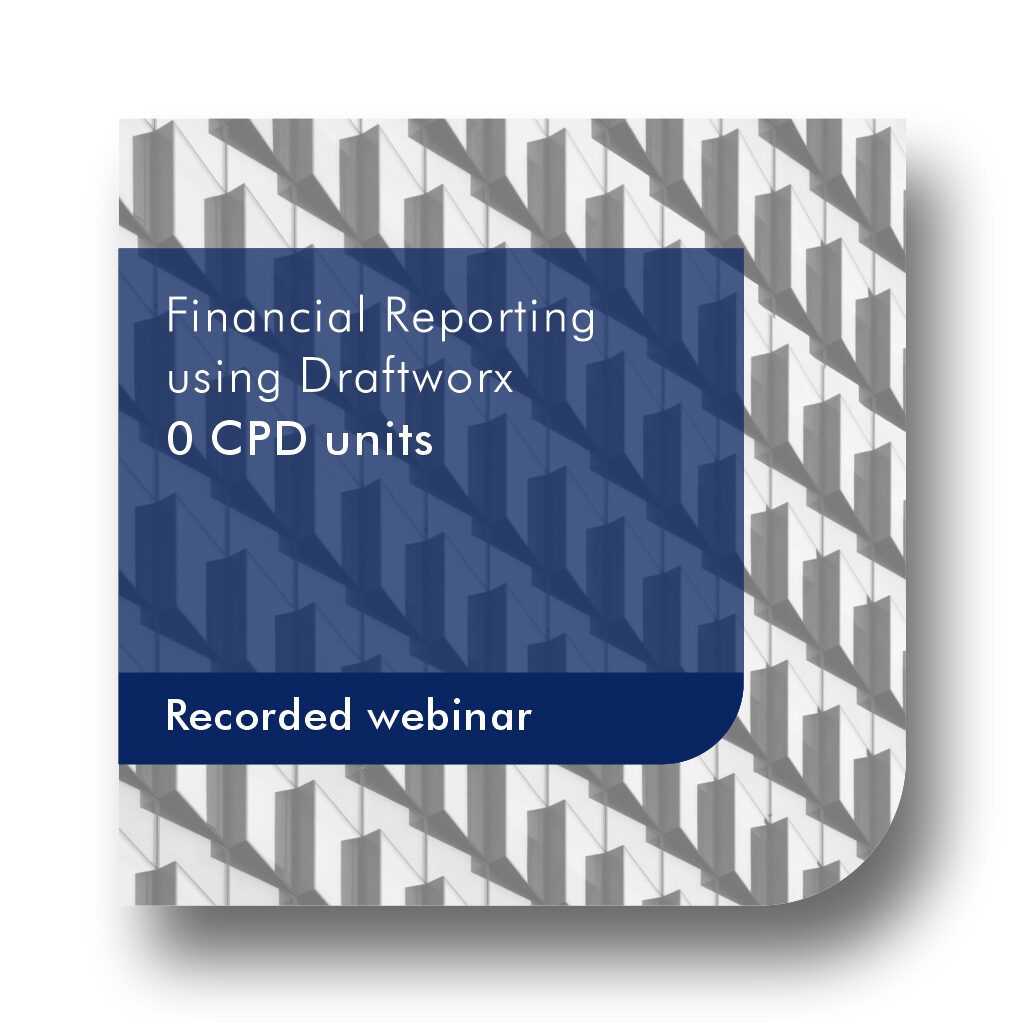 Financial Reporting using Draftworx
To show attendees how they can use Draftworx in financial reporting. August 2021
WHAT YOU WILL LEARN
By the end of this event the attendee should:  
Understand what the PI score is and its importance;

Understand automation of financial statements;

Have a background to financial frameworks;

Understand the difference between using the cloud vs desktop; and 

Know what XBRL is and who needs to do it, now and in the future.
DESCRIPTION
Local accountants and auditors enjoy quite a wide variety when it comes to the software they can use in their work. In order to choose the right one, one must consider the software's affordability, user-friendliness, dependability, ease of integration with other apps, and so on.  
Draftworx™ is a fully integrated, automated drafting and working paper suite that is highly flexible, easy to learn and use, and guarantees full compliance with accounting and auditing standards as well as requirements of the CIPC and SARS. This software was created to alleviate problems identified in current drafting, working paper and audit software. It includes financial statements, working papers and audit methodologies in cloud, desktop or hybrid versions.  
PRICE
The following pricing apply:
Ad hoc: Free webinar
CONTENT
The Accounting Standards Board (ASB):

Establishment.

Legislative mandate.

Conceptual Framework for General Purpose Financial Reporting. 

Accounting frameworks for PFMA entities.

Legislation prescribing the frameworks.

Cash basis VS accrual accounting.

Framework accounting on the cash basis.

IFRS application to the public sector.
REQUIREMENTS
There are no preconditions for this course.
Moderate level.
Recorded webinar made available on a specified date
PRESENTER
Earl Steyn
Earl Steyn CBA(SA) is the founder and CEO of Draftworx™. He is a qualified CBA(SA) with more than ten years post articles experience in the accounting profession. Earl is also an expert in iXBRL with intimate knowledge of Draftworx™ and all its functionalities.   
SAIBA ACADEMY SUPPORT
Go to HTTPS://SAIBA.ACADEMY/LOGIN/
Login
Select MY DASHBOARD
Select SUBMIT A TICKET to log a new query
ADDITIONAL MATERIAL
By attending this webinar, you will be provided with:
– Summarised slide presentation.
– Reference documents and / or course material where available.
– Access to a technical knowledge base.
– Recorded webinar that includes an expert presenter and participant interaction.