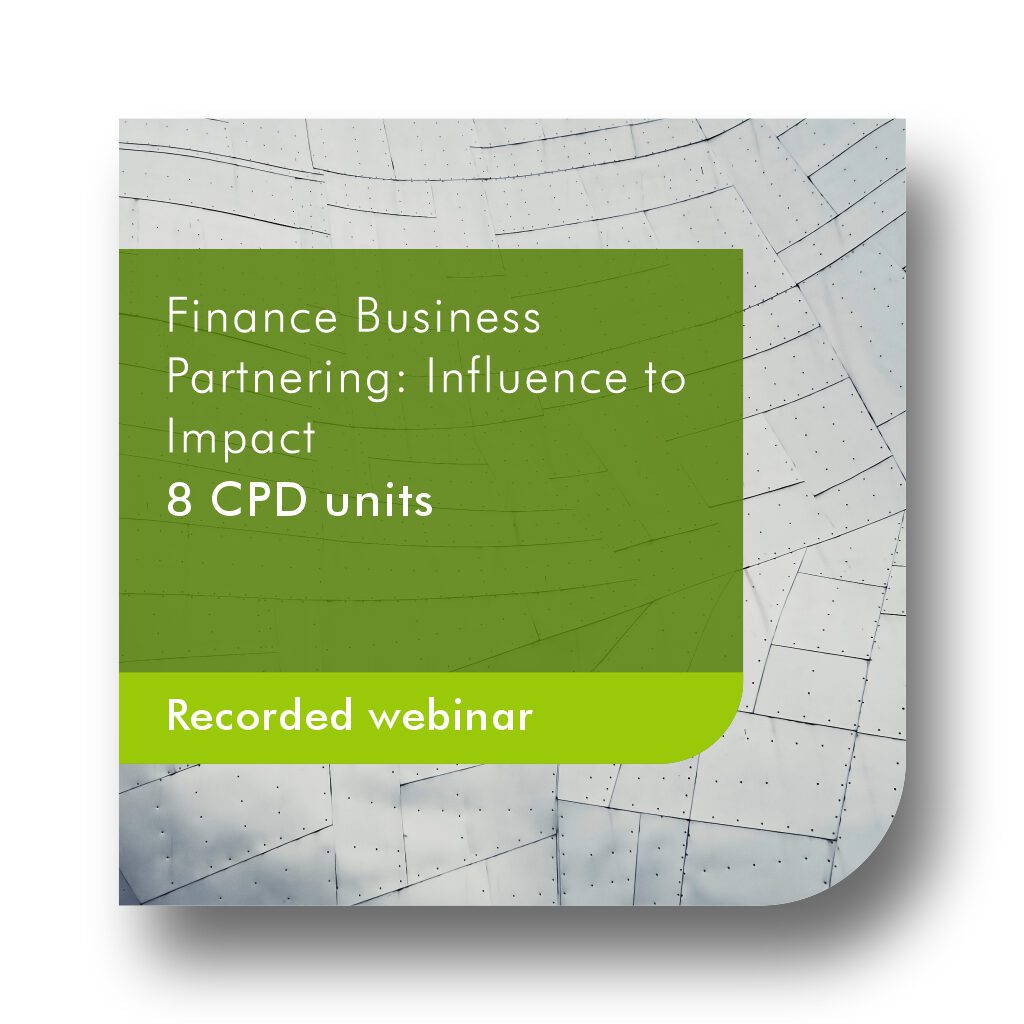 Finance Business Partnering: Influence to Impact
Obtain more insight into developing skills required for finance business partnering in preparation for senior roles.
What you will learn
Determine the appropriate skills and techniques to effectively communicate and influence business decisions according to audience.
Apply holistic and strategic thinking within the entire business.
Analyze the key tools and techniques used to aid in strategic decision-making.
Description
This self-study event offers finance professionals an advanced application-based approach to finance business partnering.
You will acquire essential problem-solving skills that can positively affect all areas of the business; learn how to leverage analytics tools and techniques to aid in decision-making; and, become accomplished in presenting and influencing key business decision makers.
Covering topics such as future of finance, disruption, and finance business partnering, this course will also help you enhance your interpersonal, communication, and leadership skills so you are more proficient in executing strategic visions.
Price
The following pricing apply:
Ad hoc: R1,975 VAT inclusive
Subscription: N/A
This is a digital product. You will have access to the content for 365 days after purchase date. Terms and conditions applies.
Content
An overview of the finance business partner
Developing business acumen
Business model generation
Strategic planning process – part 1
Strategic planning process – part 2
Improving the impact of your communication
Read your stakeholders better
Communication insights
Requirements
There are no preconditions for this course.
Moderate level.
Recorded webinar made available on a specified date
Presenter
Sean Purcell
In the field of finance business partnering Wise Up Now's founding partner Sean Purcell is a global expert. If you review the CPD programs on Finance Business Partnering for the ACCA, CGMA and AICPA which represent three of the worlds largest professional accounting bodies it is likely that Sean is the author. From his base in London, Sean has been involved in research and working with finance teams on finance business partnering since 2010 and has worked with over 1000 global finance business partners. Sean is a Partner with Wise Up Now, and since 2013 has been a Visiting Executive MBA Professor at the London School of Commerce.
SAIBA Academy Support
Login to SAIBA Academy
Select My Dashboard
Select Submit a Ticket to log a new query
Additional Material
By attending this webinar, you will be provided with:
– Summarised slide presentation.
– Reference documents and / or course material where available.
– Access to a technical knowledge base.
– Recorded webinar that includes an expert presenter and participant interaction.