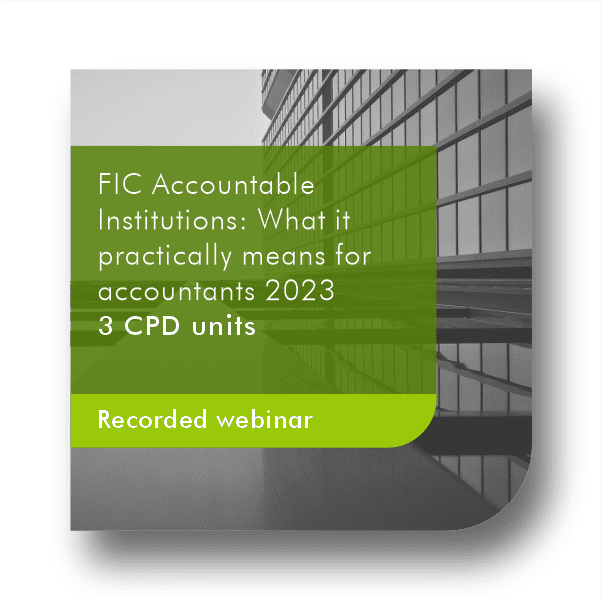 FIC Accountable Institutions: What it practically means for accountants 2023
To discuss how accountants are now accountable institutions as per FIC and what this means practically. March 2023
What you will learn
By attending this webinar you will gain the following competencies:
Understand what an accountable institution is in terms of FICA. 

Knowledge of who qualifies as accountable institutions according to FICA's Schedule 1. 

Have an understanding of compliance implications of being an accountable institution, from registering, to reporting and managing your risk. 

Be aware of the accounting practitioner's reporting obligations under anti-money laundering laws.

Have an understanding of the consequences of not registering as an Accountable Institution.
Description
Money laundering and corruption are financial diseases that are ravaging our economy, and accounting professionals are well-positioned to combat the scourge. The Financial Intelligence Centre has recognised  that professional accountants are at the coal face with business, and have recruited our position in business to be their eyes and ears.
In a recent amendment, the Financial Intelligence Centre Act (FICA) elevated the accounting profession to "accountable institutions".  This change in legislation brings with it many compliance and risk complications that need to be unpacked. This amendment will also go a long way to solve South Africa's greylisting issue by the Financial Action Task Force (FATF).  
Price
The following pricing apply:
Ad hoc: R0.00 for this webinar
Subscription: Included for free in Accountant in Practice plus Tax, Accountant in Practice and Bookkeeper package.
Content
The webinar will cover the following foundational to intermediate topics:
What is money laundering?

Registration requirements under FICA. 

Reporting obligations in terms of FICA. 

Compliance requirements of being an Accountable Institution:

Knowing your client and risk management.

Appointing a compliance officer.

Training your staff. 

Penalties and fines for non-compliance.  
Requirements
There are no preconditions for this course.
Moderate level.
Recorded webinar made available on a specified date.
Presenter
Caryn Maitland CA(SA)
Caryn Maitland is a registered auditor and chartered accountant since 2002. Caryn has lectured Auditing and Accounting at various institutions and has conducted independent workshops and seminars for professional accountants since 2006 on various topics.
CIBA AAcademy Support
Login to CIBA Academy
Select My Dashboard
Select Submit a Ticket to log a new query