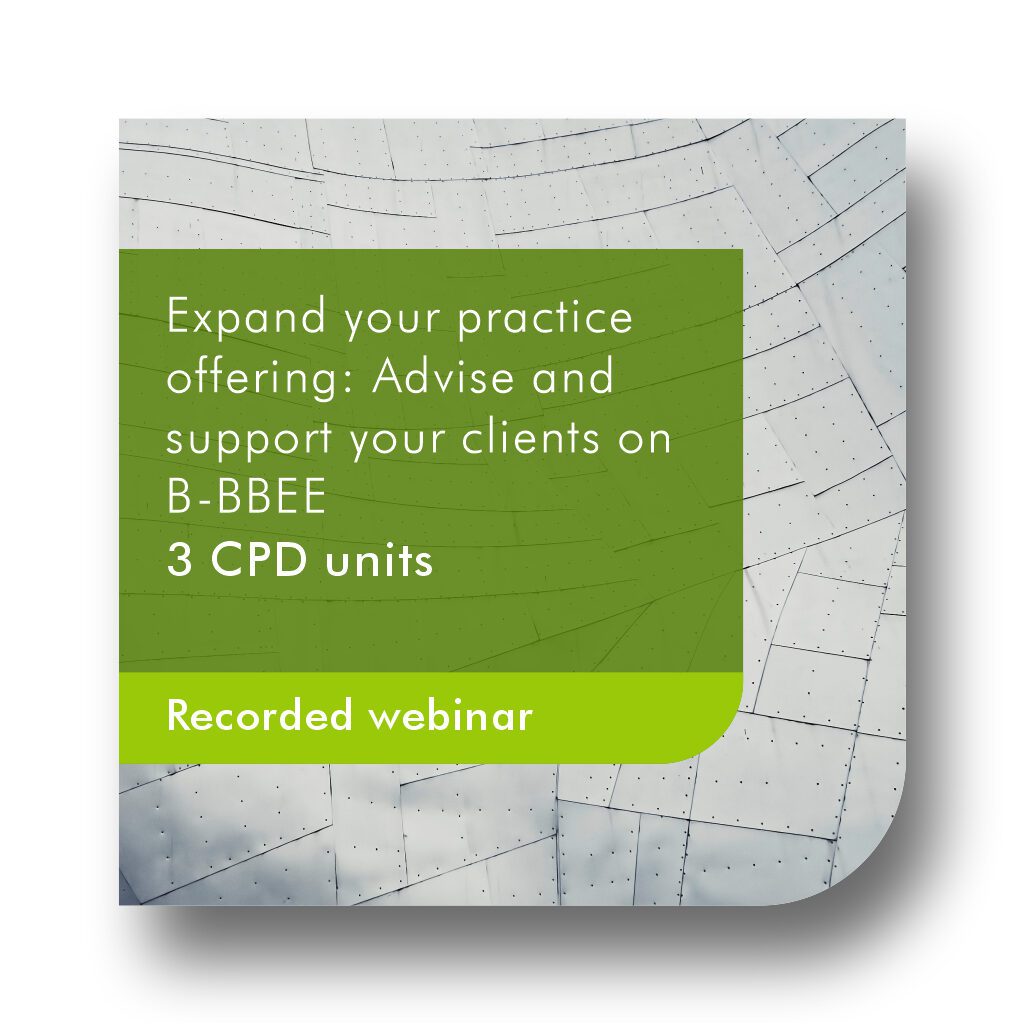 Expand your practice offering: Advise and support your clients on B-BBEE.
This webinar will reveal how participants can increase their offering by giving advice and support on B-BBEE. March 2022
What you will learn
By the end of this webinar the participant should:
Consider the principles of the latest B-BEEE legislation.

Perform calculations and compile documentation required for B-BBEE verification.

Prepare the required B-BBEE reports.

Train your staff on the specific B-BBEE scorecard principles and criteria.

Develop a budget for your clients to comply with B-BBEE legislation.  
Description
Practicing accountants have an opportunity to increase their service offering by assisting clients with B-BBEE compliance. A sustainable B-BBEE strategy for small and medium clients secures the best B-BBEE level to be able to partner with public entities, and secure government grants, incentives and qualify for other investment schemes. 
Over the years since its inception, the Broad-based Black Economic Empowerment (B-BBEE) Act of 2003 has been amended a number of times. The amended Codes of Good Practice for Broad-based Black Economic Empowerment is one of the significant changes. Accountants who offer their clients advisory services related to B-BBEE need to be well-versed with the Act so that they perform their duties within the scope of the law.
Price
Non-subscriber Ad hoc : R450.00 incl. VAT
Subscriber: Included for free in Accountant in Practice, Accountant in Practice plus Tax
Content
Study Unit 1
Introduction to the B-BBEE Act.  
Study unit 2
Key definitions of the Act. 
Study unit 3
B-BBEE levels and their meanings. 
Study unit 4
The B-BBEE scorecards. 
Study unit 5
Key calculations.
Study unit 6
Regulations related to submissions. 
Study unit 7
How to prepare required B-BBEE reports. 
Study unit 8
Budgeting for B-BBEE compliance. 
Study unit 9
Offences and penalties.  
Requirements
There are no preconditions for this course.
Moderate level.
Recorded webinar made available on a specified date
Presenter
Tony Balshaw CA(SA), ACFBA, F.FFI, F.Int.D
Tony Balshaw is the Provincial Leader of SNG Grant Thornton in the Eastern Cape, and is the partner-in-charge of the firm's B-BBEE and Family Business divisions.
SAIBA Academy Support
Go to HTTPS://SAIBA.ACADEMY/LOGIN/
Login
Select My Dashboard
Select Submit a Ticket to log a new query
Additional Material
By attending this webinar, you will be provided with:
 Summarised slide presentation
 Reference documents and / or course material where available
Access to a technical knowledge base
Recorded webinar that includes an expert presenter and participant interaction