Executive Programme for CFO and Finance Executives
Obtain objective confirmation of your worth and improve your skills as a finance executive by qualifying to obtain the official designation for finance executives. Boost your earning potential and steer your organisation successfully within a dynamic global business landscape.
WHAT YOU WILL LEARN
Attending this course will equip emerging CFO's and finance executives with the necessary knowledge and higher order thinking skills to function effectively within a dynamic corporate or public sector environment, including the following competencies:
Maintain a balance between the needs of the employees as well as the greater organisation.
Unlock and influence optimal potential and performance of the people and the business.
Optimise team performance, organizational effectiveness and efficiencies to encourage continuous improvement.
Interpret and translate strategic intent into practical application at the operational level.
Apply strategic and systemic thinking to transition from a Specialist to a Strategist role.
Understand an organization in context of its environment and industry.
Craft and implement plans to create a future fit and forward thinking organization, that is able to respond to the challenges and maximize the advantages of the fourth industrial revolution.
HOW WILL YOU BENEFIT
Obtain objective confirmation of your knowledge and competencies as a modern CFO.

Learn how to contribute fully to the development of company strategy across all areas of the business, challenging assumptions and decision-making as appropriate and providing financial analysis and guidance on all activities, plans, targets and business drivers.

Receive the opportunity to feature on CFOTalks.

Learn how to achieve turnaround and cultural change through a difficult period as a member of the board of directors.

Establishing a high level of credibility and managing strong working relationships with external parties including customers and advisors.

Increase your knowledge on how to

optimise financial performance,

coordinate corporate finance,

manage company policies regarding capital requirements, debt, taxation, equity and acquisitions as appropriate and

optimise the company's strategic position.
DESCRIPTION
This transformative leadership programme was developed by the University of Stellenbosch Business School Executive Development (USB-ED) in collaboration with SAIBA and CFOTalks with the aim of accelerating mastery for financial executives and equip them to generate greater personal and business value.

The programme is divided into four focus areas that builds on increasing levels of influence, from:
leading self,
to leading team,
leading business, and 
leading in society. 
The areas of influence consist of different modules which are facilitated by experienced industry and academic experts who will coach participants in the application of the models and tools to their work environment. Real-world case studies and the latest academic research are presented to identify and investigate issues that could help drive better corporate strategies and practices. Enabling participants to optimise their human, financial and intellectual capital within hyper competition and a distressed economy.
A host of key areas of business are explored from strategy, operations, finance, human resources to change management, technology to digital strategies.
Through participative and virtually immersive learning experiences, financial decision-makers are upskilled to face the challenges of the shifting global economy.
The programme is aligned to NQF level 9 and provides access to the SAQA accredited Certified Financial Officer (SA) designation at NQF level 9. Click here to read more about the official designation for CFOs. The programme is aligned to the 34 competencies required to attain the CFO(SA) designation.
Join us on this prestigious journey to equip business leaders to generate higher incomes and make innovative and profound business decisions.
METHOD
A blended educational programme, hosted by a learning process facilitator (LPF), is offered:
Face-to-face sessions: Hosted at USB-ED's Bellville Campus.
Remote online learning: Live, synchronised learning. Virtual attendance at the predetermined sessions is compulsory.
Online Learning: Can be accessed on demand via the learner management system (LMS) to facilitate self-study.
Access to Stellenbosch library.
A certificate and the CFO designation is awarded on successful completion of:
three integrated assignments,
one in class assignment and
a business driven action learning research project as a member of a syndicate group.
EARN A UNIVERSITY CERTIFICATE
Earn an official certificate of completion from the University of Stellenbosch Business School Executive Development (USB-ED).
Your certificate will be issued in your legal name and sent to you upon successful completion of the course, as per the stipulated requirements.
PRICE
R98 875 excluding VAT (R113,706 including vat)
Payment terms are available: A non-refundable deposit is due on registration of R 38,706. The balance is payable in two equal installments of R35,000. The first installment is payable one month after registration and the second within 60 days after registration.
Company payments can by made. Contact fgeldenhuys@saiba.org.za for a pro-forma invoice in order to request purchase orders from your company.
Travel and accommodation are for participants own costs.
Data for internet access are for participants own costs.
Payments are non-refundable.
CONTENT
Course dates to be confirmed 1 Mar 2021. Below dates are indication.
Module 1
Lead Self – 17 to 19 March 2021 (3 Days)
The CFO Landscape
Decision-making in a VUCA world
Authentic Leadership
Effective Networking & Relationship intelligence
Module 2
Lead Team – 19 To 21 May 2021 (3 Days)
4IR & 5IR: What does this mean for my team?
Leading Change through Complexity
Building Human Capital within Legislative Frameworks
People Management
Module 3
Lead Business – 20 To 23 July 2021 (3 Days)
Systems Thinking
An Introduction to Design Thinking & Innovation
Strategy Execution
Strategic Project Management from a Financial Perspective
Module 4
Lead In Society – 14 To 17 September 2021 (4 Days)
Global Environment of Business
Corporate Governance, Ethics and Risk
Digital Strategies
Award Ceremony
DATE
he blended programme is offered:
with face-to-face sessions at USB Bellville Campus,
remotely via the university video conferencing platform at the predetermined timeslots, and
with self-study on USB's learner management system (LMS).
Participants should be available as follows:
Lead Self: 17 to 19 March 2021 – Face-to-face at USB Bellville Campus (catering included)
Lead Team: 19 To 21 May 2021 – Remote learning
Lead Business: 20 To 23 July 2021 – Remote learning
Lead in Society: 14 To 17 September 2021 – Face-to-face at USB Bellville Campus (catering included)
Award Ceremony: 17 September 2021 from 16:00 to 18:00.
REQUIREMENTS
B Com Hons, CTA, Advance diploma or similar and 5 years of working experience in a middle management position or 3 years experience at an executive management level.
CONTACT
For queries contact content@saiba.org.za.
PRESENTER
Various Industry experts.
LEARNING PROCESS FACILITATOR
Thys Pretorius (MPhil)
Thys has over 25 years of experience in strategy, futures thinking, organization development & transformation, human capital management, learning and leadership spanning across diverse industries, incl. mining, retail, executive education, hospitality, NPO's and consulting. Thys spent the first 15 years of his career gaining corporate experience, before pursuing the Organization consulting world. His working knowledge of behavioral sciences, systems thinking and organizational dynamics combined with natural facilitation skills has laid the foundation for his success and effective facilitation of learning processes.
MENTORSHIP PROGRAMME
SAIBA will facilitate an informal mentorship programme by connecting participants with current senior level and experienced CFO's. Some of these influences have been interviewed on CFOTalks.
CPD HOURS
The program contributes to 100 CPD hours of which 25% can be used as allocation towards your accounting CPD hours, based on SAIBA's CPD policy that CPD should be weighed according to different categories/topics.
ABOUT USB-ED
The University of Stellenbosch Business School Executive Development (USB-ED), is quality assured by Stellenbosch Business School, holds the Triple Crown Accreditation prestigious award and is accredited by:
• the Higher Education Quality Council (HEQC) in South Africa,
• the Botswana Qualifications Authority (BQA) and
• the Mauritius Qualifications Authority (MQA).
Read more about USB-ED here.
From: R 35000 VAT Incl. / month for 2 months and a R 38706 sign-up fee
Additional Course Information
| | |
| --- | --- |
| Category | Strategy and Leadership |
| Accredited | USB-ED, SAIBA |
| Verifiable CPD Hours | 25 |
| Non-verifiable CPD Hours | N/A |
| Effort | 6 months |
| Duration | 6 months |
| Format | Webinar |
| Level | NQF Level 9 |
| Assessment | Yes |
| Study Material | Yes |
| Course Date | 19 January, 2021 |
Newly appointed CFO's that need assistance with obtaining the competencies required.
Emerging CFO's – Financial managers who aspire to be CFO's and who would increase their appointment opportunities by successfully completing the course.
Experienced CFO's who would like to sharpen their skills and be updated with current trends.
Persons who want to obtain the CFO designation. The certificate provides exemptions into the admissions criteria for the CFO designation.  Subject to 8 to 10 years post-qualification experience with at least 4 years in an executive position.
This event is included in the following subscription packages: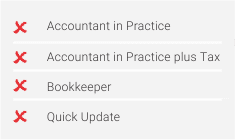 If you are not a subscriber, you need to purchase the event as a stand-alone event or subscribe to a SAIBA subscription package.
Subscribers pay less for their CPD points.
SAIBA offers 4 subscription packages that provides access to everything to run a successful accounting and tax practice.

Pay a small monthly amount and gain access to monthly webinars covering ethics, financials, reporting, audit and assurance, working papers, law, technology, management topics, and tax.