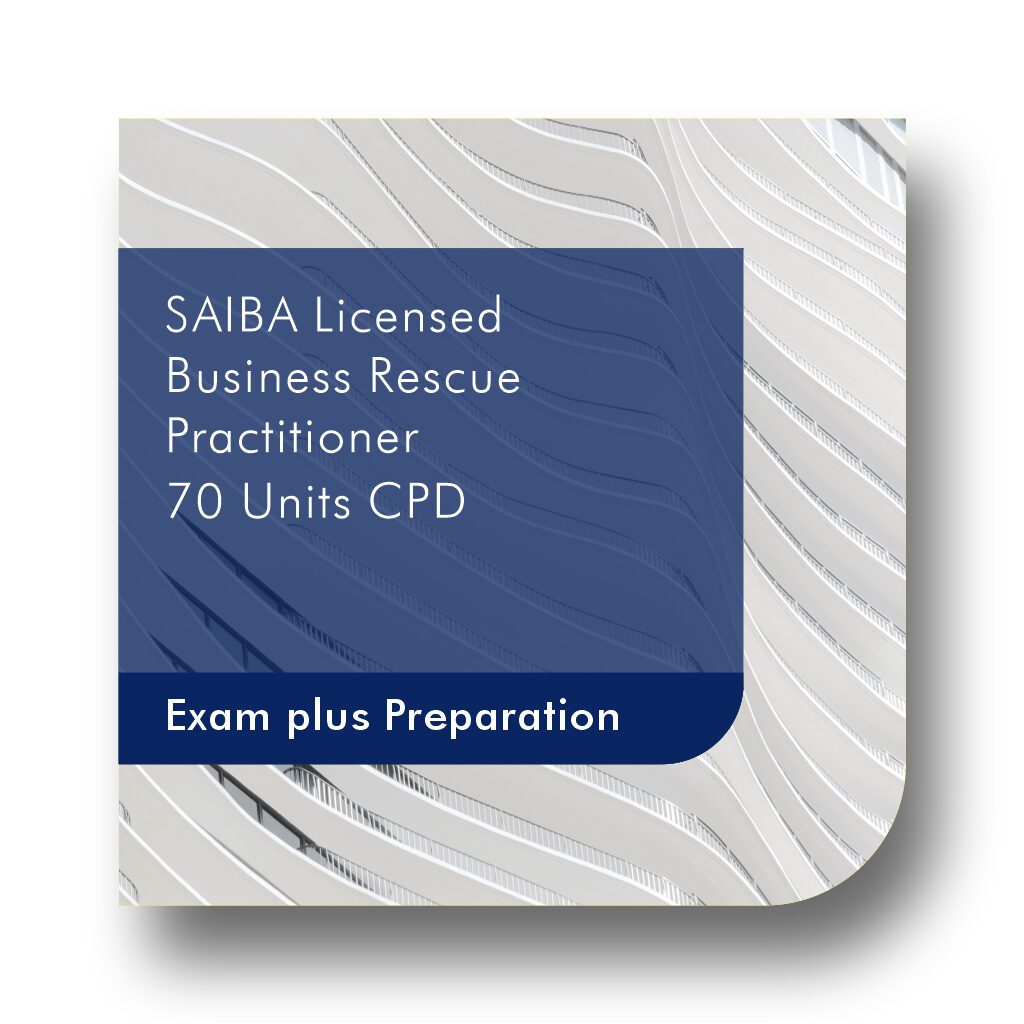 Business Rescue Specialist – Exam plus Preparation
Preparation to successfully complete the Business Rescue License exam to perform business rescues in terms of the Companies Act, 2008. The Business Rescue license qualifies accountants to register with CIPC as a Business Rescue Practitioner.
What you will learn
As a SAIBA licensed practitioner, you will:
Be equipped with the necessary skills to fulfil their statutory duties in accordance with the letter of the law.
Be guided on how to advise and protect the interests of directors, creditors, shareholders or employees of a company in financial distress.
Understand and practically apply the provisions of the Companies Act pertaining to all legal aspects of business rescue.
Be able to register with the CIPC as a Business Rescue Practitioner.
Have evidence of your competence in the Business Rescue specialist area.
Qualify to register for SAIBA's "Experience-through-exposure" (ETE) programme.
Description
The South African economy is being placed under pressure by the Covid 19 pandemic. More and more companies are facing severe financial distress and as a result there is an urgent requirement for the application of the business rescue process. We have seen high profile business rescue filings in the news such as SAA, Comair, Edcon and Pumulela.
Never before has the Business Rescue process been as relevant as it is right now!
Business rescue provides an alternative option for saving a company teetering on the brink of insolvency, that of a fresh start, and needs to be considered by all those involved with the failing entity. The Companies Act no 71 of 2008 allows accountants to become Business Rescue Practitioners, opening up a new revenue stream for their businesses. Business Rescue is a specialist area and a Business Rescue license provide the evidence required that you have mastered the subject area and will be able to deliver quality work as a Business Rescue Practitioner(BRP).
SAIBA is a CIPC accredited professional body for business rescue practitioners and offers a practical exam preparation course, to qualify as SAIBA Licensed Business Rescue Practitioners.
The development and presentation were done by Dr Eric Levenstein. He has been involved with assisting boards of directors and financially distressed companies with restructuring and rescue mandates for over 30 years, achieving successful restructuring and turnaround of companies that were on the verge of collapse.
As specialist in Business Rescue you will stand out from the crowd, be able to attract more clients and earn a higher income.
More about Business Rescue
Restructuring and reorganising of companies in financial distress rather than going the pure liquidation route is on the increase globally. In line with this trend, the Companies Act no 71 of 2008 facilitates business rescue in the South African landscape.
The purpose of business rescue is to maximise the likelihood of a company continuing in existence on a solvent basis. The key to business rescue will be the successful development and implementation, if approved by creditors, of a plan to rescue the business by restructuring its affairs.
The Act provides for this process of reorganising a company's operations, assets liabilities and equity. Financially distress business that take a decision to start rescue proceedings can file a notice with the CIPC. A practitioner is appointed by the CIPC, which requires that he/she be a good standing member of an accounting, legal or business management profession.
Price
The following pricing apply for the Exam and Exam Preparation Course: R8,500.00 for CIBA members
* The License does not form part of a subscription package.
* There is an Exam Only option available at R7,000.00.
An annual renewal fee of R2,500 applies.
Please ensure that you comply with the requirements listed within the products. No refunds will be made should you not comply with the requirements. If you are unsure whether you comply, please contact academy@saiba.org.za.
No incorrect purchases will be refunded.
Textbook
The study guide and units refers to sections within the following prescribed textbook for participants own account:
South African Business Rescue Procedure
Dr Eric Levenstein (November 2019 – issue 3) LexisNexis South Africa
ISBN/ISSN: ONLBRPISA2017 (Online copy) or
ISBN/ISSN: 170SABUSRESYS (Print & Mobile)
A 10% discount is available to SAIBA members who enrol in this course.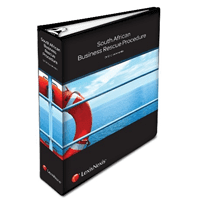 Content
The License consists of the following 12 study units. For a list of the topics included within the 12 units Business Rescue License – Contents.
Introduction to Business Rescue and Important Definitions
Grounds for Commencement of Business Rescue Proceedings
Commencement by Board Resolution
Commencement of Business Rescue proceedings by Order of Court and the duration of Business Rescue
Legal consequences of Business Rescue Proceedings: The General Moratorium on legal proceedings and the Protection of Property Interest
Legal consequences of Business Rescue proceedings: Effects on Employment and Other Contracts
Post Commencement Finance
Legal consequences – The effects on Shareholders, Directors and Creditors
The Business Rescue Practitioner: Qualifications and Appointment
The Business Rescue Practitioner: Power, Duties and Liabilities
The Business Rescue Plan
Compromise with Creditors in terms of Section 155
Requirements
The entry requirements to enroll are as follows:
a BAP(SA) (SAIBA designation) OR an equivalent designation with another professional body equivalent at NQF level 7 plus SAIBA Associate membership together with
a minimum of 3 years of general accountancy experience.
Presenter
Dr Eric Levenstein
Dr Eric Levenstein has been a director at Werksmans Attorneys since 1993 and is the head of the firm's Business Rescue, Insolvency & Restructuring Practice. He specialises in litigation and dispute resolution, with a particular focus on business rescue, insolvency and restructuring, banking and finance and corporate recoveries of debt.
Eric has regularly contributed to the development of law concerning business rescue, having written legal briefs, journal articles and media reports. He has also appeared on radio and television to discuss the subject. Eric has given numerous presentations at various forums and seminars on related issues, including the law on director liability.
Eric is the Chairperson of the South African Restructuring and Insolvency Practitioners Association (SARIPA) and is a member of SARIPA's Restructuring, Business Rescue and Government Liaison Committees. He is also a member of INSOL International, a worldwide group of insolvency practitioners and attorneys, and was appointed SARIPA's representative on INSOL International's main board (October 2018–October 2021).
Eric has acted in various high-profile business rescue matters including those concerning Pearl Valley Golf Estate, Southgold Exploration, Ellerines, Advanced Technologies & Engineering, Meltz Success, On-Digital Media (Top TV), Moyo Restaurants, Optimum Coal Mine, Stuttafords, Hernic Ferrochrome, SA Calcium Carbide, Basil Read and Group Five Construction. He is named as a leading insolvency and restructuring lawyer by Who's Who Legal (2014, 2016–2019), a leading lawyer in restructuring/insolvency in Chambers Global (2017–2019) and a highly recommended lawyer in dispute resolution (business rescue) by Legal500 (2012–2017). Eric has a BCom and an LLB degree, Higher Diplomas in Company Law and Tax and a Diploma in Insolvency Law. He was awarded his LLD in Business Rescue by the University of Pretoria in 2016.
Exam
The knowledge assessments and qualifying exam/case study was prepared by doctor Eric Levenstein and moderated by SAIBA.
Additional Material
By enrolling in this exam preparation course, you will be provided with:
Reference to the recommended textbook
Knowledge assessments per study uni
Case study as final exam
CPD
The successful completion of the course contributes to 70 hours CPD of which 25% (17 hours) can be claimed as allocation towards your accounting CPD hours, based on SAIBA's CPD policy that CPD should be weighed according to different categories/topics.
ETE Programme
SAIBA is proud to present the first of its kind Experience-through-exposure Business Rescue programme (ETE programme).
This programme is designed to connect newly licensed Business Rescue Practitioners with more experienced practitioners in the industry.
Newly licensed Business Rescue Practitioners can gain valuable experience in real work and industry environments. Knowledge and skills are shared by experienced and accredited Industry Experts, which also serves as a mentor during the programme.
Participants who do not prefer self-study could upskill via the following course:
UJ Faculty of Law Programme in Business Rescue: Click here