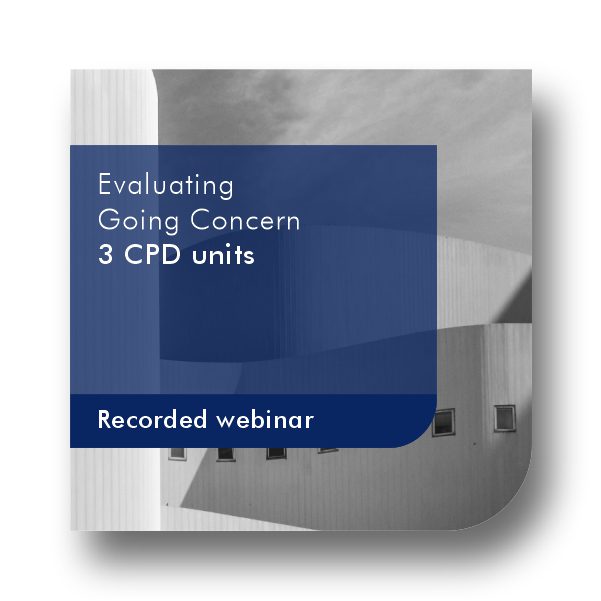 Evaluating Going Concern 2023
To highlight factors to consider when assessing going concern as an accounting professional. March 2023
What you will learn
By attending this webinar you will develop the following competencies:  
Know when and how to apply the fundamental concept of going concern.

Differentiate between reporting on the going concern versus the liquidation basis.

Understand the impact the disclosure of going concern has on the directors' report and financial statements.

Understand the impact of going concern on assurance reports.

Recognise important factors to consider when assessing going concern. 
Description
The current unpredictable business environment caused by economic uncertainty and rolling power blackouts is causing some business entities to reassess their going concern ability. 
The impact on going concern is pervasive throughout the financial statements, from how accounting professionals view the directors' decision, to the manner in which the actual values disclosed on the financial statements are prepared. Going concern is a critical assessment of the health and sustainability of the company. Users of financial information are the ones who pay the price for an incorrect decision on a reporting entity's going concern status.  
Price
The following pricing apply:
Ad hoc: R450 for this webinar
Subscription: Accountant in Practice, Accountant in Practice plus Tax
Content
The webinar will cover the following topics from a foundational to an advanced level:  
Going concern defined.

The Conceptual Framework for financial reporting.

The Companies Act – solvency and liquidity. 

Disclosure of going concern.

International Standards on Auditing relating to auditor reporting.
Requirements
There are no preconditions for this course.
Moderate level.
Recorded webinar made available on a specified date
Presenter
Caryn Maitland CA(SA) 
Caryn Maitland is a Chartered Accountant (SA). She has been a member of IRBA as a registered auditor and accountant since 2002.
Caryn has lectured Auditing and Accounting at various institutions and has conducted independent workshops and seminars for professional accountants since 2006 on various topics. She has presented on the national tour for the annual Legislation Update with ProBeta Training (Pty) Ltd in 2014 and 2015, as well as on the FASSET national tour for the Tax Administration Act in 2014. 
SAIBA Academy Support
Login to SAIBA Academy
Select My Dashboard
Select Submit a Ticket to log a new query