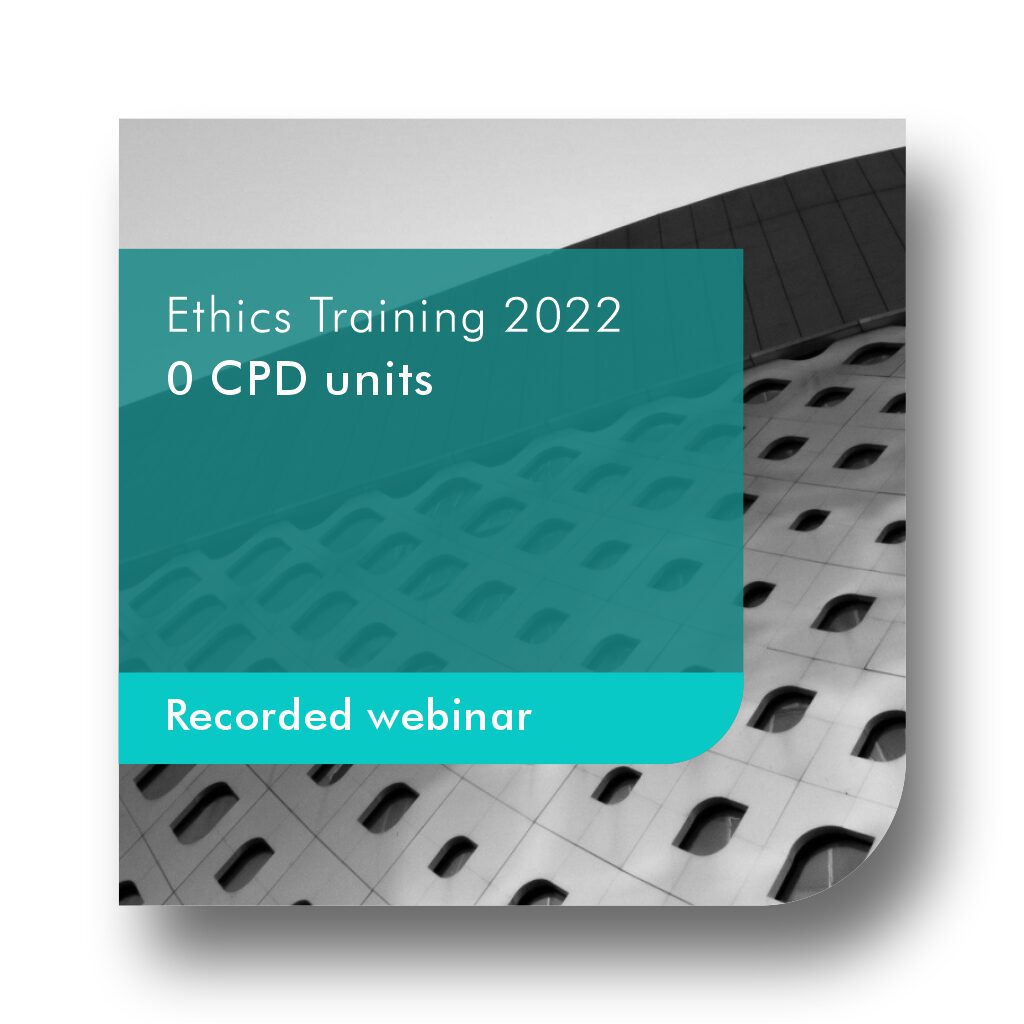 To give a high level introduction to understanding the ethical framework that accountants work in and from. January 2022
WHAT YOU WILL LEARN
By the end of this webinar the participant should:
Understand what the subject of ethics encompasses.

Understand ethics in terms of personal, professional and business ethics. 

Understand the importance of good ethical behaviour in all spheres of life.

Understand what it means to be a professional citizen.

Know how to apply good ethics in personal, professional and business circles.
DESCRIPTION
Every profession is guided by ethical principles and every member of the profession is expected to subscribe to, and follow these ethics or face serious repercussions! 
An individual's ethics are built from one's life experiences, training and experience. It is therefore important to look at the subject from three different angles, namely: 
Personal ethics – Our personal beliefs form the foundation of our moral compass. This is what a person identifies with in dealing with people and situations on a daily basis.

Professional ethics – Our professional beliefs align us to our colleagues and our aim to protect public interest.

Business ethics –  Our business ethics guide us with respect to the people we surround ourselves with and the organisational culture we create. 
PRICE
CONTENT
Study Unit 1
Introduction – What is ethics? 
Study unit 2
Ethics explained:
Personal ethics.

Professional ethics.

Business ethics.
Study unit 3
The importance of ethics. 
Study unit 4
The accountant and ethics.  
REQUIREMENTS
There are no preconditions for this course.
Moderate level.
Recorded webinar made available on a specified date
PRESENTER
Caryn Maitland is a Chartered Accountant (SA). She has been a member of IRBA as a registered auditor and accountant since 2002, Caryn has lectured Auditing and Accounting at various institutions and has conducted independent workshops and seminars for professional accountants since 2006 on various topics.
SAIBA ACADEMY SUPPORT
Go to HTTPS://SAIBA.ACADEMY/LOGIN/
Login
Select MY DASHBOARD
Select SUBMIT A TICKET to log a new query
ADDITIONAL MATERIAL
By attending this webinar, you will be provided with:
 Summarised slide presentation
 Reference documents and / or course material where available
Access to a technical knowledge base
Recorded webinar that includes an expert presenter and participant interaction