September-December2020 To promote awareness, adoption and implementation of the International Code of Ethics for Accountants
What you will learn
Be aware of the latest ethics changes and what it means for your business, practice, and your clients;

Be able to inform your staff and clients on how to stay compliant;

Adapt business models to fit new legislative landscapes;

Receive references to documents and guides; 

Have access to your own technical resource; and 

Have access to the presenter via email for follow-up Q & A.
Description
Ethics are a fundamental component of what it means to be a professional accountant. The relationship between the accountant and their client is one that is based on utmost trust. This is true for most business relationships but very important in accounting where the relationship involves dealing with people's livelihoods in the form of their money, income and assets. 
In order to maintain this trust, every accountant must be a highly ethical individual who follows specific ethical guidelines. To this end, the International Federation of Accountants (IFAC), in collaboration with the International Ethics Standards Board for Accountants (IESBA), has developed a publication series titled Exploring the IESBA Code. The series is intended to promote awareness, adoption and implementation of the International Code of Ethics for Professional Accountants (including International Independence Standards).
This webinar series will unpack IFAC's publication series into easy-to-understand pieces with practical examples and a focus on South African requirements.  
PRICE
The following pricing apply:
R 1 700.00 – Entire webinar series registration. 

Subscription: N/A
The individual webinars can be purchased separately.
CONTENT
Study Unit 1 -Introduction to the Code & Step 1 of the Framework
In our first installment let us start with the basics – The Five Fundamental Principles that govern every professional accountant's behaviour. We will also look at Step 1 of the Conceptual Framework which deals with identifying threats.
Study Unit 2 – The Conceptual Frameword (Step 2 & 3)
The IESBA Code provides a conceptual framework which specifies a three-step approach that all professional accountants are to apply as far as threats are concerned:
Step 1: Identifying threats (covered in Webinar 1),
Step 2: Evaluating threats and
Step 3: Addressing threats.
In this second installment we discuss Steps 2 and 3.
Study Unit 3- Independence & Conflicts Of Interest
Independence is closely linked to the principles of integrity and objectivity. It is a very important element of serving the public interest. In this third instalment we deal with the subject of independence as well as conflicts of interest.
Study Unit 4 – Inducements & Responding To NOCLAR For Professional Accountants In Business
In some cultures, the exchange of gifts and hospitality can be an important factor in building and strengthening business relationships. In Webinar 4 we look closely at inducements. We will also cover Non-Compliance with Laws and Regulations (NOCLAR) for Professional Accountants in Business (PAIBs).
Study Unit 5 – Responding To NOCLAR For Professional Accountants In Public Practice
Webinar 5 discusses Non-Compliance with Laws and Regulations (NOCLAR) for Professional Accountants in Public Practice (PAPPs).
Study Unit 6
TBC
REQUIREMENTS
There are no preconditions for this course.
Moderate level.
Recorded webinar made available on a specified date
Lettie Janse van Vuuren
Lettie is a Chartered Accountant, Registered Auditor, as well as an Assessor and Moderator. As a professional trainer and webinar host, she is able to hold the attention of an audience with her relaxed and humorous presentation style.  She has a unique ability to communicate with delegates at their respective levels of knowledge and experience.  Over the last 20 years, she has trained thousands of partners, managers, trainee accountants and other professionals.
She is responsible for researching, compiling and presenting the SAIBA Quick Update Subscription package.
ADDITIONAL MATERIAL
By attending this webinar, you will be provided with:   
Summarised slide presentation. 

 

Reference documents and / or course material where available.

Access to a technical knowledge base.

Recorded webinar that includes an expert presenter.
Additional Course Information
| | |
| --- | --- |
| Category | Practice Management |
| Accredited | SAIBA |
| Verifiable CPD Hours | 12 |
| Non-verifiable CPD Hours | N/A |
| Effort | 12 hours |
| Duration | 12 hours |
| Format | Webinar |
| Level | Moderate |
| Assessment | Yes |
| Study Material | No |
| Course Date | 22 September, 2020 |
Business Accountant (SA)
Business Accountants  in Practice (SA)
Bookkeepers
Accounting department staff
Trainee accountants
This event is included in the following subscription packages: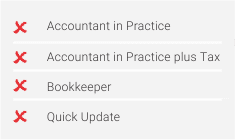 If you are not a subscriber, you need to purchase the event as a stand-alone event or subscribe to a SAIBA subscription package.
Subscribers pay less for their CPD points.
SAIBA offers 4 subscription packages that provides access to everything to run a successful accounting and tax practice.

Pay a small monthly amount and gain access to monthly webinars covering ethics, financials, reporting, audit and assurance, working papers, law, technology, management topics, and tax.