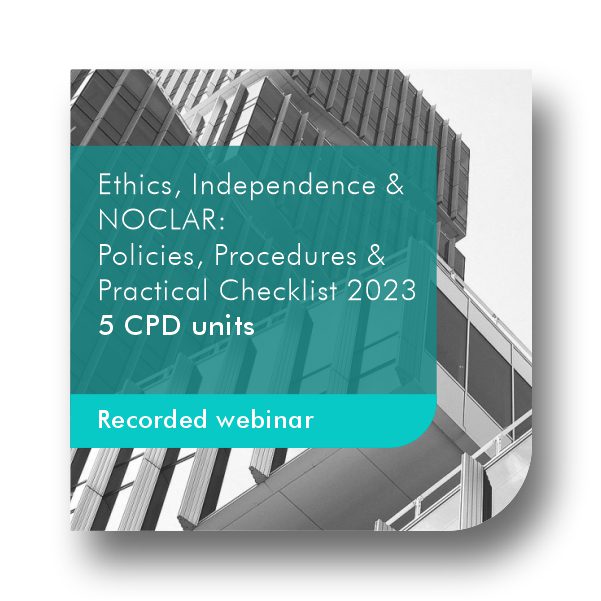 Ethics, Independence & NOCLAR – Policies, Procedures & Practical Checklist 2023
To update attendees on work ethics, independence and NOCLAR with a broad look at policies. March 2023
What you will learn
By attending this webinar you will gain the following competencies:
Have a strong appreciation of the importance of maintaining your independence. 

Be aware of the latest developments regarding NOCLAR, ethics and independence.

Understand the ethical requirements with regards to NOCLAR.

Maintain a conscious awareness of laws and regulations that must always be complied with.

Be able to practically implement independence and NOCLAR requirements.
Description
Strict adherence to ethical principles is the cornerstone of every honourable profession, and the accounting profession is no different. Every accounting professional has immense ethical responsibilities towards his or her clients, and the general public.
Simply knowing rules, policies, and regulations is not enough. What is more important is the practical implementation of procedural ways and means that ensure compliance with ethics, independence and NOCLAR in the accountant's professional role.
This webinar, presented by Nestene Botha CA(SA), tackles both the knowledge and the practical side of ethics, independence, and NOCLAR by discussing policies and procedures, and giving you a checklist for practical implementation. 
Price
Content
The webinar will cover the following topics: 
Overview of the requirements of NOCLAR.

Overview of the latest independence requirements.

Latest developments with regards to NOCLAR, Ethics and Independence.

Considerations with regards to practical implementation.

Practical Implementation Checklist.
Requirements
There are no preconditions for this course.
Moderate level.
Recorded webinar made available on a specified date
Presenter
Nestene Botha CA(SA) 
Nestene Botha completed her B.com (Hons) at North West University in 2012. In 2014 she completed her professional articles and her Master's Degree in Chartered Accountancy. She then registered with SAICA as a Chartered Accountant in 2015.
Nestene has lectured on the audit programme at the University of Cape Town. She started her own audit, tax & accounting practice which she has since grown into a reputable firm in the Table View area with 60 clients and two staff members.
SAIBA AAcademy Support
Login to SAIBA Academy
Select My Dashboard
Select Submit a Ticket to log a new query