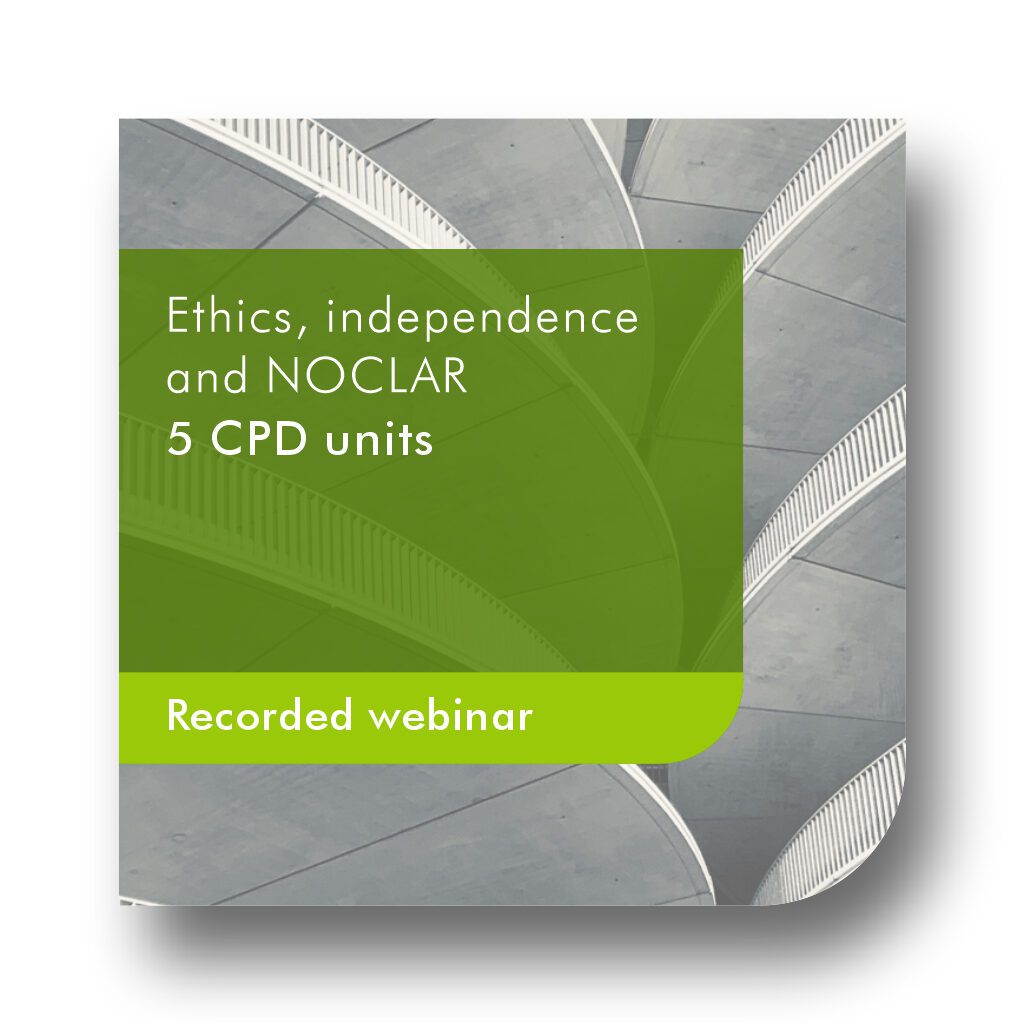 Ethics, independence and NOCLAR
To get participants updated on work ethics, independence and NOCLAR. February 2022
What you will learn
By the end of this webinar the participant should:
Being able to reflect on ethical challenges and responses facing the profession.

Being able to a

pply ethical decisions in difficult situations.

Understand

ing 

the various rules of professional conduct that apply to you.

Understand

ing

 NOCLAR and the general application thereof.

Understand

ing

 international norms and legislative prescription critical to all accounting professionals.
Description
Members of the public regard our profession highly and expect us to be ethical individuals who can be entrusted with, among other duties, the safe custody and correct valuation of our clients' valuable assets. Professional bodies and regulators also demand that accountants adhere to good conduct and professional behaviour that is expected of the profession!  
As cases of graft involving accounting professionals continue to surface, It is important that the few rotten apples do not spoil the whole pack. Adherence to professional ethics, and full compliance with laws and regulations must be non-negotiable virtues of every accountant!  
This webinar discusses how as individual members of this profession, we can safeguard our professional integrity by having good work ethics, being independent, and abiding to relevant laws and regulations in every facet of our work.
Price
Adhoc – R575
Subscription Package – Accountant in Practice, Accountant in Practice plus Tax, Bookkeeper
Content
Study Unit 1
Ethics – an introduction. 
Study unit 2
Ethical fading. 
Study unit 3
Conflict of Interest and independence. 
Study unit 4
Due-care and competency. 
Study unit 5
Understanding NOCLAR. 
Study unit 6
Adhering to rules set by your professional body.  
Study unit 7
Understanding your professional code of conduct. 
Study unit 8
Recently revised rules. 
Requirements
There are no preconditions for this course.
Moderate level.
Recorded webinar made available on a specified date
Presenter
Caryn Maitland is a Chartered Accountant (SA). She has been a member of IRBA as a registered auditor and accountant since 2002, Caryn has lectured Auditing and Accounting at various institutions and has conducted independent workshops and seminars for professional accountants since 2006 on various topics.
SAIBA AAcademy Support
Login to SAIBA Academy
Select My Dashboard
Select Submit a Ticket to log a new query
Additional Material
By attending this webinar, you will be provided with:
 Summarised slide presentation
 Reference documents and / or course material where available
Access to a technical knowledge base
Recorded webinar that includes an expert presenter and participant interaction