Ethics - Exploring The IESBA Code (Part 4)
Inducements and responding to Non-Compliance with Laws and Regulations (NOCLAR). November 2020
WHAT YOU WILL LEARN
By the end of this webinar the attendee will:  
Understand what inducements are;

Understand how to safeguard professional behaviour in the public interest;

Understand what NOCLAR is

;

 and 

Know how to address NOCLAR for PAIBs.  
DESCRIPTION
In some cultures, the exchange of gifts and hospitality can be an important factor in building and strengthening business relationships. At the same time however, these and other inducements can threaten a professional accountant's ability to be objective and act with integrity. Proper checks and balances are needed to safeguard professional behaviour in the public interest.
The webinar deals with inducements and how the professional accountant should address them. This webinar also tackles the issue of Non-Compliance with Laws and Regulations for Professional Accountants in Business (PAIBs).
The Ethics Webinar Series (IESBA Code) is intended to promote awareness, adoption and implementation of the International Code of Ethics for Professional Accountants (including International Independence Standards). 
PRICE
The following pricing apply:
Ad hoc: R475.00
Subscription: N/A
This event can be bought as part of a series consisting of 6 events. The series price is R1,700 (Click HERE to view series).
CONTENT
Study Unit 1
What are inducements? 
Study Unit 2
How to deal with inducements. 
Study Unit 3
What is NOCLAR? 
Study Unit 4
Responding to NOCLAR for PAIBs. 
REQUIREMENTS
There are no preconditions for this course.
Moderate level.
Recorded webinar made available on a specified date
PRESENTER
Lettie Janse van Vuuren
Lettie is a Chartered Accountant, Registered Auditor, as well as an Assessor and Moderator. As a professional trainer and webinar host, she is able to hold the attention of an audience with her relaxed and humorous presentation style.  She has a unique ability to communicate with delegates at their respective levels of knowledge and experience.  Over the last 20 years, she has trained thousands of partners, managers, trainee accountants and other professionals.
She is responsible for researching, compiling and presenting the SAIBA Quick Update Subscription package.
ADDITIONAL MATERIAL
By attending this webinar, you will be provided with:   
Summarised slide presentation. 

 

Reference documents and / or course material where available.

Access to a technical knowledge base.

Recorded webinar that includes an expert presenter.
Additional Course Information
| | |
| --- | --- |
| Category | Practice Management |
| Accredited | SAIBA |
| Verifiable CPD Hours | 2 |
| Non-verifiable CPD Hours | N/A |
| Effort | 2 hours |
| Duration | 2 hours |
| Format | Webinar |
| Level | Moderate |
| Assessment | Yes |
| Study Material | No |
| Course Date | 27 November, 2020 |
Business Accountant (SA)
Business Accountants  in Practice (SA)
Bookkeepers
Accounting department staff
Trainee accountants
This event is included in the following subscription packages: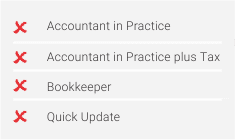 If you are not a subscriber, you need to purchase the event as a stand-alone event or subscribe to a SAIBA subscription package.
Subscribers pay less for their CPD points.
SAIBA offers 4 subscription packages that provides access to everything to run a successful accounting and tax practice.

Pay a small monthly amount and gain access to monthly webinars covering ethics, financials, reporting, audit and assurance, working papers, law, technology, management topics, and tax.